In This Article
What are False Eyelashes?
False eyelashes are basically artificial lashes made out of human or synthetic hair that is glued to the eyelash area.
Women use fake lashes to have fuller and thicker eyelashes. There are a lot of different kinds of false eyelashes.
The most basic and most common kinds are:
Individual Eyelashes or Flared Eyelashes: These lashes are those that are usually applied in fake eyelash extensions. Individual lashes usually come pre-packed as clusters of hair.
These individual eyelashes are then, one by one, glued in the places besides your natural eyelashes.
The perk of individual eyelashes is the fact that they look extremely natural. The individual lashes blend into the natural lashes.
The negative side though is the fact that applying these lashes is such a tedious chore.
Usually, when women want to have individual lashes to be attached to their eyes, they usually go to the salon and have a highly skilled esthetician do the treatment for them.
These treatments usually cost a lot too; they usually range from $100 to $250.
Strip Fake Eyelashes: These types of eyelashes are the most common. You can find them at department stores and drug stores.
Instead of having the lashes clumped together then place on the lash line individually, the lashes are packed as a strip.
This strip is also the part that is to be glued to the eyelash area. A lot of people feel that strip false eyelashes are a whole lot more artificial-looking as compared to the individual lashes.
However, it is also important to consider the fact that strip falsies are extremely affordable and are super easy to stick on.
which fake eyelashes are the best to Used?
The most common question asked is How long does fake eyelashes last? There are different kinds of adhesives. Adhesives can be categorized according to the material used to make them.
For example, liquid eyelash glues are in a liquid form and are one of the most difficult to remove.
Do you know how remove fake eyelashes? Latex eyelash glues are the most common and the easiest to use since these do not dry immediately and can be removed by washing.
No need to tug at your falsies. Lastly, there are cream eyelash glues. There are the most difficult to use since a tiny mistake can make your eyelashes look lumpy and unnatural.
Another category of eyelash glues are waterproof or non waterproof eyelash glues. Waterproof eyelash adhesives are extremely reliable.
You can trust that your eyelashes will stay in place the entire night. However, by its very nature, waterproof eyelash glues are extremely stubborn and are difficult to remove.
The last classification of eyelash adhesives is clear versus dark eyelash adhesives.
The dark eyelash adhesives are great cause they can go together with your mascara and your eyeliner which makes for a smoky look.
However, if you are not much an expert when it comes to eyelash glues, then it is best to stick with clear eyelash adhesives.
The great thing about clear eyelash glues is the fact that you can make as many mistakes as you can but nobody can ever tell cause the glue leaves a clear and discreet film.
How Long One Can Continuously Wear False Eyelashes?
The general rule regarding the continuous wearing of false eyelashes or to reuse eyelashes is to do what you want.
A lot of women actually reuse their falsies. However, it is important to make sure that those lashes are clean.
You can get eye infections from dirty falsies coming into contact with your eyes.
<
What If the False Eyelashes Partially Detach from the Ends?
The best adhesive to use in this situation would be dark eyelash adhesives since the only thing you have to do is apply a spot of it on the detached end and they won't leave an odd mark on your makeup.
Some women remove the eyelash strip entirely then just reapply it. Whatever you are comfortable with is best.
Is it Possible to Leave them on Overnight?
If you can tolerate the feeling of having false eyelashes on while you are sleeping then that's your choice.
The only thing you have to put into consideration is hygiene.
Wearing a false eyelash that has been on your face for the whole day then wearing it to sleep will raise your chances of getting an eye infection since the false eyelash is dirty and the probability of you accidentally rubbing the falsie into your eyes while you're sleeping is extremely high.
Also, who wants to wake up with a falsie hanging from their cheek?
How to Make False Eyelashes Look Natural?
According to Brett Freedman, a celebrity makeup artist, the trick to making false eyelashes look natural is to cut the false eyelash strip in such a way that it covers the center of your eye and the outer corner. Blending the natural eyelashes and the false eyelashes is should be the goal when using false eyelashes.
Also, always remember to run your lashes through an eyelash curler and apply mascara in such a way that the color and coat of the natural eyelashes and the falsie are of the same color.
How to Remove False Eyelashes?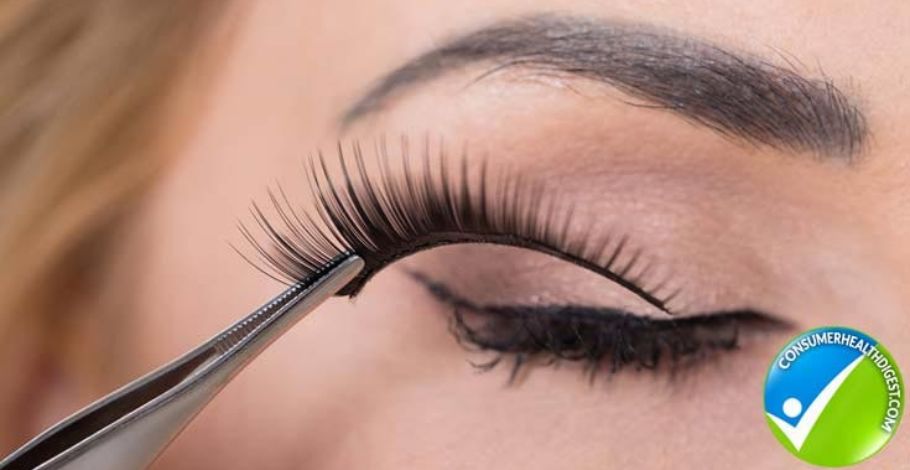 The number one rule is to never ever tug the false eyelashes. Tugging can damage your natural lashes and they can fall off.
Just gently pat on a non-oil based eye makeup remover to remove the glue and to avoid causing damage to your lashes. If the glue is persistent, just take another cotton ball and hold it to your eye for a few seconds, before you know it, all the leftover glue from your falsies are already gone.
Which Brands are Safe?
People ask, "Are fake eyelashes safe?" Usually, false eyelashes from makeup brands that are pretty popular are safe to use. Brands such as Mac, Ardell, Shu Uemura, and Sephora can be your best bet. It is always important to do your research first before buying any product. Reviews can tell you what products work and what products just disappoint.
Which fake Eyelashes are the Best to Use?
So far the most popular among all the falsies out there are Ardell and Mac lashes. Ardell is usually praised for the natural feel of their false lashes. They are lightweight and are comfortable to put on.But how put fake eyelashes on?
Ardell false lashes blend in effortlessly to the natural lashes. MAC on the other hand, has a more glamorous feel to it. Their lashes will surely make you take a second look.
Is there any other Way to Get Long and Thicker Eyelashes?
A lot of women long for longer and thicker lashes but do not want the hassle of having to put on false lashes every day or the inconvenience of having to maintain Thicker eyelash extensions.
For these women, a good option would be eyelash enhancers. These usually come in a liquid or serum form. The most that you have to do would be to apply a bit of it two times a day.
Eyelash enhancers have components and vitamins that keep the eyelashes healthy. Pro-vitamin B5 and humectants are examples of these components.
By keeping the lashes healthy, eyelash enhancers encourage and promote the health of your eyelashes.
Expert's Opinion
Lou Page, a top makeup artist that has strong ties with Ardell, suggests a big tip for those that want alluring and glamorous lashes, it may sound silly but the big secret to big bold lashes is to apply the double-lash your application.
Applying two strips false eyelashes instead of one makes all the difference. You may also look forward to eye creams such as Revitol Eye Cream Review which is helpful to eye problems.