In This Review
Have you ever experienced a throbbing headache that went on for hours or days without letting up? You might have been suffering from a migraine. The intense pounding headache is also coupled with other symptoms such as fatigue, nausea or sensitivity to light.
We learned that before the onset of the intense headache, some people have reported experiencing a migraine aura. It is usually a sign that a migraine is about to kick in and can vary with different individuals. Some might experience the aura in the form of symptoms related to vision impediment, difficulty with speech, or physical and sensory symptoms.
A migraine does not have to go on for hours or days; with the proper treatment, you should be able to feel some relief from the pain and discomfort. Doctors often prescribe Ubrelvy for adults with migraines; according to its manufacturers, it provides instant treatment. This prescription drug cannot be used as a preventative measure for migraines.
In this article, we shall delve into Ubrelvy, where we get to answer the questions, "What is Ubrelvy used for?" "How does it work? And get a deeper understanding of the drug by touching on its basics, pros and cons and its side effects.
Overview of Ubrelvy (Ubrogepant) Tablets
Ubrelvy is a prescription drug used for the treatment of migraines in adults. It is classified as a CGRP (Calcitonin Gene – Related Peptide) antagonist. Other drugs similar to Ubrelvy are administered in the form of injections, but this particular drug comes in the form of tablets that are taken orally.
It is also referred to as Ubrogepant, which is also the active ingredient in the drug. It is available in 50-milligram and 100-milligram dosages that you should take after you start experiencing migraine symptoms.
A second dose of Ubrelvy can be taken two hours after the first dose if the migraine does not dissipate. The recommended maximum dose is 200 milligrams within 24 hours. It is, however, essential to point out that the second dose should not be taken if you have eaten grapefruits or drunk grapefruit juice within the said 24 hours. We learned that grapefruit increases the amount of time Ubrelvy stays in your body, which might also increase the side effects associated with the drug.
In 2019 the FDA approved Ubrelvy as the first CGRP to be taken by mouth for the treatment of migraine.
How Does It Rate?
Overall Rating: 3.6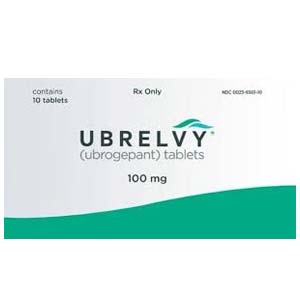 Ubrelvy
Brand Highlights
Ubrelvy is a prescription drug used for the treatment of migraines in adults.
In 2019 the FDA approved Ubrelvy as the first CGRP to be taken by mouth for the treatment of migraine.
Pros
It does not need to be taken with food.
It is used for immediate treatment of sudden migraine and its symptoms.
A great option when other migraine medications don't work.
Cons
It cannot be used as a preventative measure for migraines.
It is expensive.
It interacts with other medications, some supplements and foods.
It does not have cheaper generic options.
It takes two hours for one to feel relief.
---
What is The Cost of Ubrelvy?
Many prescription drugs vary in price, which is influenced by different factors, and the same applies to Ubrelvy. These factors depend on the type of insurance plan you have, your location and the pharmacy you will get the prescription.
If your insurance company caters for and approves the prescription under your plan, you can get 90 days' worth of supply of Ubrelvy, which inadvertently is more beneficial to you in terms of time and cost.
Therefore, Ubrelvy has no generic option and is on the higher side regarding its cost. With Ubrelvy coupons, you can get a prescription at a reduced price. However, some coupons cannot be used with any insurance plans.
Through consultations with your doctor, insurance company or pharmacist, you will be able to identify an ideal payment plan for your Ubrelvy prescription.
Key Facts and Specifics
| | |
| --- | --- |
| Benefits | It used for treatment of migraine in adults. |
| Primary Ingredient | Ubrogepant. |
| Form | Tablets. |
| Brand | Allergan Inc. |
| Dosage | 50 mg and 100 mg. |
| Drug Class | CGRP. |
| Availability | By prescription only. |
| Generic Option | None available. |
| Price | $1,242.6. |
How Does It Work?
As we had mentioned, Ubrelvy is categorized in the CGRP antagonist class of drugs. These drugs work as receptor blockers of the CGRP protein in your body, which triggers and causes migraine.
When someone has a migraine, CGRP levels are usually elevated and higher than average, causing pain, discomfort and inflammation related to the pounding and throbbing headache.
Ubrelvy blocks and lowers CGRP levels, hence the reason it is used to treat migraines. Relief should be experienced two hours after taking the drug, and its effects will last for one day to a day and a half. That being said, this drug cannot be used to prevent migraines or tension headaches.
For a headache that is not so intense, we recommend you try the Fibrolief Supports formula, which we recently reviewed and found that it works not only on headaches but on other pains in the body.
Side Effects of Ubrelvy
Medications that your doctor prescribes for different health conditions are meant to work and benefit your overall health and well-being; we found that these drugs might have some side effects and pose some risks.
While some people might experience mild Ubrelvy side effects, others will experience more severe side effects. This variation comes down to factors such as:
Age of the patient
Interactions with other drugs and types of medication
The overall health of the patient
The dosage taken
Serious side effects are rare but do occur. Anaphylaxis resulting in the throat's closing up is one of the more severe side effects of Ubrelvy. Swelling of the facial features and difficulty breathing can also be life-threatening and should be immediately addressed by contacting emergency services.
The most common mild side effects related to Ubrelvy are:
Nausea
Dizziness
Sleepiness
Fatigue
Dry mouth
The mild side effects usually wear off with time as your body gets used to Ubrelvy. But if they continue to persist, we encourage you to talk to your doctor.

FAQS about Ubrelvy
Q: Does Ubrelvy cure migraines?
A: No. It cannot cure or prevent migraines, but it is meant to relieve and alleviate symptoms related to migraines.
Q: Can Ubrelvy cause weight loss?
A: No. There have been no reports or evidence to support claims associated with using Ubrelvy and weight loss.
Q: How long does it take for Ubrelvy to take effect?
A: After taking the drug, it takes one to two hours to feel relieved.
Q: How do you take Ubrelvy?
A: Ubrelvy should be taken orally in its complete form and not be chewed or split. You can take it with food or without it.
Q: Can Ubrelvy be used for the treatment of tension headaches?
A: No. Ubrelvy has not been approved for the treatment of tension headaches. It is meant for treatment of migraines.
Q: How many times can you take Ubrelvy?
A: You can take two doses of Ubrelvy as per the recommended milligram dosage by your doctor. The doses should be 2 hours apart a day.
Q: Will I feel sleepy if I take Ubrelvy?
A: Yes. You might end up feeling sleepy after taking the medication; it is one of the side effects that has been reported and associated with Ubrelvy.
Ubrelvy Reviews from Users
From the reviews that we came across on Drugs.com, Ubrelvy has an average rating of 5.7 out of 10. This rating is from over 200 reviews.
Below is a summary of some of the mixed reviews given by individuals who have used Ubrelvy.
"This medicine saved my life. After taking over a million things for 15 years to treat migraines, none seemed to give me relief other than immediately make me sleep. I take a combination of 50 mg Ubrelvy and 800 mg Ibuprofen, bringing back my vision within 25 minutes and relief from migraine within an hour.
"I prefer Zomig to Ubrelvy. I got a few samples of Ubrelvy from my neurologist, and they didn't help with my migraine; the headache got worse. I felt nauseous, which went on even after I vomited violently. After taking the tablet, it made me feel sleepy, dizzy and terrible the whole day.
"I tried taking Ubrelvy on three different occasions after I got it from my neurologist, it made my migraine worse than ever. My migraine pain scale was a 5 then after taking Ubrelvy it shot to a 10 in addition to nausea. I am never taking this medication again."
"Every month for 15 days I suffer from chronic migraines that only let up after I take Ubrelvy. I believe the 50 mg tablet is as effective as the 100 mg. After taking the medication I get up to four days of relief."
Ubrelvy is recently approved by the FDA, and there isn't any generic alternative available on the U.S. market.

Final Thoughts on Ubrelvy
Migraines cause a lot of discomfort and pain and should be treated as soon as you notice that the throbbing and pounding are not going away. Besides Ubrelvy, other options include natural remedies used to treat migraines.
Before you settle on Ubrelvy or any other cause of treatment, we strongly advise you to consult with your doctor better to understand the benefits, risks, and side effects.
Ubrelvy dosage should be as per your doctor's recommendation, as taking more than what is prescribed might result in severe side effects. We recommend you contact your doctor immediately or emergency services in case of an overdose.
More than ever people of all ages are struggling with memory problems. People are unable to disconnect from their work, while students are under immense pressure to perform. Brains are overloaded with information that must be remembered. A quality memory enhancement product might contain clinically proven ingredients that will help to enhance not only memory, but also focus and night concentration. Memory products might help to optimize overall mental health and brain function.
Below you'll find some of the most effective memory products on the market today, in our opinion.
Our Top Memory Supplements
Verdict on Claimed Benefits: Below is our summary of the available evidence for the claimed benefits of below mentioned brain health supplements and nootropic based on the available research:
Product reviews are provided for informational purposes only and reflect solely the views and opinions expressed by the contributors and not those of Consumer Health Digest. We do not verify or endorse any claims made in these reviews. Please read the full product reviews disclaimer. *All individuals are unique. Your results can and will vary.
Ask a Question
Have a Question? Please Tell Us What We Are Missing Here!
PRODUCT NAME
Ubrelvy
PRODUCT BRAND
Ubrelvy
PRICE (in USD)
$1,242.6
ITEM FORM
Tablets
UNIT COUNT
10 Tablets
INGREDIENTS
Ubrogepant
Amazon
Walmart
7 Sources
We review published medical research in respected scientific journals to arrive at our conclusions about a product or health topic. This ensures the highest standard of scientific accuracy.
**This is a subjective assessment based on the strength of the available informations and our estimation of efficacy.
*Result may vary. If you are pregnant, nursing, have a serious medical condition, or have a history of heart conditions we suggest consulting with a physician before using any supplement. The information contained in this website is provided for general informational purposes only. It is not intended to diagnose, treat, cure, or prevent any disease and should not be relied upon as a medical advice. Always consult your doctor before using any supplements.
Disclosure of Material connection: Some of the links in the post above are "associate sales links." This means if you can click on the link and purchase an item, we will receive a commission. Regardless, we only recommend products or services which we use personally and/or believe will add value to our readers. We are disclosing this in accordance with the Federal Trade Commission's 16 CFR, Part 255: "Guides Concerning the Use of Endorsements and Testimonials."