What is Brain Elevate?
This is an herbal supplement that is manufactured by an American company known as NOW Foods. This supplement was formulated to improve people's cognitive functions such as concentration, memory and focus. NOW Foods claim that this herbal remedy is a good source of antioxidants. They also claim that it can help boost people cognitive functions and mental clarity.
This supplement cost around $21.99 dollars per bottle enough for a month. You can buy a 60 capsule bottle or the one containing 120 capsules.
How Does This Supplement Work?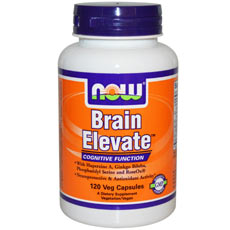 This herbal supplement has been formulated scientifically to nourish the brain cerebral functions. It consists of two key ingredients that are known to have health benefits in the body. These are RoseOx and Huperzine A components that have been known because of their antioxidant and neuroprotective activity. This brain enhancer also contain a common herb like Ginkgo Biloba, Glutamine and Phosphatidyl Serine that have been associated with improved mental clarity and alertness.
Brain Elevate Claims
The manufactures claim that this supplement reduces the risk of dementia in the elderly
They also claim that this supplement can improve mental clarity and alertness
NOW Foods claim that this herbal remedy is a good source of antioxidants
Can help boost people cognitive functions and mental clarity
Brain Elevate Is Formulated With
This brain supplement is formulated with the following ingredients: Ginkgo Biloba Extract, RoseOx, Flavonglycosides, L-Glutamine, Huperzine A, Gotu Kola, Cellulose (capsule), Choline, Rice Flour, Silica and Magnesium Stearate.
Does Brain Elevate Works?
This brain enhancer has worked for many people who have tried it. It has helped many people nourish their brains, improve their memory and cognitive functions, boost the way the brain function and also reduce stress and anxiety. Although the manufacturer claims that Brain Elevate can help lower the risk of dementia in elderly people, there is no particular ingredient in this product that they say can help achieve this.
According to many customer reviews published online, many customers give this supplement a 5 star rating. A majority of them left positive reviews meaning that this supplement really works. But remember to consult your medical care provider before using this supplement from NOW Foods.
What are the Advantages of Brain Elevate?
This product is not an expensive supplement since it goes for only $25
It uses natural and organic ingredients
This product helps to improve mental clarity and alertness
No negative side effects have been reported so far
What are the Disadvantages of Brain Elevate?
This product is recommended to adults only
You cannot purchase it directly from the manufactures
No deals like money back guarantees, free trials or discounts
This products cannot be taken by breast feeding mothers, pregnant women or when taking other medication
FAQ's
How to Use this product?
It is taken as a dietary supplement
Take one Vcap one to two times a day
What are the precautions that needs to be taken while using this supplement?
Do not exceed the recommended dosage
Do not take this supplement if you are taking cholinergic or blood thinning medication
Always consult your physician before using this supplement
Keep out of reach of children
Read Next – Optimal Brain
Know The Related Products
Brain Alert is natural supplement that is advertised to have very powerful ingredients that enhance cognitive functions. The supplement increase neurotransmitter uptake and oxygen concentration within the brain. The manufacturer also claims that Brain Alert support intracellular communication.
Brain Awake is a powerful nootropic supplement, which claims to increase your mental performance and boost the brain level of energy. It contains natural ingredients, which effectively boost your brain's cognitive functions. This formula is designed to stimulate your brain and make it function normally even when fatigued or under pressure.
Brain Elevate Review – Final Verdict
NOW Food is a company that has good reputation in the manufacture of herbal supplements including multivitamins. This company seems to be dedicated on manufacturing products that improves body's health more especially the brain. Brain Elevate is one of these products and as they claim, it can improve your cognitive functions such as concentration, memory and focus.
While this product from NOW Foods may look effective, we believe that there are other effective and safer alternatives in the market. Our advice to readers is research widely on other brain enhancement supplements and consults with their medical care providers before using Brain Elevate.
Advertisement
*All individuals are unique. Your results can and will vary.
More than ever people of all ages are struggling with memory problems. People are unable to disconnect from their work, while students are under immense pressure to perform. Brains are overloaded with information that must be remembered. A quality memory enhancement product might contain clinically proven ingredients that will help to enhance not only memory, but also focus and night concentration. Memory products might help to optimize overall mental health and brain function.
Below you'll find some of the most effective memory products on the market today, in our opinion.
Our Top Memory Supplements
Verdict on Claimed Benefits: Below is our summary of the available evidence for the claimed benefits of below mentioned brain health supplements and nootropic based on the available research: