What is Nutra Skin?
When you want to purchase a product that makes your skin look young, there are a million questions going through your mind. It is alright to be worried, thinking that the product in question might not deliver the expected results. In such situations, it might be a good idea to read reviews made for anti-aging, skin rejuvenating products.
Today, we are going to present a review made for Nutra Skin, an anti-aging product which promises to restore the youthful appearance of the skin.
Nutra Skin Ingredients – Are they Safe & Effective?
Nutra Skin contains a number of active ingredients, which are highly beneficial for the skin. It might interest you to know that this anti-aging product contains whole collagen molecules; these penetrate the superficial layer of the skin and reach the dermis, in order to repair the structural matrix. Thus, it minimizes some of the most common signs of aging, such as fine lines, wrinkles and sagging skin.
Ingredients: Water,Cetyl Alcohol,Sodium Arcylate/Sodium Acryloyl DimethylTaurateCopolymer, Glyceryl Stearate,Caprylic/Capric Triglyceride,Glycerin,Prunis Dulcis(Sweet Almond) Oil,Acetyl Hexapeptide-8, Acetyl Hexapeptide-3
How does it work?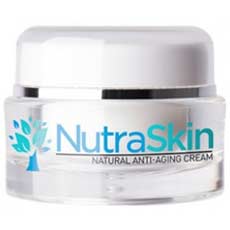 The rich formula of Nutra Skin works to restore the youthful appearance of the skin. This anti-aging cream works to fill in any existent gaps at the level of the structural matrix, turning back the hands of time. It is different from other similar products present on the market, in the sense that it contains whole collagen molecules and not just fragments.
Moreover, its efficiency goes beyond the superficial layer, reaching the dermis, where most of the damage is done.
What are the Advantages of Nutra Skin?
These are the main advantages that come with using this anti-aging product:
Contains whole collagen molecules, acting at the level of the dermal layer (structural matrix of the skin)
It may minimize common signs of aging, such as fine lines, wrinkles and sagging skin
It may smooth out the texture of the skin, having a general brightening effect
Lifts and firms the skin at the same time
Can work on deep wrinkles as well.
What are the Disadvantages of Nutra Skin?
There are no known disadvantages associated with using this anti-aging cream, either on a short or long term basis.
FAQ's
How to use?
It is recommended to use this anti-aging cream on a clean complexion. So, before you apply the cream, wash your face with your regular cleanser. Use gentle, circular motions, making sure that the product is fully absorbed into the skin. You can then go ahead and apply other skincare products or makeup. For the best results, it is advisable to apply the product twice per day, once in the morning and, again, at night, before going to bed.
Caution
There have been no cautions identified with regard to this product being used.
Advertisement
*All individuals are unique. Your results can and will vary.
What Kind of Reviews are Out there for Nutra Skin?
The reviews made for Nutra Skin are positive, with buyers declaring themselves to be satisfied with its anti-aging and skin rejuvenating properties.
The cream has been appreciated for containing whole collagen molecules and the fact that it works beyond the surface (at the level of the dermal layer). It has also been praised for its fast-acting formula, with the first results being noticeable within a couple of weeks.
Read Next – Lancer Skin Care
Nutra Skin Review – Final Verdict
In conclusion, Nutra Skin is an excellent anti-aging product, one which promises to turn back the hands of time and restore the youthful appearance of the skin. It contains whole collagen molecules, filling in any existent gaps in the skin's structural matrix and, thus, minimizing fine lines and wrinkles.
It prevents the skin from becoming saggy, it removes dark spots from the skin and it allows you to achieve a flawless complexion. Used on a regular basis, it has an overall brightening effect, lifting and firming the skin at the same time.
If you want to see how the anti-aging cream works on your skin, you can opt for the free trial, provided by the manufacturers of Nutra Skin.
As we age the composition, texture and appearance of our skin changes. Signs of skin aging include wrinkles, fine lines, loss of moisture, uneven tone and dull, tired-looking skin. There are countless anti-wrinkle creams on the market promising to make skin look and feel younger. Many anti-wrinkle creams promise everything short of a facelift or to provide the much sought after "fountain of youth". In reality most are just moisturizers marketed as anti-aging products.
Below you'll find some of the most effective wrinkle serum/cream formulations on the market today, in our opinion.
Our Top Anti Aging Choices
Verdict on Claimed Benefits: Below is our summary of the available evidence for the claimed benefits of below mentioned anti-aging products and anti-wrinkle creams based on the available research: