In This Review
GliSODin Skin Nutrients Overview
GliSODin Skin Nutrients is a registered brand of nutritional supplements formulated with two key constituents: 1) Gliadin, a wheat protein and 2) Superoxide dismutase, or SOD, extracted from cantaloupes. GliSODin is a US-based nutricosmetics company founded in 2008. It is known for providing consumers with clinically-tested supplements that fight aging and promote skin health from the inside out.
GliSODin products are available online through the brand's official website. Among them is an anti-aging and skin brightening formula for the face. They also have diuretic, slimming, cleansing, and recovery formula for the body. Price ranges from $50 to $200. Shipping is free for orders of at least $200.
How Does It Rate?
Overall Rating: 3.7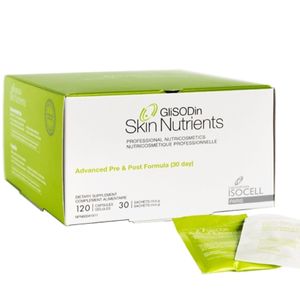 GliSODin Skin Nutrients
Brand Highlights
Supports your system through aesthetic and surgical treatments.
Prepares your body for treatment.
Speeds up recovery time.
Boosts your immune system to fight infections.
Reduces swelling and bruising.
Assists in wound healing.
Key Ingredients
Cantaloupe extract
Gliadin
Pros
It is a medical-grade product that was previously available to physicians only.
It has strong antioxidant property that offers a wide range of functions.
It fights the signs of aging and prevents premature aging.
It shields the skin against ultraviolet radiation and other environmental insults.
It protects the skin against DNA damage.
It helps treat or relieve a wide variety of skin problems.
It improves athletic performance and minimizes fatigue.
It promotes cardiovascular health.
It is tested and approved by a group of experts.
It comes in many different products that suit different needs.
It offers free shipping for orders over $200.
Cons
It is quite expensive compared to other skin health supplements in the market.
---
Working Process of Glisodin Skin Nutrients
Metabolism of oxygen results to the production of reactive oxygen species, or ROS, in the body. ROS is also known by its more common name – free radicals. The body has a way of protecting itself against free radicals by producing compounds known as antioxidants. But if there is too much free radicals and the body's defenses become overwhelmed, oxidative damage to the cells occur. This damage is what causes the body to age faster.
SOD is an enzyme that halts, or at least slow down the creation of ROS. GliSODin Skin Nutrients is loaded with SOD that helps increase the body's supply of this enzyme. However, when taken orally, SOD has the tendency to be easily broken down by the stomach acids due to its fragile molecular structure. To address this, the manufacturers of GliSODin combined SOD with a type of wheat protein called Gliadin. Gliadin effectively protects SOD during the digestive process, while also allows for a slow, sustained release of the enzyme.
Ingredients of Glisodin Skin Nutrients
Cantaloupe extract
– contains high amounts of superoxide dismustase, the enzyme that breaks down harmful superoxide molecules, a.k.a. free radicals.[1]
Gliadin
– a wheat protein that protects SOD from digestive enzymes.[2]

GliSODin Skin Nutrients FAQ's
Q: Which are the dosage instructions?
A : To maximize the benefits of GliSODin Skin Nutrients, the following dosages must be followed:
For the advanced anti-aging and advanced skin brightening formula – Take three capsules daily after meals. A minimum of three months' use is required to see results.
For the advanced diuretic formula – Take two capsules in the morning and another two at night. For best results, use the detoxification formula before the slimming formula.
For the advanced slimming formula – Take one capsule every after a meal. For best results, use the detoxification formula. Must be used for a minimum of three months to see improvements.
For the advanced cleansing formula – Must be taken for fifteen days straight. Dissolve one green sachet and one white sachet in water or any of your favorite drinks. Shake, don't stir. More effective if used with an advanced diuretic and advanced slimming formula.
For the pre and post formula – Use the 14-day kit for non-invasive to minimally invasive procedures, and the 30-day kit for more invasive ones. Take one sachet of the powder and one sachet of the capsule for 7 or 15 days before the procedure and 7 to 15 days after. Use with advanced skin brightening formula for best results.
For the antioxidant enzyme – Take one to two capsules a day.
Q : What are the side effects of GliSODin Skin Nutrients
A: GliSODin Skin Nutrients is a medical-grade formula so there's no question with regards to its safety and effectiveness. However, it would always be ideal to consult your health specialist first before using any supplement especially if you have an existing systemic condition and/or are taking any medication.
Find out about similar products and supplements that might be as useful as "GliSODin Skin Nutrients"
:
The first one is Glo Therapeutics Renew Serum, it is an effective anti-aging formula that removes debris and superficial skin. It also helps to open the skin pores that give smooth and vibrant skin.
The second one is Glow Inner Beauty Powder, it is an edible skincare product that can you can drink. its special natural ingredients nourish, hydrate, and resist aging.
The third one is GlyDerm Serum, it is a skincare treatment that grows collagen in the dermal layer and improves anti-aging symptoms.

GliSODin Skin Nutrients Final Verdict
Given the available information about GliSODin Skin Nutrients, its products is really worth a try. They are quite expensive, which is probably due to the fact that they are medical-grade. Nonetheless, if you want supplements that are similar to this brand's yet not as pricey, check out our suggestions below.
As we age the composition, texture and appearance of our skin changes. Signs of skin aging include wrinkles, fine lines, loss of moisture, uneven tone and dull, tired-looking skin. There are countless anti-wrinkle creams on the market promising to make skin look and feel younger. Many anti-wrinkle creams promise everything short of a facelift or to provide the much sought after "fountain of youth". In reality most are just moisturizers marketed as anti-aging products.
Below you'll find some of the most effective wrinkle serum/cream formulations on the market today, in our opinion.
Our Top Anti Aging Choices
Verdict on Claimed Benefits: Below is our summary of the available evidence for the claimed benefits of below mentioned anti-aging products and anti-wrinkle creams based on the available research:
Beverly Hills MD - Best #1 Rated Skincare Brand
Innovative Science-Backed Skincare Products*
Gold Star Evidence
Range of Products for Specific Skin Concerns*
Gold Star Evidence
Cruelty-Free, Premium Quality Ingredients*
Gold Star Evidence
Visibly Lifts Skin From The Inside, Out*
Gold Star Evidence
Beverly Hills MD Dermal Repair Complex | Best Anti-Aging Supplement

Diminishes Wrinkles & Dullness*
Gold Star Evidence
Reduces Sagging or Drooping*
Gold Star Evidence
Improves Hair & Nails Strength*
Strong Evidence
Enhances Skin Elasticity*
Gold Star Evidence
Deep Wrinkle Filler | Anti-aging Skin Care Formula
Erase The Appearance Of Fine Lines*
Gold Star Evidence
Fill in Deep Wrinkles*
Gold Star Evidence
Give Skin a Smoother, More Flawless Appearance*
Strong Evidence
Nourishes Skin For Lasting Results*
Strong Evidence
XYZ Smart Collagen | The Best Anti-aging Cream
Wrinkles Reduction*
Gold Star Evidence
Improves Skin Firmness*
Gold Star Evidence
Improves Skin Texture*
Strong Evidence
Smart Collagen Management*
Strong Evidence
Hydrossential Serum | All-Natural Skin Care Product
Support Skin Health*
Gold Star Evidence
Helps Eliminate Acne, Dark Spots, Fine Lines*
Strong Evidence
Improves Resistance to Inflammation*
Gold Star Evidence
Repair and Restore Damaged Skin Cells*
Strong Evidence