Eb5 Facial Cream Overview
As we age, we start to notice the appearance of signs of aging. From wrinkles to fine lines, they appear on our face and they can make a person look old. Thanks to the different products that can now be purchased in the market. There are now means and ways for you to get rid of signs of aging. It is just a matter of choosing a brand that actually delivers. Among these facial creams is the eb5 Facial Cream. With so many options to choose from, you need to know if the product really works to avoid wasting money. Is the eb5 Facial Cream worth the buy?
How Does Eb5 Facial Cream Work?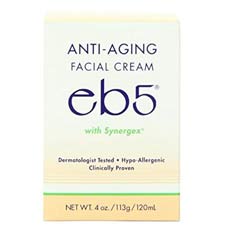 The Eb5 Facial Cream is made in the United States. The brand claims that it is a 5 cream in one jar product. First, it works as a wrinkle cream that you can use to get rid of fine lines and wrinkles. The product is also a throat cream since you can reduce the appearance of signs of aging on your throat. To make your skin look hydrated and moisturized, you can use the 24 hours moisturizer. The Eb5 Facial Cream also works as a firming cream. With constant use, the brand claims that you can get a tighter and more elastic skin. One of the evident signs of aging is that your skin tends to look saggy. With Eb5 Facial Cream, you can finally address this problem. It also works as a makeup primer so just before you apply your makeup, you can use this as your make-up base.
Ingredients
Just before you finally purchase the cream, you need to know its formula. The ingredients used include the following: Water, Propylene Glycol, Tocopheryl Acetate, Stearic Acid, Mineral Oil, Cetyl Alcohol, Colloidal Oatmeal, Panthenol, Allantoin, Retinyl Palmitate, Cholecalciferol, Carbomer, Triethanolamine, Imidazolidinyl Urea, Potassium Sorbate, Methylparaben, Propylparaben.
Pros of Eb5 Facial Cream
All products have its share of pros and cons. For the pros, this product looks really promising because of the following:
Works as a 5 in 1 facial cream
Smooths fine lines and wrinkles
Can be used a throat cream
Makes your

skin look firmer and tighter

Hydrates and moisturizes your skin to avoid having dry skin
Can be used as a makeup primer for your daily makeup routine
Very easy to use
Cons of Eb5 Facial Cream
Contains parabens

Not an all natural formula
Directions to Apply Eb5 Facial Cream
Just like the other facial creams that you purchase in the market, the Eb5 Facial Cream is very easy and convenient to use. All you have to do is to get an ample amount of the cream and apply it directly on your skin. Put cream to the affected areas like your forehead, cheeks, throat, etc.
How Long Does It Take To See Result?
The results widely vary since every person differs especially when it comes to the reaction of the skin when using a particular product. According to the brand, in just a few weeks of use, you can already see the results. With constant application, you can finally get the benefits.
Is it Safe to Use?
So far, there has been no complaint regarding the adverse impacts of using the Eb5 Facial Cream. However, some customers are concerned since the product contains parabens. Some consumers prefer products that contain natural ingredients, free of parabens and fragrances. Since there are no complaints when it comes to the use of this facial cream, you can say that it is safe to use. But if you have really sensitive skin and you are not sure as to whether this product is safe for you, it is strongly recommended that you consult your doctor first. Desir Brilliance and DFI Aging Ageless Beauty Cell Renewal Cream will also be useful to fight with the sings of aging.
Read Next – Renewing Serum CE
Conclusion
Weighing the pros and cons, you can still say that this product is worth your purchase. For one, it offers various benefits that you cannot find in other brands. When it comes to effectiveness, many customers find the product really effective. Although it might cost you some money and it is also not an all-natural formula, you can still say that this is a good product that you can use to get rid of signs of aging and to make your skin look younger.
Advertisement
*All individuals are unique. Your results can and will vary.
As we age the composition, texture and appearance of our skin changes. Signs of skin aging include wrinkles, fine lines, loss of moisture, uneven tone and dull, tired-looking skin. There are countless anti-wrinkle creams on the market promising to make skin look and feel younger. Many anti-wrinkle creams promise everything short of a facelift or to provide the much sought after "fountain of youth". In reality most are just moisturizers marketed as anti-aging products.
Below you'll find some of the most effective wrinkle serum/cream formulations on the market today, in our opinion.
Our Top Anti Aging Choices
Verdict on Claimed Benefits: Below is our summary of the available evidence for the claimed benefits of below mentioned anti-aging products and anti-wrinkle creams based on the available research: