In This Review
What is Sleep Support Plus?
Vitapost Sleep Support Plus is a supplement which is making it possible for users to attain better sleep and rest moments for normal growth and supports the development of the brain and the whole body at large.
In modern society, where everybody is in a hurry to get a lot of tasks done with minimal time allowed, people usually forget a very important part of life called sleep, which may lead to many challenges.
Taking sleep support will improve your brain function and sleep quality.
Man needs to have adequate sleep to perform optimally in various engagements. As indicated in some recent statistical studies, over 80% of Americans suffer from a lack of sleep-related problems such as insomnia.
The busy system of society which makes individuals work round the clock like robots is slowly but steadily depriving a man of the finest moments of sleep which are crucial for the optimum development of the body.
Dullness, feeling weak, and underperformance at work are some of the indicators of poor sleep at night.
This product can lead to the productivity of an individual dwindling and even reaching zero.
One month's supplement supply is contained in a bottle with up to 60 capsules.
The capsules have the most suitable components capable of making the users attain the good levels of sleep ever desired.
How Does Sleep Support Plus Rate?
Overall Rating: 4.8
Sleep Support Plus
Brand Highlights
There are no genetically modified ingredients used.
All-Gluten-Free Products
All items are cGMP-compliant and FDA-authorized.
Scientific data supports all of their services.
Key Ingredients
Melatonin
Goji Berry
Lemon Balm
Chamomile
Valerian
Pros
This product makes the users gain calmness in the body.
As per Sleep Support Plus reviews, There is deep sleep attainment when one uses the supplement in the body accordingly hence better concentration levels in the course of the day.
The supplement is made up of natural ingredients which are active.
This product can be bought via an online platform.
Cons
The supplement has no cons in the body when consumed.
---
Who is the Manufacturer of Sleep Support Plus?
The company which is making the supplement is VitaPost. The company has great manpower with a lot of skills in formulating capsules to support better sleep in the body.
The formula is rich in naturally extracted components, making it possible for the supplement to pose no side effects.
There is also a claim that the ingredients in Vitapost Sleep Support Plus will make the user develop better moods and find it easier to fall asleep the night maximally.
Sleep Support Plus Ingredients – Are they Safe & Effective?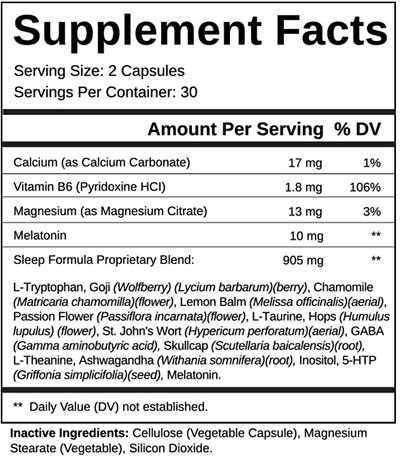 The ingredients in this Sleep Support supplement are meant to support the brain to gain calmness and soothe the user's moods, allowing for better sleep moments.
Sleep aid supplements have the following active components in it:
Melatonin
– It is naturally produced in our brain. It is also referred to as a sleep hormone and promotes healthy sleep.
– The berry is making the body of the user attain better levels of calmness,[1] boosts the moods of the user, and induces sleepiness which is crucial in attaining better growth and development in the body.
Lemon Balm
– This ingredient lowers anxiety in the body, cures problems of having sleep, and minimizes restlessness hence making the user in a position to get better sleep.
Results of one study suggest that Lemon Balm may help to relieve the results of stress.
Chamomile
– This extract is alleviating the chances of anxiety[2] and makes the body feel relaxed hence formulated in the supplement to aid sleep.Studies says chamomile is one of the oldest recognised therapeutic plants to humans.
Valerian
– This herb is effective at assisting with stress relief, calming the mind, and promoting sleep.
Sleep Support Plus FAQs
Q: Is This Sleep Supplement Effective?
A: It is one of the most effective natural sleep aid ever made available on the market.
Q: How many capsules are in one bottle of Sleep Support Plus?
A: It contains 60 capsules in one bottle.
Q: Does Stress Support Plus Work?
A: Yes, according to many consumer reviews it is very clear that this sleep supplement does actually work.
It has natural and effective ingredients that are proven to calm and increase the feeling of relaxation.
Q: Is Sleep Support Plus Safe?
A: Vitapost Stress Support Plus is formulated with natural ingredients that can support better sleep and relaxation with little to no side effects.
Q: Does It Provide Any Return Policy?
A: If for some reason you are not happy with the product, you can simply contact the manufacturer and return the product within 30 days.
It provides a money-back guarantee.
Q: How should you take this Vitapost Sleep Support supplement?
A: You should take 2 capsules of Sleep Support Plus daily.
For best results take 20-30 minutes before bedtime with an 8oz glass of water.
Precautions – Do not exceed the recommended dose. Pregnant or nursing mothers, children under the age of 18, and individuals with a known medical condition should consult a physician before using this or any dietary supplements.
Q: What are the side effects of taking Sleep Support Pills?
A: According to Vitapost Sleep Support Plus reviews, there are no major side effects to this as the majority of the ingredients are herbal extracts or herbs. It is unlikely that there will be any adverse effects.
Q: How Much Does It Cost?
A: The Stress Support supplement price varies depending on the number of bottles that one buys.
| | 1 Bottle | 2 Bottles | 3 Bottles |
| --- | --- | --- | --- |
| Price | $27.95 | $48.94 | $97.90 |
Sleep Support Plus vs Gluconite
Products
Sleep Support Plus
Gluconite
Price
$27.95
$69
Key Ingredients
Tryptophan. Melatonin, Goji berry, Lemon balm, Chamomile, Valerian
Hibiscus Powder, Tryptophan, Melatonin, Hops, GABA, etc
Vegan
Yes
No
Supplement Type
Capsule
Powder
Pros and Cons

Gain calmness
Deep sleep attainment
High-quality ingredients
Support occasional sleeplessness

Quite expensive
Some found it terrible to taste
Improves sleep quality
Non-addictive
Why choose Vitapost Sleep Support Pills over other sleep supplements?
There are many benefits of this sleep supplement that make this supplement effective and the best choice.
Some of its benefits are:
The formulation in this supplement provides support for occasional sleeplessness and makes you feel more relaxed in the morning.
It has Melatonin that supports the sleep cycle.
L-tryptophan can result in decreasing sleep latency and has positive effects on sleep or sleepiness.
Every batch of this supplement has undergone rigorous testing to ensure quality, purity, and effectiveness.
Sleep Support Plus Review – Final Verdict
Having better sleep moments is very important in ensuring better health among people.
Those who stay awake for long multitasking usually end up with many problems brought about by too much work without rest.
A formula called Sleep Support Plus will help the body to kick off anxiety and attain desirable levels of sleep.
The formula is made by a company caring for the user's health, hence making it a safe supplement with no side effects on the body.