In This Review
What is Dermology Skin Brightening Cream?
Dermology is a skin-brightening product that claims to make women's skin look healthier, brighter, and more glowing than ever.
Making the complexion look lighter can be an extremely demanding process after a certain age. Reducing discoloration is the very 1st step towards having more rejuvenated and more elastic skin.
Dermology Skin Brightening is an all-natural cream based on herbal products. It has the capacity to make the skin seem younger and more radiant.
Perfect for women who want to eliminate sun spots, scars, and some other dark areas of the complexion, Dermology can additionally tighten the skin to make it look wrinkle-free.
The company that manufactures this skin-brightening cream has been in business since 2012.
Their products have been recognized on a global scale as being efficient and approved by researchers in the field.
How Does Dermology Skin Brightening Cream Rate?
Overall Rating: 3.8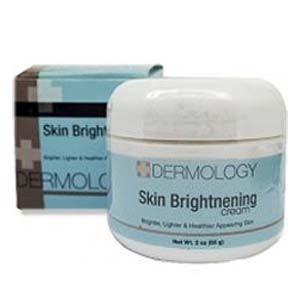 Dermology Skin Brightening Cream
Brand Highlights
The brand has an imposing line of sports nutrition products.
Dermology Skin Brightening Cream uses clinically proven ingredients in its formulations.
They are committed to being a source of top-notch, original goods.
It is known for developing and releasing the most cutting-edge products.
Key Ingredients
Arbutin
Lumiskin
Shea Butter
Evening Primrose Oil
Allantoin
Grapefruit Seed Extract
Pros
Claims to be 100% natural.
Powerful ingredients.
Removes skin blemishes, and dark spots, and eradicates aging signs.
Tightens the skin.
Effectively treats discolored skin.
Removes acne.
Non-toxic.
Claims to have been clinically tested.
Cons
Does not seem to have side effects as it contains only natural ingredients.
---
How Does Dermology Skin Brightening Cream Work?
It looks like Dermology Skin Brightening Cream delivers excellent results because of the main ingredient known as Arbutin.
It diminishes the appearance of skin discolorations and blemishes, and it is an all-natural alternative to conventional skin brighteners thus keeping free radicals away from damaging the skin.
Dermology Skin Brightening Cream is based on an herbal formula and the manufacturers claim that the ingredients are 100% natural.
Dermology Skin Brightening Cream Ingredients – Are They Safe & Effective?
Dermology Skin Brightener contains a natural active ingredient to give you a balanced and healthy complexion:
Arbutin
Arbutin is extracted from the bearberry plant. It is also found in pear skins and wheat. It helps to lighten dark[1] areas of the skin.
Lumiskin
It is an active ingredient that inhibits Tyrosinase to lighten the appearance of the skin and provides an even skin tone.
Shea Butter
Shea Butter is known for its amazing properties, it contains emollients and natural sun protectants. It keeps the skin tone[2] tight and firm.
Evening Primrose Oil
It is used as a natural medicine and it is also effective in skin care, it is used to alleviate dry skin.
Allantoin
Allantoin is a natural and gentle moisturizer[3] that helps to improve the health of the outer dermal layer.
Grapefruit Seed Extract
This extract is actually a natural antioxidant[4]. It is also used as a preservative.
Vitamins A, C, and E
These vitamins are vital for normal skin cell activity. Vitamin A is essential for healthy skin. Vitamins C and E, these two natural antioxidants increase the effectiveness of this important skin nutrient.
There are also some other ingredients such as Z Whitener, Tricaprylin, Ethoxydiglycol, Aminomethyl Propanol, Glyceryl Stearate, PEG-100 Stearate, Imidazolidinyl Urea, Dimethicone, Liposome.
READ ALSO – Clinicians Complex 6
FAQ's
Q: What are the Suggested Use Direction?
A: Take a pearl-size amount and gently massage it on the affected areas twice a day. Avoid your sensitive eye area. You will notice results in just a few weeks.
What Do the Reviews Say?
It actually doesn't accomplish anything. It might give you some short-term skin comfort for a few hours, but the expense is not justified. I haven't noticed any notable advantages as a result of using it.
~ Tammy
Conclusion
Dermology Skin Brightening Cream claims to be a powerful skin-brightening product. This product contains no harmful ingredients; therefore it is 100% safe.
The makers of Dermology mentioned that their product is all-natural and based on an herbal formula. Furthermore, the manufacturer claims that their product doesn't have any side effects which makes it safe for use.
Skin Brighteners aid in reducing post-inflammatory hyperpigmentation revealing even skin tone. Skin brighteners also can help revitalize tired and dull skin resulting in a youthful, healthy glow.
Below you'll find some of the most effective skin brightening products on the market today, in our opinion.
Our Top Rated Skin Brighteners
Verdict on Claimed Benefits: Below is our summary of the available evidence for the claimed benefits of below mentioned anti-aging supplements, creams, serums, and moisturizers based on the available research:
Essential Skin Food | Skin Nourishing Collagen Support

Diminishes the Dark Spots*
Gold Star Evidence
Boosts Skin's Plumpness*
Gold Star Evidence
Improves Skin's Radiance*
Gold Star Evidence
Brighten Skin Naturally*
Strong Evidence
Dermelect | Advanced Skin Formula
Nourish and Protect Skin*
Gold Star Evidence
Rejuvenate the Skin*
Strong Evidence
Non-Irritating Formula*
Gold Star Evidence
Suitable for All Skin Types*
Strong Evidence
Skin Whitening Forever | Whitening Your Skin Permanently
Minimizes Skin Pores*
Gold Star Evidence
Restores Uneven Skin Tone*
Strong Evidence
Enhances Skin Radiance*
Strong Evidence
Fades Discoloration*
Strong Evidence