Clean and Clear Fairness Cream Overview
Clean & Clear Fairness Cream is a revolutionary skin care product that provides beautiful, oil-free skin. It has been claimed by the Manufacturers that it provides a unique pinkish fairness that lasts three times longer than any other fairness formula. This instant fairness is provided by its unique blend of multi-vitamins and cherry extract. It reduces* dark pigmentation by brightening and lightening your skin tone. It effectively conditions your skin by supplying enough moisture to your skin cells. It provides a well-toned matte look by absorbing oil from your skin surface. Its UV filters protect your skin from sun rays and prevent skin darkening.
Active Ingredients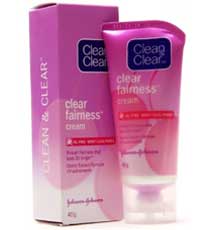 It contains the following ingredients: Propylene Glycol, Water, Dimethicone, Titanium Dioxide, Alumina, Sodium Acrylate, Potassium Cetyl Phosphate, Ethylhexyl Methoxycinnamate, Sodium Acryloyldimethyl Taurate Copolymer, Stearic Acid, Isohexadecane, C12-15 Alkyl Benzoate, Polysorbate 80, Cetyl Alcohol, Niacinamide, Dicaprylyl Carbonate, Aluminum Starch, Mica, Titanium Dioxide, Sodium Hydroxide, Butyl Methyoxydibenzoylmethane, Fragrance, Methylisothiazolinone, Oryza Sativa (Rice) Extract, Carbomer, Polyaminopropyl Biguanide, Methylparaben, Disodium EDTA, CI 17200, Propylparaben, Prunus Cerasus (Bitter Cherry) Fruit Extract, Tocopheryl Acetate, and Ascorbyl Glucoside.
How does Clean and Clear Fairness Cream Work?
Its manufacturers claim that it provides pinkish fair skin. It is infused with multi-vitamins and bitter cherry extract, which instantly brighten your skin soon after the application. The instant brightness and pinkish fairness to the skin that lasts three fold longer is provided by the cherry extracts. Oil production over face is controlled by the unique pure rice oil control system. It prevents stickiness and greasiness by absorbing oil for up to 4 to 5 hours. Its ingredients significantly lighten your skin complexion and provide pinkish fair skin. It effectively controls oil production with its unique pure rice oil control system. It has the most effective UV filters that protect your skin from harmful UV rays. It prevents skin darkening and sun burn by leaving an oil free finish.
Clean and Clear Fairness Cream – Pros
It is widely available and can be easily obtained
Contains the most effective UV filters
It has an attractive packing and is easy to carry while traveling
Controls oiliness by absorbing excess oil
Provides a matte finish for the rest of the day if it is used twice
Its cream is non-sticky and non-greasy; hence a best option for oily skin types.
It has a mild, pleasant fragrance; thus can be used by people who are sensitive to smell
It doesn't clog your skin pores
Doesn't cause acne breakouts
It is cost economical and can be obtained at a reasonable rate
You can apply it in small amounts
Clean and Clear Fairness Cream – Cons
It can cause mild dryness of skin
It is not an ideal choice for all skin types
It can cause a whitish cast on dry skin, especially when applied in large amounts
It contains long list of chemical ingredients, parabens, and alcohol, which is not good for long term use
Although, manufacturers claim that it provides pinkish fairness that lasts three times longer; however, it may not work for everyone.
Makes dry skin appear tight and stretchy
Dusky or darker skin tone people often develop a whitish caste on application.
It sounds little pricey compared to other skin care products that have the same effect
The Dos and Don'ts While Using Clean and Clear Fairness Cream
Dos
Do try this product first before applying it to your face to ensure that you are not allergic to this product
Don'ts
Do not use if you're allergic or sensitive to any of its ingredients
Final Verdict
It is a right product if you are looking for a skin care product that absorbs excess oil and provides a good matte finish.
Skin Brighteners aid in reducing post-inflammatory hyperpigmentation revealing even skin tone. Skin brighteners also can help revitalize tired and dull skin resulting in a youthful, healthy glow.
Below you'll find some of the most effective skin brightening products on the market today, in our opinion.
Our Top Rated Skin Brighteners

Ability to Lighten Skin Tone
Reduces Freckles and Sun Spots
Promotes Brighter and Radiant Skin Tone
Reduce Fine Lines and Wrinkles
Ability to Lighten Skin Tone
Reduces Freckles and Sun Spots
Promotes Brighter and Radiant Skin Tone
Reduce Fine Lines and Wrinkles
Ability to Lighten Skin Tone
Reduces Freckles and Sun Spots
Promotes Brighter and Radiant Skin Tone
Reduce Fine Lines and Wrinkles
Ability to Lighten Skin Tone
Reduces Freckles and Sun Spots
Promotes Brighter and Radiant Skin Tone
Reduce Fine Lines and Wrinkles
Ability to Lighten Skin Tone
Reduces Freckles and Sun Spots
Promotes Brighter and Radiant Skin Tone
Reduce Fine Lines and Wrinkles