In This Review
Overview of Powher
Powher is a line of all-natural health supplements made specifically for women.
The brand consists of 3 products, Powher Pre Workout, Powher Cut, and Powher Multivitamin.
The supplements are high in nutrients and antioxidants which promote health and immunity. They also offer benefits like energy, endurance, mental focus, suppressing appetite, and weight loss.
How Does It Rate?
Overall Rating: 4.7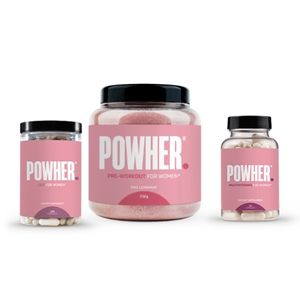 Powher
Brand Highlights
The brand is 100% natural and free of additives and fillers.
Powher specifically meets the needs of women.
They make the products under GMP standards in FDA-registered facilities.
Registered dieticians design the products.
Key Ingredients
Green Coffee Bean
Vitamin B6 and 12
Vitamin A
Vitamin K
Vitamin C
Vitamin D3
Glucomannan
Caffeine
Choline
Chromium Picolinate
Pros
Powher contains rich nutrients which promote health.
The products can curb hunger for possible weight loss.
Powher can give you added energy.
The brand can enhance your exercise performance.
Powher can sharpen mental focus.
Cons
These are popular products which sometimes run low stock.
The results will be different for different users.
The company does not offer free samples.
---
Summary of Supplements For Women
Powher Preworkout
Maximum Preworkout Benefits
Key Ingredients: Enxtra, Green Coffee Bean, Vitamins B6 and 12
Price: $35
What It Does: Supports a more powerful workout, improves focus and motivation
---
Powher Cut
Potent Powher Fit Booster
Key Ingredients: Caffeine, Glucomannan, Choline, Chromium Picolinate
Price: $51
What It Does: Reduces cravings and hunger, improves energy, promotes fitness goals, supports fat metabolism
---
Powher Multivitamin
Abundant Nutrients
Key Ingredients: Vitamins A, C, D3, K1
Price: $31
What It Does: Provides needed nutrients, supports overall health and immunity
---
How Does Powher Work?
Powher Cut contains caffeine, which can speed up the metabolism and cause the body to enter a fat-burning state of thermogenesis. This could lead to rapid weight loss. Powher fat burner also contains fiber, which can fill up the stomach so you take in fewer calories. A review in the Journal of the American College of Nutrition discussed the effect of fiber on satiety [1].
Fiber also helps move food along the intestines, which can promote regular bowel movements and eliminate symptoms like gas, bloating, and diarrhea. Powher is high in anti-inflammatory agents which reduce swelling in the gut and the rest of the body.
Powher contains ingredients that activate higher levels of acetylcholine, a brain neurotransmitter related to learning. This can improve mental focus and cognitive performance. An article in Current Opinions in Neurobiology discussed the role of acetylcholine in learning and memory [2].
These formulas are rich in nutrients, which can resolve any deficiencies and provide numerous health benefits. It's also high in antioxidants which eliminate free radicals and decrease oxidative stress. This promotes healing in the body and strengthens the immune system.
Powher Ingredients – Are they Safe & Effective?
These are some of the primary active Powher ingredients:
Green Coffee Bean
– High in caffeine, this bean speeds up the metabolism for rapid fat-burning and weight loss. In addition, it can provide extra energy and enhance exercise performance. A meta-analysis in Natural Medicine Journal examined the effects of green coffee bean on weight loss [3].
Vitamin K
– This vitamin exists in many bodily organs, and it produces various required proteins in the body which can help blood clotting and promote bone health. It exists in foods like green leafy vegetables and soy. An article in Open Heart discussed the health benefits of Vitamin K [4].
Choline
– As the precursor to the brain's chemical acetylcholine, choline plays an important role in enhancing learning and memory. It supports the health of the brain and nervous system and reacts to numerous chemical reactions in the body. An article in Nutrition Reviews discussed choline as a key nutrient in public health [5].
Vitamin B 12
– This vitamin is in foods such as dairy, meat, fish, and chicken. It's important in the formation of red blood cells, cell metabolism, nerve function, and DNA development. It plays a role in developing brain and nerve cells. An article in Nutrients discussed Vitamin B12 in health and disease [6].
Who Should Buy Hanacure?
Powher is a brand made specifically for women who want to enhance their fitness, build endurance, and lose weight. They are also ideal for someone who wants to boost their overall nutrition and strengthen their immune system.
Powher (FAQs)
Q: How Do You Use Powher Products?
A: Note: Do not take more than the maximum dosage of these supplements for any reason.
Powher Pre Workout: One 10g scoop, mix with water and drink
Powher Cut: 2 capsules with 1-2 glasses of water 3 times per day with a meal
Powher Multivitamin: 1 capsule once a day with water
Q: What is the Powher Return Policy?
A: The manufacturer is offering a 90-day money-back guarantee for unused items only. Contact the company within 7 days of getting your order to request a refund. You have to have bought the Ultimate package and used it for 90 days to get your money back. If you meet these criteria, return the items to the manufacturer and you should get a refund.
Q: Is Powher Legit?
A: This is certainly a legitimate brand, as the manufacturer is a well-respected UK-based supplement and fitness company that has 7 years of experience in the industry. They have a real street address in Leeds, UK. Their website is very professional and there are a number of excellent Powher review posts.
Q: Where to Buy Powher?
A: You can buy Powher Fat Burner for Women from the manufacturer's official website, and from a couple of other online retailers. The prices of a single bottle on the official site are as follows. If you buy in bulk, you get a discount.
Powher Pre Workout – $35
Powher Cut – $51
Powher Multivitamin – $31
The Ultimate Powher Mix Bundle (all 3 products) – $118
Q: What Sets Powher Apart From the Competition?
A: This is a fairly typical brand in terms of ingredients and benefits. The one thing that sets it apart is that the products are for women alone and designed based on women's nutritional and fitness needs.
Powher Customer Reviews
Powher has delicious pre-workout supplements
Powher is a delicious pre-workout. I'm not gonna lie I love to feel cracked out when I'm working out, Powher pre-workout supplements sure do that for me. Makes me work even harder every use. The taste is yummy, and kicks in quickly, no complaints at all. ~ Abbi Bonner
Powher Review – Conclusion
Powher is an all-natural supplement brand for women which aims to boost health and fitness levels. It offers benefits such as added energy, improved endurance, mental focus, suppressed appetite, weight loss, and a stronger immune system. These are potent products that are priced reasonably for the market. All of the Powher reviews were on the manufacturer's official website, and they were mostly very positive. Women said the supplements gave them energy, improved endurance, and helped curb their hunger for weight loss. There was no mention of side effects.
Powher is a health supplement brand that includes 100% naturally-sourced ingredients and is free of chemical or artificial additives and fillers. The products should not lead to any harmful side effects. We would highly recommend this line for women looking to improve their fitness levels and lose weight.