In This Review
What Is Niva CBD?
Hemp oil is becoming an increasingly popular health supplement with the continuing normalization of marijuana. The research is continuing forward and it is hard to deny the therapeutic effects of CBD which is why the market is currently booming. Many companies are making many different kinds of CBD products for various purposes but the specific product we will be discussing today is one that targets many areas of health.
The name of the product is Niva CBD and it is a CBD oil supplement that comes in the form of a soft gel pill that can be taken orally. Niva CBD is sort of an all-around health supplement because it targets not only the joints and inflammation but there may also some cardiovascular benefits to this product as well. One important note about this product that all consumers should know is that it is non-psychoactive so it will not intoxicate you in any way.
How Does It Rate?
Overall Rating: 3.8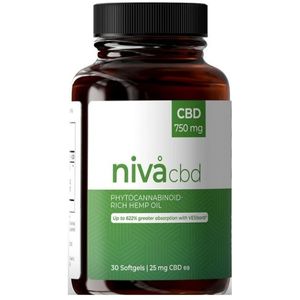 Niva CBD
Brand Highlights
No stimulants or artificial substances
Assured absence of any psychedelic effects
Aids anxiety, pain, stress, and sleep naturally
NO THC; won't interfere with drug tests
Key Ingredients
Vesisorb hempchoice
PCR hemp oil extract
Medium chain triglycerides
Diglycerides.
Pros
One advantage to this product is that it might help to relieve anxiety for the user.
Another possible advantage to this product is that it could help the user fall asleep quicker.
It may be possible for Niva CBD to improve cardiovascular health.
Niva CBD may also be able to help with digestive health.
Cons
You may need to talk to your doctor before using this product.
The user should keep this product away from children.
---
Who Is The Manufacturer Of Niva CBD?
The name of the company that makes Niva CBD is N3 Oceanic Inc and they are a company that specializes in health supplements. Their website explains that the company only sources their ingredients from suppliers that meet their stringent standards for quality and that all of their supplements including Niva CBD are unsurpassed when it comes to potency and effectiveness.
N3 Oceanic, Inc., maker of Nivå CBD, has been manufacturing the Res-Q brand of natural health supplements to promote heart health and overall physical wellness for over 30 years. N3 Oceanic, Inc. is located in eastern Pennsylvania, United States.
How Does Niva CBD Work?
If Niva CBD can indeed do all it says it can do then the most likely reason is because of the efficacy of phytocannabinoids which is any kind of naturally occurring cannabinoid that is found in the hemp plant.
Our bodies have cannabinoid receptors which these phytocannabinoids interact with. These interactions could lead to great anti-inflammatory effects, and anti-anxiety effects and they might even be able to help the user sleep better.
Niva CBD Ingredients – Are they Safe & Effective?
There is essentially only one active ingredient in Niva CBD but it is supported by a cast of lesser ingredients which we will discuss.
Niva CBD uses non-psychoactive CBD from the hemp plant which will not result in any intoxicating effects.
VESIsorb HEMPCHOICE PCR Hemp Oil Extract
– This is the hemp oil extract that has all of the phytocannabinoids and terpenes in this product. It contains cannabidiol as well as 25 milligrams of CBD as well as 6 milligrams of terpenes[1].
Medium Chain Triglycerides
– MCT's are typically used for health purposes related to cholesterol regulation and athletic performance. A study found that consuming food rich in MCTs improved the time that recreational athletes could endure high-intensity exercise[2].
Diglycerides
– Research says Diglycerides are often used in capsule products to help oil and water blend and to maintain consistency of the product[3].
Niva CBD – FAQ's
Q: When should you take Niva CBD? Morning or night?
A: The directions for using Niva CBD are simple. They state that you should take one liquid Niva CBD soft gel a day or you can ask your healthcare provider how you should be taking this product.
Q: How Much Does Niva CBD Cost?
A: All of the Niva CBD purchase packages come with free shipping and the starter pack which includes 2 bottles with one additional free bottle costs $99.95 per bottle. Three bottles cost $209.90 each and you get 2 free bottles.
Q: Is Niva CBD Good Manufacturing Practices (GMP) certified?
A: According to the official website, Niva CBD manufacturing facilities operate under strict Good Manufacturing Practices (GMP) and they are inspected by leading independent agencies to ensure the purity and quality of every product they produce.
Q: What is Niva CBD's Return Policy?
A: Niva CBD comes with a 100% satisfaction guarantee which stipulates that you can return your product within 60 days of your purchase for a refund if you are not happy with it.
Q: Does Niva CBD Offer a Free Trial?
A: There is no free trial of this product yet available. You may be able to contact the company and request one or just check back with us at a later time as we will update this review if a free trial offer becomes available for Niva CBD.
Q: Will you fail a drug test taking Niva?
A: Maybe! Even though there are CBD users who pass drug tests with no issues, not all drug tests are made the same.
Q: Does Niva CBD work?
A: Niva CBD is a versatile health product that can fix anything from joints to cardiovascular issues. It contains natural products and clinical trials do not report any Niva CBD side effects. The company claims 100% customer satisfaction and it is trusted for 35 years.
Q: What is Niva CBD good for?
A: Niva CBD provides various health benefits as it fights stress, anxiety, and depression, stimulates bone growth, supports healthy heart circulation, contains neuroprotective properties, and much more.
Q: Are there any side effects associated with Niva CBD?
A: Niva CBD is made up of natural ingredients so there is no chance of getting any side effects. However, avoid taking an overdose.
Q: Does ordering Niva CBD set up an automatic subscription plan?
A: No. However, on the official website, you can learn more about how Auto Shipment Plan works.
What Do the Reviews Say?
Niva CBD is good
I'm pleased with Niva CBD after trying many different CBD brands. I've been trying to share with my family about getting them into Niva CBD products, which can be hard, as they speculate if CBD can help with the pain. But this brand has potential. ~ George.M
Niva CBD Reviews – Final Verdict
Niva CBD is a daily supplement that utilizes the power of CBD oil from the hemp plant. It will be able to support cardiovascular health and it may also be good as a sleeping aid. Niva CBD will also be able to help with joint inflammation and chronic pain.
The customer should still be aware that phytocannabinoids, one of the main agents in this product, still need to be studied more extensively for their effects but it is generally regarded as safe and beneficial in most senses.
We recommend giving Niva CBD a try as it holds a lot of benefits for the user.
Where can I purchase Niva CBD?
You may be able to get it in-store at one of the dispensaries, the best place to purchase this supplement is the Niva CBD official website. When purchasing one of their packages, the price is a little lower than purchasing a single bottle.
In our opinion, below you'll find the most effective CBD Hemp Oil Drops products on the market. These products are classified on 5 key factors: Reduces Chronic Stress and Anxiety*, Supports Mental Health*, Reduces Blood Sugar Levels*, Supports Bone Growth* and Improves Cognitive Functioning*. Ultimately, we determined the bottom-line value of each product.
Top Rated CBD Hemp Capsules