In This Review
Wrinkle MD Overview
Wrinkle MD is a system of hyaluronic filler that deeply delivers hyaluronic acid and peptides in your skin cells by the use of a gentle microcurrent.
This hands-free device effectively delivers anti-aging ingredients in your skin to eliminate the wrinkles around your eyes. Pre-dosed disposable patches are attached to the system device.
The patches come in two sets, one for the brow area and the other one for the eyes. Once the patches are attached to the device you wear the device and start the iron infusion treatment which takes an average of 30 minutes.
How Does Claritag Advanced Skin Tag Removal Device Rate
Overall Rating: 3.5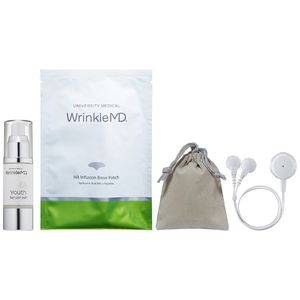 Wrinkle MD
Brand Highlights
The system claims to deeply penetrate super peptides and hyaluronic acid from the patches into your skin.
After the infusion, serum in the system is supplied to your skin to provide moisture and keep your skin well hydrated.
This will leave you with immediately refreshed, smooth, radiant, and well-hydrated skin.
Pros
The device is pliable and comfortable to wear
The device is self-adhering without causing you harm
It targets the source of wrinkles
It hydrates your skin deeply
The effects are immediate
No downtime
Results are long lasting
It is painless a procedure
Ingredients used are natural so there is no side effects
The device is portable and suitable for home use
Cons
The patches are disposable and cannot be re-used again
It is highly priced
Exact amount of reagents used is not provided
The device have no convincing payback
Details on manufactures is not available
Technical skills are required when wearing the device
---
How Wrinkle MD works?
The hand-free device is supplied in pads and youth serum which is impregnated with ingredients.
The pads are impregnated with active peptides and hyaluronic acid that is deeply penetrated into your skin through the micro-electrical system. After 30 minutes of treatment, the fine lines and wrinkles are smoothened.
The treatment is concluded by a serum that is loaded into the system to supply moisture to your skin and provide extended results.
You will experience immediate results of refreshed, smooth, moisturized, and radiant skin.
Wrinkle MD Ingredients – Are they Safe & Effective?
The ingredients used in wrinkle MD have a small molecular size to enhance easier penetration in the deeper areas of your skin.
It also has the ability to attract and retain moisture to maintain well-hydrated skin. The ingredients used to impregnate the wrinkle MD pads are different from those used in wrinkle MD serum.
Ingredients used to saturate wrinkle MD pads

: Water, glycerine, pvp, hyaluronic acid, Saccharomyces Lysate Extract[1], Acrylate/Acrylamide Copolymer[2], DiaminobutyroylBenzylamideDiacetate, Triethanolamine, Potassium Chloride, Phenoxyethanol.

Ingredients used in wrinkle MD serum

: Deionized Water, Anhydroxylitol, Dimethicone, Avena Sativa Kernel Extract, Sodium Acryloyldimethyltaurate Copolymer, xylitol, Hydroxyethylacrylate, , HydroxypropylCyclodextrin[3], Polysorbate 60, squalene, Glycerin, Palmitoyl Oligopeptide, mica, sodium hyaluronate, titanium dioxide, phenoxyethanol, Sodium CarboxymethylBetaglucan, DiaminobutyroylBenzylamideDiacetate, Palmitoyl Peptide, PEG 10 Rapeseed Sterol, Ceramide-2.
Wrinkle MD FAQ's
Q: How Should You Take Wrinkle MD?
A: The suggested use is two times a week for the first week, and once a week thereafter. The face must be well-cleaned before the start of the treatment.
Q: What is the price for the system and subsequent pads for continued treatment?
A: Each system costs £189.00 and includes 5 treatments. Refills of either the brow or eye patches are £139.00 for 8 treatments.
Wrinkle MD Hyaluronic Acid Deep Infusion System for Eyes £189.00
Wrinkle MD Infusion Skin Prep £22.50

Wrinkle MD Review – Final Verdict
This treatment involves deep penetration and working on the wrinkle sources; it is seen to deliver more effectively than the best anti aging skincare for Sensitive Skin that is applied to your skin.
It is recommended for those who have tried other anti-aging creams and serums and still have those stubborn wrinkles and fine lines.
From the customer rating, this product has worked well and satisfied the customer needs. There are other many anti-aging skin care products in the market, you can compare their effectiveness with those of this product.
As we age the composition, texture and appearance of our skin changes. Signs of skin aging include wrinkles, fine lines, loss of moisture, uneven tone and dull, tired-looking skin. There are countless anti-wrinkle creams on the market promising to make skin look and feel younger. Many anti-wrinkle creams promise everything short of a facelift or to provide the much sought after "fountain of youth". In reality most are just moisturizers marketed as anti-aging products.
Below you'll find some of the most effective wrinkle serum/cream formulations on the market today, in our opinion.
Our Top Anti Aging Choices
Verdict on Claimed Benefits: Below is our summary of the available evidence for the claimed benefits of below mentioned anti-aging products and anti-wrinkle creams based on the available research:
Beverly Hills MD - Best #1 Rated Skincare Brand
Innovative Science-Backed Skincare Products*
Gold Star Evidence
Range of Products for Specific Skin Concerns*
Gold Star Evidence
Cruelty-Free, Premium Quality Ingredients*
Gold Star Evidence
Visibly Lifts Skin From The Inside, Out*
Gold Star Evidence
Beverly Hills MD Dermal Repair Complex | Best Anti-Aging Supplement

Diminishes Wrinkles & Dullness*
Gold Star Evidence
Reduces Sagging or Drooping*
Gold Star Evidence
Improves Hair & Nails Strength*
Strong Evidence
Enhances Skin Elasticity*
Gold Star Evidence
Deep Wrinkle Filler | Anti-aging Skin Care Formula
Erase The Appearance Of Fine Lines*
Gold Star Evidence
Fill in Deep Wrinkles*
Gold Star Evidence
Give Skin a Smoother, More Flawless Appearance*
Strong Evidence
Nourishes Skin For Lasting Results*
Strong Evidence
XYZ Smart Collagen | The Best Anti-aging Cream
Wrinkles Reduction*
Gold Star Evidence
Improves Skin Firmness*
Gold Star Evidence
Improves Skin Texture*
Strong Evidence
Smart Collagen Management*
Strong Evidence
Hydrossential Serum | All-Natural Skin Care Product
Support Skin Health*
Gold Star Evidence
Helps Eliminate Acne, Dark Spots, Fine Lines*
Strong Evidence
Improves Resistance to Inflammation*
Gold Star Evidence
Repair and Restore Damaged Skin Cells*
Strong Evidence