What is Roc Daily Resurfacing Disks?
RoC Daily Resurfacing Disks are dual-textured, self-foaming disks infused with skin conditioners clinically proven to make the skin look younger, more vibrant and rejuvenated in as little as 7 days.
Meant for everyday use, these disks will balance your complexion, even pH, and remove unpleasant wrinkles. The textured disks are capable of gently exfoliating skin impurities, oil, and dirt.
Furthermore, the makers say these are perfect to remove make-up especially if your skin is overly sensitive.
Who is the Manufacturer of Roc Daily Resurfacing Disks?
Roc is a famous skin care company that manufactures and markets a plethora of products starting from anti-wrinkle creams to moisturizers and revolutionary Retinol night creams.
The enterprise makes use of vitamin A (stabilized Retinol) to produce their pioneering like of anti-aging products. Each and every ingredient used by Roc is attentively examined and tested to make sure it's both safe for the skin and efficient. Thus, the makers are minimizing the risks of developing allergies.
With roughly 50 years in the skincare business, Roc has made a name for itself thanks to a wide palette of quality lotions and creams. The technology behind every Roc product is meant to help women regain their youth, and thus make them feel beautiful all the time.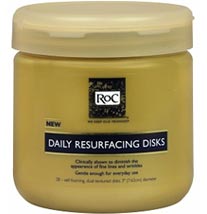 Roc Daily Resurfacing Disks Ingredients – Are they Safe & Effective?
Water, Glycerin, PPG-2 Hydroxyethyl Cocamide, Decyl Glucoside, Polysorbate 20, PEG-16 Soy Sterol, Disodium Lauroamphodiacetate, Phenoxyethanol, Tetrasodium EDTA, Butylene Glycol, , PG-Dimonium Chloride Phosphate, Fragrance, Sodium Citrate, Sodium Coco, Glycine Soja (Soybean), Citric Acid, Ethylparaben, Methylparaben, Propylparaben, Cocamidopropyl Betaine, PEG-14M, Protein.
How Does Roc Daily Resurfacing Disks Work?
The RoC Daily Resurfacing Disks are meant for daily use. This top rated anti aging cream works to clean the skin, exfoliate the surface, and act on a deeper layer to remove wrinkles. Furthermore, the disks are hydrating the complexion, thus making your skin light and a lot more revitalized.
What are the Advantages of Roc Daily Resurfacing Disks?
Excellent exfoliator
Smoothens the skin and may make it softer and revitalized
It might be suitable for sensitive skin
Positive customer reviews
What are the Disadvantages of Roc Daily Resurfacing Disks?
Doesn't remove wrinkles

Might trigger irritations or allergic reactions considering the disks contain artificial ingredients
What Kind of Reviews are Out there for Roc Daily Resurfacing Disks?
Good product for exfoliation
Excellent skin cleansers
Good product for dry skin
Doesn't cause irritation
Worth buying
Most customer reviews regarding the RoC Daily Resurfacing Disks are positive, although they're certainly not removing wrinkles. Perfect for daily use, these disks are meant to exfoliate the skin, remove dirt, and additional debris. So far so good! However, it's impossible for these to help women deal with unpleasant aging signs.
FAQ's
How I Use This?
The RoC Daily Resurfacing Disks should be used on a wet skin. Grab one disk from the jar and start cleaning the skin gently. Use circular motions and cleanse the entire face. The textured side of the disk should be used to remove skin impurities. After you're done, rinse your face with warm water. For even better results, you are advised to invest in a reveal cleaner from Roc as well.
Advertisement
*All individuals are unique. Your results can and will vary.
Roc Daily Resurfacing Disks Review – Final Verdict
Roc is one of the world's most famous beauty companies. Their discovery of Retinol is making them pioneering in the business, yet make-up disks can't replace anti-wrinkle creams that are a lot more powerful.
The product might be an excellent exfoliator and moisturizer because it does have in its composition adequate ingredients to make the skin smoother. However, customers (women in particular) shouldn't expect groundbreaking results. Hence, you may dig on best anti wrinkle cream reviews on our site before reaching any conclusion.
As we age the composition, texture and appearance of our skin changes. Signs of skin aging include wrinkles, fine lines, loss of moisture, uneven tone, and dull, tired-looking skin. There are countless anti-wrinkle creams on the market promising to make skin look and feel younger. Many anti-wrinkle creams promise everything short of a facelift or to provide the much sought after "fountain of youth". In reality most are just moisturizers marketed as anti-aging products.
Below you'll find some of the most effective wrinkle serum/cream formulations on the market today, in our opinion.
Our Top Wrinkle Cream Choices
Verdict on Claimed Benefits: Below is our summary of the available evidence for the claimed benefits of below mentioned anti-aging products and anti-wrinkle creams based on the available research: