HTY Gold The Product Overview
HTY Gold is a cream formulated to naturally moisturize, revive, strengthen, and protect aging skin. In their words, the product will "prevent and conquer dry, wrinkled, crepe-paper skin." It seems to be based upon a patented complex of rare 'super-red' palm oleins, which contain a wealth of antioxidants and something called tocotrienols. The company holds a patent, with the number listed at the bottom of their website. HTY Gold is based in San Francisco, CA, and is manufactured by Pacific Specialty Oils, Inc.
HTY Gold The Product Details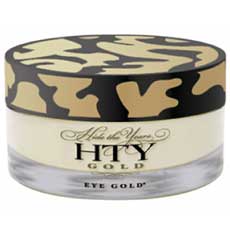 HTY Gold was created by Patricia Kopas and her husband, George Kopas, a chemist who has over 50 years of experience working with oils. It doesn't contain artificial chemicals, preservatives, parabens, or fragrances and has been dermatologist tested and approved. It seems to rejuvenate and protect the skin by providing antioxidants and deeply penetrating moisturizers. In addition to CQ10, Beta and Alpha Carotenes, Vitamins E and A, HTY Gold contains Tocotrienols, which may build in the skin tissue and protect it against external damage. The other ingredients include Palm Oil, Evening Primrose Oil, Avocado Oil, and Meadowfoam Seed Oil. HTY Gold has not been tested on animals and contains no animal products.
HTY Gold claims that 9 out of 10 women who have used it have seen marked improvements in their skin, but there is no scientific evidence provided to substantiate this claim. It seems to be based loosely on user reviews. There are 6 testimonials from different doctors, including dermatologists and plastic surgeons, supporting HTY Gold. The website also includes eleven positive customer testimonials with the first names, last initials, and locations of the users. You may purchase a 1.7 oz trial size jar for $80 and the full size 3.4oz jar can run around $180 for the night cream, making it one of the more expensive products on the market. HTY Gold is Better Business Bureau accredited and has been in operation since 2001. They offer a 60 day money back guarantee.
Strengths of HTY Gold
All natural
Holds a patent, which adds some legitimacy to claims
No animal testing
MD testimonials
Dermatologist tested
BBB Accredited
Contains potent emollients.
60-day money back guarantee.
Weaknesses of HTY Gold
No scientific evidence presented to support claims
Does not contain many ingredients that specifically target wrinkles or have been shown to have positive effects on wrinkles
Expensive.
HTY Gold The Bottom Line
Based on the information provided, HTY Gold appears to simply be a very potent moisturizing cream. It is true that excellent hydration of the skin can help the appearance of wrinkles and help to prevent future development. Also, the antioxidants will help to protect the skin against aging. However, it does not contain any specific ingredient directly targeted towards wrinkles, collagen stimulation, muscle relaxing, or other effects that many patented wrinkle fighting ingredients may have. In the end, it seems to be a very expensive moisturizer. However, it is an all natural, cruelty free option that comes with a two month guarantee.
Aging is a completely natural process that happens to everyone at one time or another. Fortunately, there are several choices when it comes to quality anti-wrinkle creams that allow you to keep your youthful complexion and glow for years to come. To help you delay this as long as possible, you have to choose a wrinkle cream very carefully, since most creams are not really effective. To make it easy for you to choose the best anti-wrinkle cream, we have evaluated the top products on the market. Below are the best products on the market rated according to the effectiveness and safety of the ingredients.
Our Top Wrinkle Cream Choices

Renews Skin and Boosts Collagen
Diminishes Fine Lines & Wrinkles
Improves Skin's Texture and Firmness
Potential to Long Term Reduction Wrinkles
Dermology Anti Aging Solution
Renews Skin and Boosts Collagen
Diminishes Fine Lines & Wrinkles
Improves Skin's Texture and Firmness
Potential to Long Term Reduction Wrinkles
Renews Skin and Boosts Collagen
Diminishes Fine Lines & Wrinkles
Improves Skin's Texture and Firmness
Potential to Long Term Reduction Wrinkles
Resveratrol Wrinkle Cream
Renews Skin and Boosts Collagen
Diminishes Fine Lines & Wrinkles
Improves Skin's Texture and Firmness
Potential to Long Term Reduction Wrinkles
Maxilift Instant Wrinkle Reducer
Renews Skin and Boosts Collagen
Diminishes Fine Lines & Wrinkles
Improves Skin's Texture and Firmness
Potential to Long Term Reduction Wrinkles
Renews Skin and Boosts Collagen
Diminishes Fine Lines & Wrinkles
Improves Skin's Texture and Firmness
Potential to Long Term Reduction Wrinkles