In This Review
Replenix Neckletage Overview
Replenix Neckletage is a cream that fights anti-aging in the neck area and helps increase skin firmness.
It is manufactured by Topix Pharmaceuticals, Inc, a US-based company. The average cost of a 1.7 ounce container starts at $84.00, plus shipping and handling.
No information about a return, exchange, or money-back guarantee is made on the product's website.
How Does It Rate?
Overall Rating: 3.5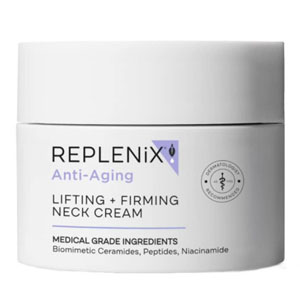 Replenix Neckletage
Brand Highlights
Discover the clinical-grade skincare products based on groundbreaking science and trusted by dermatologists for over 40 years.
In addition, the manufacturer of the product does not link to studies conducted about the product that can back up its claims.
Key Ingredients
Peptides
Niacinamide
Biomimetic Ceramide Complex
Apple Stem Cells
Pros
The product targets the neck, which is a part of the body that has been neglected by the anti-aging sector of skin care.
Some of the ingredients included in the formula are known to benefit the skin.
Clear directions are provided for the product and it is easy to use.
Cons
No information is provided about a return/exchange policy on the product's website.
The product uses a proprietary blend and does not list the ingredients in that blend.
Amounts or concentrations of ingredients are not listed.
At $75.00 per container, the cream is on the expensive end of certain anti-aging products.
Clinical studies that back the product's claim are not mentioned on the product's website.
Reviews from customers are inconsistent.
---
How Does Replenix Neckletage Work?
Apply liberally to the neck and jawline area twice per day or as directed by your health care provider.
Replenix Neckletage Ingredients – Are they Safe & Effective?
Peptides:
Proteins made up of amino acids. They may be either synthetic or naturally derived. They help keep the skin moisturized. [1]
Niacinamide:
Known as niacin and vitamin B3. This ingredient benefits the skin by improving elasticity, decreasing discolorations, increasing fatty acid levels, and healing damage done by the sun's rays. [2]
Biomimetic Ceramide Complex:
A proprietary blend of ceramides used to hydrate the skin. [3]
Apple Stem Cells:
plant stem cells are used in cosmetics to balance and replenish epithelial and other skin cells. They may also help replenish skin tissue. [4]
You Also Like to Read RE9 Advanced Age-Defying Neck Cream
Replenix Neckletage FAQ's
Q: What is the Biomimetic Ceramide Complex?
A: This is a proprietary blend of ceramides that helps skin stay hydrated. Ceramides are fats naturally found in skin cells. The blend helps replenish ceramides in the skin that are lost with age.
Q: What if I need to return the cream?
A: The product's manufacturer does not provide information about returns or exchanges. However, contact information is easily available and this makes it easy for customers to request this information themselves.
Replenix Neckletage Review – Final Verdict
Replenix Neckletage fills a void in the anti-aging product industry since it concentrates on the neck and jawline area.
This makes the product appealing to consumers that want to focus on this part of their body. A proprietary blend helps restore ceramides in the skin to achieve firmer skin.
The product's website does not say whether or not it accepts returns, so customers have to contact staff directly.
It would be helpful to consumers to know exactly what is contained so they can gage the product's effectiveness.
In addition, the manufacturer of the product does not link to studies conducted about the product that can back up its claims.
A product that lists its ingredients and also lets consumers know exactly what concentrations are included might be a better option. There are several top neck creams currently available in the market, such as Sente Neck Firming Cream which make your skin fresh and smooth and improve overall skin health.
Many people neglect their neck and chest in their daily skin care regimen. The neck ages just as quickly as the face and overtime loses elasticity resulting in what is commonly referred to as "turkey neck". Prior to purchasing a neck cream make sure it has been rigorously tested in clinical trials. A neck cream should effectively firm and lift sagging skin, improve overall tone and texture and reduce the appearance of fine lines and wrinkles.
Below are some of the best neck care serums on the market today, in our opinion.
Our Top Neck Firming Choices
Verdict on Claimed Benefits: Below is our summary of the available evidence for the claimed benefits of below mentioned neck care serums and creams based on the available research:
Beverly Hills MD Rapid-Lift Advanced Neck Serum

Lifts Sagging Skin*
Gold Star Evidence
Smoothes Neck Wrinkles*
Gold Star Evidence
Enhances Skin Firmness*
Gold Star Evidence
Refines Skin Texture*
Strong Evidence
Drmtlgy Advanced Neck Cream | Neck Rejuvenation Solution
Targets Neck & Décolletage*
Gold Star Evidence
Reduces Neck Pigmentation*
Strong Evidence
Relieves Skin Irritation*
Gold Star Evidence
Enhances Skin Radiance*
Strong Evidence