In This Review
What is Nitric Drive?
Nitric Drive is a male enhancement supplement that contains natural ingredients including; l-arginine, l-citrulline, and pine bark extract to help support male sexual functions.
The supplement is gluten-free, non-GMO, and helps improve male fertility, and erectile functions, boost energy levels and promote muscle growth. Nitric Drive also helps improve mental clarity, reduce fatigue, increase libido, and improve physical performance.
How Does It Rate?
Overall Rating: 4.9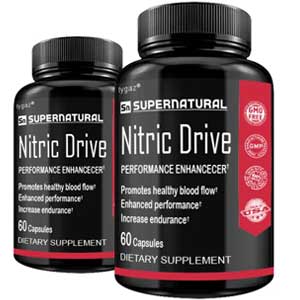 Nitric Drive
Brand Highlights
Nitric Drive is a male enhancement supplement
The supplement is Natural, gluten-free, and non-GMO
Dr. Joseph Feuerstein is behind the creation of this dietary supplement
To be used by males above 18 years
Key Ingredients
Pine Bark Extract
L-arginine
L-citrulline
Magnesium stearate
Gelatin
Pros
It may help improve physical performance
May support muscle growth
Lowers high blood pressure
Improves erectile functions
Supports stronger and longer erections
Cons
It has not undergone third-party clinical tests
Some users may experience negative side effects after using the supplement
The origin of Nitric Drive remains unclear
---
About the Brand
The origin of Nitric Drive varies on many websites. Dr. Joseph Feuerstein, a specialist in male reproductive health, is behind the production of this male enhancement supplement.
There is no mention of the factory that manufactures the brand and whether it follows the safety guidelines during production. Customers should keep that in mind before making their purchases.
How Does Nitric Drive Work?
Nitric Drive contains natural ingredients that work together to support male sexual health. The ingredients work to increase libido and sexual drive, increase muscle mass, boost energy levels, improve erectile functions, and reduce male infertility.
Although information about the manufacturer of the product is limited, it helps boost the levels of nitric oxide in the body. Nitric oxide promotes the relation of penile tissues, which in turn improves erectile functions.
Nitric Drive Ingredients – Are They Safe & Effective?
Pine Bark Extract
Pine bark extract contains antioxidants that help in the formation of nitric oxide in the body. Nitric oxide promotes the relaxation of blood vessels in the penile tissues and increases blood flow.
Pine bark extract also helps support erectile functions and reduce inflammation. Some research also supports that pine bark extract helps treat prostate cancer and reduce male infertility. A publication in the National Library of Medicine supports that pine bark extract improves erectile functions and promotes sexual wellness in men[1].
L-Arginine
L-arginine is an amino acid present in the body but in small amounts. Supplementation of l-arginine helps promote the production of nitric oxide, which relaxes blood vessels. The amino acid also helps lower high blood pressure, promote heart health, reduce fatigue, improve physical performance, and support a healthy immune system as we referenced in our review of ZygenX.
The Sexual Medicine Open Access journal reveals that daily supplementation of l-arginine helps promote erectile functions[2] .
L-citrulline
L-citrulline is an amino acid that is present in many male supplements. L-citrulline helps increase blood flow to the penile tissues, and this helps improve erectile functions. The amino acid also increases a man's ability to maintain an erection during intercourse as we referenced in our review of Titan XL.
According to the National Library of Medicine, oral supplementation of l-citrulline helps improve erectile functions in males with erectile dysfunctions[3].
Magnesium stearate
Magnesium helps in the management of erectile dysfunction. However, there is limited research to support these claims. Magnesium stearate supplementation helps improve sexual health and increase testosterone levels in men.
Magnesium also helps in the synthesis of nitric oxide. According to the Clinical Interventions in Aging journal, magnesium supplementation helps improve erectile functions in older men[4].
Who Should Buy Nitric Drive?
The manufacturer targets men who are 18 years old and above to use this supplement. Men with sexual dysfunctions, low sex drive, reduced energy levels, and other sexual issues should try this dietary supplement.
Frequently Asked Questions
Q: How Should You Take Nitric Drive?
A: According to the manufacturer of this supplement, you should take one capsule every day. You may increase your dosage to two or three capsules daily for optimum results.
Q: What is Nitric Drive Return Policy?
A: You can buy direct from Official Website. Nitric Drive offer a 90-day 100% money-back guarantee on the purchase of this supplement. However, you should refer to the return policy on the website.
Q: Where to Buy Nitric Drive and How Much is It?
A: You can purchase Nitric Drive from online retail stores at affordable prices. The prices may vary at various stores. On average, one bottle should cost you $69.95 exclusive of shipping costs. You may check out different stores before making your purchase.
Q: What Sets Nitric Drive from the Competition?
A: Well, many male enhancement supplements on the market today contain the same ingredients in Nitric Drive. However, the main function of this supplement is to boost the production of nitric oxide in the body. Men who are struggling with erectile dysfunction can really benefit from using Nitric Drive. It also have customer care team which is available 24 hours a day, 7 days a week.
Contact No: 888-991-4657
Email: [email protected]
What Do Nitric Drive Reviews Say?
I am 63 years old and sexually active. I have been struggling to sustain an erection in bed and it was getting worse. I came across Nitric Drive and it changed my life for the better. I can now get harder erections that last a long time.
~ Jasper
my sexual life is really good and I have been looking for a supplement to help boost it and make my wife happier. Nitric Drive is the way to go. The supplement increases my sexual performance.
~ Mike
I could not see any significant changes when I started taking this supplement. It has been one month now. I think I will stop using the supplement if I do not see any changes soon.
~ Newton
I was looking for a sexual drive booster and Nitric Drive offered more than what I needed. The supplement helped increase my workout endurance and promoted muscle growth. I now look built and I am happy with my sexual life.
~ Javan
I am not one to purchase products whose manufacturer is not well known. However, Nitric oxide changed my life. I am still unsure about but I use it because it delivers visible results. Do not use if you are unsure.
~ Erick
Conclusion
Nitric Drive is a natural male enhancement supplement that aims to tackle various sexual issues in men.
Nutritional experts and scientists believe that taking the correct dose of Nitric Drive helps promote male fertility, improve erectile functions, promote muscle growth, boost sexual performance, and increase sexual confidence.
However, there is limited information on the manufacturer of this supplement. Before you make your purchase, be sure to do your research.