shayla pollert M.H
Certified Master Herbalist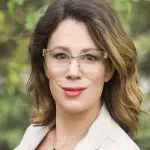 Education
School of Natural Healing in Provo, Utah: Masters in Herbology
Experience
Teaching Group: Specialization
Private Classes for Individuals on Natural Healing Modalities
Background
Shayla is a blogger. her purpose with this space is to validate exhausted, overwhelmed family women & help them learn a "new song" of self acceptance, purpose, intention, & PRAISE regardless of their backgrounds. Her hope is that her website: singinganewsong.com becomes an oasis-a place for you to come to & recharge & refill-kind of like those rare quiet mornings with a hot cup of coffee before everyone else is up!
About Consumer Health Digest
Consumer Health Digest, a Kyzooma Brand, is your trusted resource for reliable, empathetic, and up-to-date information on wellness topics and product reviews that matter most to you. Our reach is more than 100 million readers. Consumer Health Digest content is fact checked and reviewed by our Medical Expert Board for accuracy and integrity. Learn more about us and our editorial process.