If the intense heat of summer took a toll on your skin and hair, have no fear.
Autumn provides an abundant harvest of restorative nutrients to deliver the nutrition your body needs to repair UV damage, fight free radicals, and address dry skin concerns all at once. The vibrant orange and yellow hues you'll find in your fall beauty basket are packed with anti-aging Vitamin A, which is essential for boosting cellular turnover and nourishing the hair and skin.
[quote type="center"]The best way to restore any damage caused by the intense summer heat is simply by changing what you eat.[/quote]


[tweet this]
Fill your basket with these fall favorites over the next three months for the most beautifying nutrients nature has to offer.
Acorn Squash: Strengthen and Tone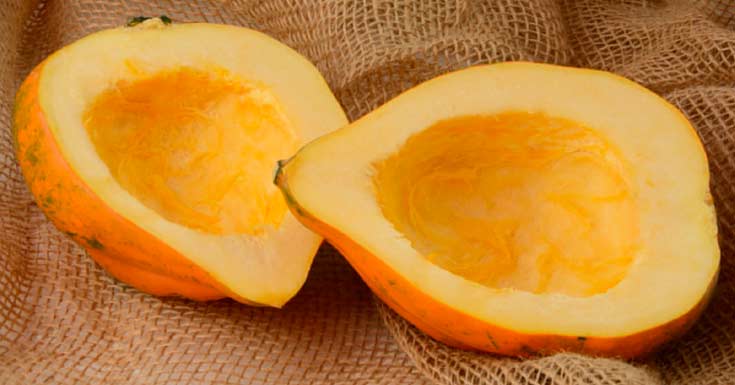 Acorn squash has plant-based iron to strengthen hair and nails, while its vitamin C content keeps the skin toned and firm. This sweet-tasting squash also contains niacin, which helps with circulation and DNA repair.
Apples: Skin Secret
Apples are a delicious fall beauty staple and are prized for their natural detox ability, but the magic is in the skin. Apple skins contain the antioxidant quercetin, an anti-aging compound that defends against free-radicals and blocks UVB damage.
Butternut Squash: Hair Repair

If your locks are in need of some tender loving care, butternut squash is your healthy hair secret, thanks to the B-complex vitamins that help your body produce red blood cells that feed your luscious locks. These sweet and oddly shaped squash are also a good source of vitamin E, iron, and omega-3s, which are all super important for nourishing hair follicles and keeping the scalp well-hydrated.
Grapes: Anti-Aging Activator
Deep red and purple grapes contain a phytonutrient called resveratrol, found mostly in grape skins. Studies suggest that resveratrol can increase the expression of three genes related to longevity and slow the aging skin process. As a matter of fact, resveratrol is an antioxidant that protects cells against oxidative damage, a contributing factor to aging skin primarily caused by too much sun exposure.
Leeks: Mega Mitochondrial Defender

Leeks contain phytochemicals that stimulate the production of glutathione, a powerful antioxidant that protects the mitochondria of cells, repairs DNA damage, strengthens immunity, and clears heavy metals and toxins from the body.
Pumpkin: Beauty Booster
Pumpkin has enough beta-carotene to deliver seven times the recommended daily allowance of beauty-boosting vitamin A in just one cup. Vitamin A is essential for smooth, glowing skin and beautiful, healthy hair.
Pumpkin Seeds: A Clear Skin ConfrA?re

Pumpkin seeds are one of the best sources of zinc, an essential beauty mineral and vitamin for hair growth, strong nails, and clear skin. A common problem among acne sufferers are low levels of zinc, so if you have breakout troubles, make pumpkin seeds your regular go-to snack option.
Rutabaga: Skin-sational
With more vitamin C than turnips and cabbage, these white and purple skinned brassica root vegetables have major skin benefits. Rutabagas are packed with glucosinolates, which converts to the beautifying compound sulforaphane in the body. Sulforaphane helps to reduce inflammation, fights premature aging by boosting glutathione production, and can reduce redness in the skin caused by UV exposure.
Sweet Potato: Collagen Regenerator

This orange-colored root vegetable combines three major youth-boosting vitamins, B6 and C. Vitamin A keeps skin and hair gorgeous by regenerating collagen and regulating oil production, while prevents dry skin and supports healthy hair. Top that off with collagen-building vitamin C and you've got a formula to feed your beauty from head-to-toe.
Swiss Chard: Damage Control
Strengthen hair and nails from the inside with biotin-rich chard. A biotin deficiency, although rare, could cause hair loss, so be sure to include this leafy green as a regular part of your beauty nutrition this season. But the beauty benefits don't stop with biotin. Swiss chard is also full of vitamins A and C, two essentials for repairing damage to skin and hair after a long summer of fun in the sun.
Image Credits
Featured Image: Shutterstock
In-Post Images: Shutterstock
View All