What is Stemuderm?
Stemuderm is an anti-wrinkle cream made by the award-winning company Solvaderm.
They produce a range of high-quality skincare treatments that are designed to work together in order to provide optimal care for aging skin.
Stemuderm targets the most common signs of aging such as fine lines, deep set wrinkles, uneven skin tone, and dryness, using some of the most technologically advanced ingredients that have been carefully selected for their safety and efficiency.
In addition to supporting the reduction of wrinkles and restoring hydration, the skin is said to appear plumper, smoother and fully hydrated.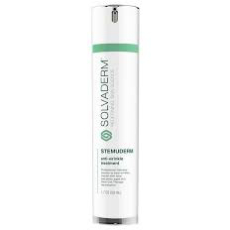 What are the Key Ingredients in Stemuderm?
Stemuderm uses a blend of highly effective peptides, moisturizers and stem cells that have been dermatologically tested for their use in this anti-aging skin care formula.
Among the key active ingredients contained in the formula are:
Hyaluronic Acid, a highly effective substance that attracts moisture from the atmosphere and holds it in the skin for long-lasting hydration[1].
Matrixyl 3000, comprised of Pentapeptide-3 and Palmitoyl Tetrapeptide-7, Matrixyl 3000 has been scientifically proven to reduce the depth of wrinkles and promote the production of elastin and Hyaluronic Acid[2].
Acetyl Hexapeptide-8, which helps reduce muscles contractions in the face and, in turn, prevents the formation of lines and wrinkles. Unlike many invasive cosmetic procedures, this naturally-occurring polypeptide has no harmful side effects[3].
SYN-AKE, an ingredient that is becoming extremely popular for use in anti-aging formulas for its facial muscle-relaxing properties[4]. Similar to snake venom, but completely safe and non-toxic, SYN-AKE is used to reduce lines and wrinkles that form around the eyes, mouth and forehead.
Malus Domestica Fruit Cell Culture, taken from the stem cells of a rare apple, this ingredient is believed to have skin cell rejuvenating properties that play a role in treating damaged and aged skin. It is said to work deep below the dermal layers, restructuring and strengthening cell tissue for a more youthful appearance[5].
What are the Advantages of Stemuderm?
Reduces wrinkle depth
Firms and tones sagging skin
Provides professional-strength ingredients
Has been dermatologically tested for use on sensitive skin
Works well as part of the Solvaderm complete anti-aging range
Protects skin from environmental stressors and oxidative damage
Promotes the production of elastin and natural moisture in the skin
What Makes Stemuderm the Best Anti-Wrinkle Cream on the Market?
As with all Solvaderm products, Stemuderm has undergone extensive testing to ensure both safety and effectiveness.
All the ingredients contained in the maximum strength formula have been proven to provide several anti-aging benefits for the skin and are unlikely to cause any type of irritation or damage even when used over the long term.
It can be purchased directly from the manufacturer at an affordable price and has full 60-day money-back guarantee.
Solvaderm's Stemuderm Review – The Conclusion
This anti-aging treatment provides a highly concentrated blend of ingredients that offer a safe, affordable alternative to risky and invasive cosmetic procedures.
It works naturally with the skin to reduce the severity of common signs of aging while working towards preventing further damage.
Like all Solvaderm products, it has been developed by a team of scientists and dermatologists and undergone rigorously testing.
Stemuderm is one of Solvaderm's most popular brands and judging from the reviews on the manufacturer's website, has exceeded the expectations of numerous consumers.
Stemuderm Questions & Answers
Q: What are the components of Stemuderm?

A: Stemuderm components include; polyacrylamide, C13-14 Isoparaffin, Acetyl Hexapeptide-8, Purified Water, Prunus Armeniaca Kernel Oil, Hyaluronic Acid, Squalene, Pentapeptide-3, and Simmondsia Chinensis Seed Oil. It is an anti-aging product that cares for your whole skin and enhances the production of dermal layer compounds.

Q: What are the adverse effects of Stemuderm?

A: Using Stemuderm comes with no established side effects. Some websites mentions that this product may cause a few side effects, but there have not been any evidences of such incidents reported by the users.

Q: How do I establish that Stemuderm is effective for me?

A: The only way to know whether Stemuderm works for you is by selecting the right product. Before you purchase any other product, ensure you try Stemuderm out.

Q: Is Stemuderm really effective?

A: Yes, Stemuderm is a hundred percent effective. You just need to give it sufficient time, and you will begin to experience its effectiveness in eliminating signs of aging.

Q: What is the price of Stemuderm?

A: The cost of the brand is different according to the different packages.

Q: Where can I purchase Stemuderm?

A: One can buy Stemuderm at its Official Site.

Q: What is the cost of Stemuderm?

A: It is recommendable that you purchase Stemuderm via its Official Website. A single bottle of the anti-aging product goes for approximately $79.99

Q: How should I use Stemuderm?

A: You should apply Stemuderm to the neck, face, and decollete after cleansing and toning. Smear a little Stemuderm to your fingerprints and massage lightly into the wrinkled areas and skin lines with a circular motion every morning and after dinner to maintain skin nourishment, and hydration.

Q: How do I reach the customer support of Stemuderm?

A: You can easily reach Stemuderm customer support services by logging in into their official website.

Q: Does Stemuderm have money back return guarantee?

A: Stemuderm gives a handed percent assurance of getting the perfect results. However, you may also return the product along with its authorization number within Sixty Days after the purchase.

Q: Which are the customer's complaints about Stemuderm?

A: Most of the Stemuderm customer reviews are positively assuring you of its effectiveness.