In This Review
Unfortunately, as we start to age, there are certain negative processes which tend to take place within our bodies. Our skin becomes wrinkle and we start looking older. This is a product which might be able to help you a bit.
What is Stem Cell Therapy?
The stem cell face serum is a skincare brought to you by a reliable manufacturer which is intended to improve the overall condition of your skin. It attempts to reduce the appearance of wrinkles & other common aging signs such as fine lines, for instance.
The product is supposed to be made of entirely natural ingredients which is one of the main points that you ought to consider. It suggests that there are no toxins that you should be worried about.
How Does It Rate?
Overall Rating: 3.3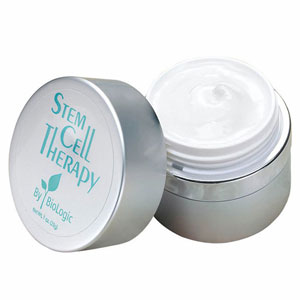 Stem Cell Therapy
Brand Highlights
The company behind the product is called Biologic Solutions. This is a well-known manufacturer and it has quite a lot of experience in its pocket.
The product itself can be found on an array of different sites, which attests to the confidence and credibility that the company has vested within it.
Key Ingredients
Hyaluronic Acid
Mitostime
Phyko-AI-P
Derm SRC
Pros
It may make you look a lot younger and healthier.
It may improve the production of collagen and hence improve the skin.
It could get rid of wrinkles and fine lines.
It is made of natural ingredients and it doesn't contain questionable chemicals.
Cons
You should get the opinion of your dermatologist if you have any skin conditions.
Make sure to use a carrier oil if you have sensitive skin
---
How Does Stem Cell Therapy Work?
It's fairly simple to understand. Thanks to its prominent ingredients, the product is going to go ahead and interact with your skin on a cellular level, benefiting them directly. This way, your overall appeal will appear a lot younger and healthier. At the same time, your skin will become more hydrated, elastic, and overly flexible.[1]
Stem Cell Therapy Ingredients – Are they Safe & Effective?
The product contains the following ingredients:
Hyaluronic Acid
– This is going to be responsible for the overall hydration of your skin.
Mitostime
– This is a seaweed extract which is mainly intended to keep your face looking very fine.[2]
Phyko-AI-PF
– This is a natural sugar which is going to mimic the epidermis growth factor.
Derm SRC
– This is a special compound which will towards the reduction of wrinkles and fine lines.

Stem Cell Therapy FAQs
Q: How Should You Apply Stem Cell Therapy?
A: The product is applied directly – it's a topical solution that is pretty powerful and it should be applied to the designated area.
Q: I ordered and received a trial of your product. I can not find any directions on how and when to use your product?
A: According to the enclosed pamphlet – 'Use this rich peptide complex each morning on your entire face using small, rapid patting strokes until coverage is complete. Thereafter, if you have dry skin or are going out in the cold, follow with your regular moisturizer.'[3]
Q: Do you use this all over the face, on the neck or just on the wrinkles?
A: You can use it all over your face and neck, you will see a great improvement within a couple of weeks.
Q: How Much is Stem Cell Therapy?
A: The product retails for $20.98.
What Kind of Reviews Are Out There for Stem Cell Therapy?
There are plenty of reviews available out there. This is generally a very good thing. It shows that people are actually appreciating it and taking the time to review.
However, not all reviews are good. While some users say that the product works just fine, others claim that it has failed to give any benefits and that it has even caused some redness.
Read Next – Solagenics Cream.
Stem Cell Therapy Review – Final Verdict
All in all, the product might be able to enhance your skin condition and make you look younger. This is not something that you should be so concerned with. The product seems quite reliable and it doesn't really have any side effects, which is usually a serious benefit.
The ingredients in it are actually quite well-known. They are used in other formulations as well, which attests to their efficiency.
However, the product does seem to have a lot of alternatives. There are quite a lot of options on the market that you might be able to take advantage of when it comes to it. This is the main reason for which you should undoubtedly take another look.
As we age the composition, texture and appearance of our skin changes. Signs of skin aging include wrinkles, fine lines, loss of moisture, uneven tone, and dull, tired-looking skin. There are countless anti-wrinkle creams on the market promising to make skin look and feel younger. Many anti-wrinkle creams promise everything short of a facelift or to provide the much sought after "fountain of youth". In reality most are just moisturizers marketed as anti-aging products.
Below you'll find some of the most effective wrinkle serum/cream formulations on the market today, in our opinion.
Our Top Wrinkle Cream Choices
Verdict on Claimed Benefits: Below is our summary of the available evidence for the claimed benefits of below mentioned anti-aging products and anti-wrinkle creams based on the available research:
Beverly Hills MD - Best #1 Rated Skincare Brand
Innovative Science-Backed Skincare Products*
Gold Star Evidence
Range of Products for Specific Skin Concerns*
Gold Star Evidence
Cruelty-Free, Premium Quality Ingredients*
Gold Star Evidence
Visibly Lifts Skin From The Inside, Out*
Gold Star Evidence
Serious Skincare Insta-Tox - Instant Wrinkle Eradicator

Instantly Smoothes Out Deep Wrinkles*
Gold Star Evidence
Removes Under-eye Bags And Crow'S Feet*
Gold Star Evidence
Minimizes The Appearance Of Sagging*
Gold Star Evidence
Helps Provide Smoother, Tighter Skin*
Strong Evidence
XYZ Smart Collagen | The Best Collagen Cream
Wrinkles Reduction*
Gold Star Evidence
Improves Skin Firmness*
Gold Star Evidence
Improves Skin Texture*
Strong Evidence
Smart Collagen Management*
Strong Evidence
Deep Wrinkle Filler | Anti-aging Skin Care Formula
Erase The Appearance Of Fine Lines*
Gold Star Evidence
Fill in Deep Wrinkles*
Gold Star Evidence
Give Skin a Smoother, More Flawless Appearance*
Strong Evidence
Nourishes Skin For Lasting Results*
Strong Evidence