In This Review
What is Insta-Tox?
Serious Skincare Insta-Tox is an anti-wrinkle and skin smoothing cream that works instantly.
It particularly works on the neck and face skin and it effectively disguises wrinkles to improve the appearance of the skin. In addition, the cream helps lift the skin texture, as well as gives it a smoother and youthful look.
The product deploys clinically proven ingredients, which are considered safe for long-term use. Besides, Serious Skincare Insta-Tox works quite well on all skin types.
That is to say, people with either sensitive, dry, greasy, or combined skin can use it to diminish forming or stubborn face and neck wrinkles to achieve vibrant-looking skin.
Is Instatox a good product? To answer this question, we'll have to evaluate the product formulations, including the key ingredients and the research that supports (or doesn't support) their use in skin care.
We'll also share some serious skin care Insta Tox reviews so that you can get an idea of what customers really think of this product.
How Does InstaTox Rate?
Overall Rating: 4.7
Serious Skincare InstaTox
Brand Highlights
Injection, needle-free results.
Skincare solutions from a trusted friend.
Professional grade formulations and clinically proven performance.
Innovative, highly effective, and targeted ingredients
Key Ingredients
Camellia Oleifera Leaf Extract
Retinyl Palmitate
Phenoxyethanol
Butylene Glycol
Magnesium Aspartate
Zinc Gluconate
Copper Gluconate
Camellia Oleifera Leaf Extract
Pros
The product could be useful in the temporal reduction of wrinkles around the face and neck region.
It might help the skin look younger and smoother.
The manufacturer claims the product is safe for use, even around the eye area.
The serum works within minutes.
Cons
The serum is only available on the company's website
There is no free trial available of this product
Should be used as directed for the best results
---
Insta-Tox Ingredients – What Makes INSTA-TOX Serum Unique?
The product contains, among others, the following ingredients:
Camellia Oleifera Leaf Extract
Contains polyphenols, known to be effective free radical scavengers, and other ingredients that could also provide benefits to the skin. Research has suggested that the ingredient may have a prolonged moisturizing effect and could also improve skin micro-relief.
Retinyl Palmitate
Some studies have showed that retinoids may have specific effects on decreased skin roughness, it has highlighted skin facial wrinkles and to treat photoaging[1].
Phenoxyethanol
This ingredient can a preservative in cosmetic products and might help limit bacterial growth[2].
Butylene Glycol
Clear, practically colorless liquid used in cosmetics and formulation of personal care products, it is suggested to be beneficial for the maintenance of good skin[3].
Dr. Green says "Butylene glycol is a great moisturizing skin care ingredient and helps to improve the overall look and feel of skin by increasing hydration," she explains.
Magnesium Aspartate
Magnesium Aspartate[4] is a magnesium salt of aspartic acid that is commonly used as a mineral supplement. It is used to prevent and treat low amounts of magnesium in the blood.
Zinc Gluconate
Zinc Gluconate[5] is a nutritional supplement containing the zinc salt form of gluconic acid for the purpose of providing zinc. As an essential trace element, zinc is of key importance in biological processes, acts as an antioxidant, and strengthens the immune system.
There are a lot of sources of zinc in plant-based diets," says Seattle-based registered dietitian nutritionist, Ginger Hultin, M.S., RDN.
Copper Gluconate
Copper Gluconate[6] is used as a dietary supplement to treat copper deficiency. It detoxifies and purifies the skin, drawing excess oils from pores to minimize breakouts and control natural sebum levels.
Camellia Oleifera Leaf Extract
Camellia Oleifera Leaf[7] is used to benefit the skin. It is used for good skin health and possesses anti-aging, anti-inflammatory, antibacterial, and astringent properties. Camellia Oleifera Leaf also aids-in skin hydration and its white tea variety are beneficial for acne-prone skin.
FULL INGREDIENT LIST: Water, Sodium Silicate, Magnesium Aluminum Silicate, Magnesium Aspartate,Zinc Gluconate, Copper Gluconate, Camellia Oleifera Leaf Extract, Butylene Glycol, Sodium Hyaluronate, Retinyl Palmitate, Caprylyl Glycol, Phenoxyethanol, Hexylene Glycol, Iron Oxide
Who makes Instatox?
Serious Skincare is the manufacturer of this serum. Founded about twenty years ago by Jennifer Flavin-Stallone, a model that had been troubled by devastating acne.
She opted to co-found the brand, partnering with the original makers, once she found a solution to her skin problem after scouring the globe.
The manufacturers claim to use innovation, cutting-edge science, and well-researched ingredients in the formulation of their products.
A total skincare solution provider, they are also in the business of producing cleansers, eye creams, body moisturizers, serums, exfoliators, and beauty tools.
How Does Serious Skincare Insta-Tox Work?
The manufacturer of Instatox serum claims that the product is formulated from potent quantities of top anti-aging ingredients, acne-fighting acids, and skin-softening moisturizers. Hence, it appears it is well-positioned to give your skin a lift.
Instatox skin care might give a more refreshed look to your skin within minutes.
Skincare Insta-Tox – FAQ's
Since our initial review, we have received a few additional questions about InstaTox. Here are the answers to the most common questions.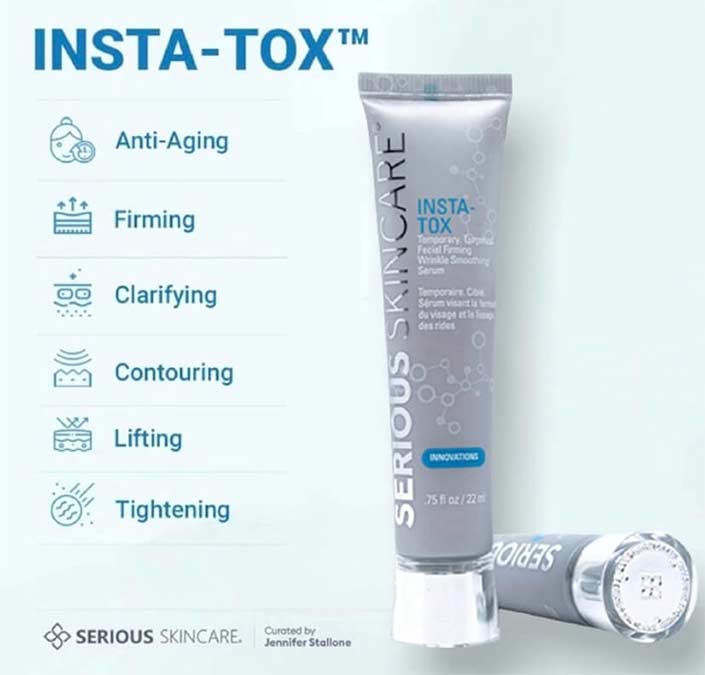 Q: How Do You Use InstaTox?
A: The manufacturer of this product instructs that users should cleanse, re-rinse, and pat their face thoroughly to make it completely clean, and free from serums, moisturizers, and make-up before application.
Shake the tube gently before applying a small quantity over the wrinkled areas. Smoothen up with the palms and ensure to close the tube after use.
OPTIONAL USE TIP: Turn any eye cream, face cream or neck cream into an instant firming treatment. Add a dime-sized amount of INSTA-TOX to your moisturizer before applying to skin.
Gently mix together and smooth on and pat into the skin. Keep face motionless and still until application is absorbed and set.
Safety Information: Do not apply to eye lids. For sensitive skin, perform a small patch test prior to full face/neck usage. For best results follow all directions.
Q: How Much Does Serious Skincare Insta-Tox Cost?
A: The product sells for $30.60 per unit on the manufacturer's website, whereas two units sell for $54.40 and three for $71.40. Although the price may vary across the websites of other retailers.
Q: What is Serious Skincare Insta-Tox's Return Policy?
A: The manufacturer of this product makes provision for any buyer to simply return the unused portion within 30 days for a full refund if, for any reason, it does not satisfy you. It should be noted, however, that the shipping cost is not included in the purchase price; hence, it will not be factored in the refund.
Q: Does InstaTox skin care Comes With Any Type of Guarantee?
A: Yes, manufacturers offer a 30-day money-back guarantee. If the user is unsatisfied with the results or with the product for any reason, they can simply contact customer care to get a 100% refund.
Q: Can You Put Makeup on Top of Insta-Tox?
A: Yes. Light makeup works well with Instant-Tox. In addition, one may apply their best face moisture cream on top of this cream. All that is needed is, allow the product to dry well before applying makeup or other skin creams.
Q: Can You Use Moisturizer or Sunscreen over InstaTox?
A: Yes. Turn any sunscreen or eye cream, face cream or neck cream into an instant firming treatment. According to the manufacturer, add a dime-sized amount of INSTA-TOX to your moisturizer before applying to skin. Gently mix together and smooth on and pat into the skin.
Q: How Long Does InstaTox Last?
A: While this cream offers a temporary and rapid fix for aging skin, it lasts throughout the day. The producer highlights that the positive effects of Insta-Tox may remain for several months.
Q: Does this work for dark circles under eyes?
A: InstaTox is formulated to temporarily improve the appearance of lines, wrinkles and dark circles in the eye area.
Q: Where to Buy InstaTox?
A: InstaTox serum can be purchased from their Official Website.
What You'll Get:
Verfied transactions protecting your privacy and security.
Enjoy fast shipping for all orders to the U.S.
Simple returns within 30 days across the U.S.
Does InstaTox Really Work and Worth the Money?
Insta-Tox Instant Wrinkle Smoothing Serum temporarily reduces the appearance of fine lines and wrinkles on the face and neck. *See results in 3 minutes! According to our research, "the product delivers value for money as there are quite a few Insta Tox reviews from customers swearing that this product really does work."
Serious Skincare Insta Tox Reviews
At the time of writing this review, Insta Tox has earned an average rating of 4.5 out of 5 stars after more than 100 customer reviews.
There are many 5-star reviews for InstaTox from customers who love that it smooths wrinkles and eye bags, and many customers mention that it's a good value for the price. Insta Tox reviews from customers swearing that InstaTox really does work.
For example, one review says, "Been using this product as well as other Serious Skin products for more than 15 years. The Instatox..is fantastic. This was the forerunner of Plexaderm. Costs much less as well. Use to order through HSN but they no longer sell it there. Covers up the eye bags great." (CATHLEEN – Verified Buyer)
However, there are a handful of negative reviews for the Serious Skincare Insta Tox from customers who were disappointed that this product didn't work for them.
For example, one review says, "This product really did tighten my skin and reduce the fine lines, giving me a smoother skin surface. I let it set for more than 5 minutes to allow it to dry, then began to apply my makeup. It didn't keep the effect when I did apply makeup over it. If I just wear it alone, it does the trick. If you don't wear makeup, this is good! I wear makeup often for my job so I'm disappointed that this product only works alone for me. It may be different for others." (Virtual Me – Verified Purchase/Amazon)
Serious Skincare Insta Tox Review – Final Verdict
Experts agree that it is possible to keep the skin young and wrinkle-free with the right products. The hard part, however, is getting hold of the precise product that works for your skin can be an uphill task, especially owing to the fact that the market is quite saturated with all kinds of skin solutions.
Fortunately, with products that accommodate all skin types like Serious Skincare Insta-Tox, it is possible to reclaim the skin from aging.
The product effectively helps cover wrinkles and fine lines all through the day. Users get to see the results immediately after application, but also, the product promises long-term benefits that may be evident months down the line.
Top of that, Serious Skincare Insta-Tox is accommodative to other daily routines people keep and can be used with makeup. It is simple to use and dries fast to allow you to apply any other skin care regimen you need, thereby enhancing efficiency and promoting the benefits of other products.
Besides, most customers share that this product lives up to its promise of giving the skin a youthful appearance. It helps tone-down unsightly wrinkles and fine lines to give back your skin its smooth and glowing look. Other users point out that it helps minimize skin exposure, which is key in reducing aging.
Also worth mentioning is that Serious Skincare Insta-Tox is fragrance-free, a detail that most willing users would want their choice of product to feature. Scent-free creams offer the freedom to choose the perfume one wants to wear.
In overview, it is, therefore, safe to conclude that this cream can be of help to anyone who wants an immediate lift in their skin appearance, while at the same time maintaining their light make-up routines, and without having to worry about side effects.