In This Review
What is Prevage?
The Prevage product line treats the face and the body, but also offers products for specific tasks such as addressing eye problems and sun protection. The official Prevage website is very attractive, reasonably easy to navigate and contains many added sections including a links to 'Prevage in the media' videos, doctor and customer testimonials, and a secure shopping site. There is a general FAQ section plus separate FAQ's for each individual product.
There is no clear money-back guarantee given for any of the Prevage products but free samples and 'starter' kits are offered with the purchase of one or more products.
How Does It Rate?
Overall Rating: 4.7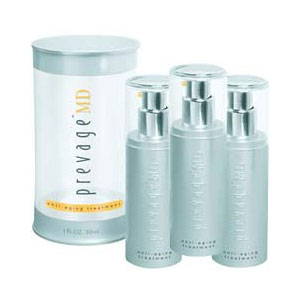 Prevage
Brand Highlights
Prevage is a range of anti-aging treatments manufactured by Elizabeth Arden, a well-known and established beauty company. There are four facial Prevage treatments and one body cream.
The facial creams are the Anti-Aging Treatment, Day Protect with SPF, Anti-Aging cream and Eye Brightener.[1]
Prolou is one of the only products on the market to use syn-ake. It costs $69.20 for a 50ml jar.
Key Ingredients
Water/Aqua/Eau
Sodium Laureth Sulfate
Cetearyl Alcohol
Sodium Coco Pg-Dimonium Chloride Phosphate
Butyrospermum Parkii (Shea) Butter
Glycol Distearate
Methyl Gluceth-20
Glycerin
Cocamidopropyl Betaine
Cocamide Mea
MPolyethylene
Sodium Lauroyl Gl
Pros
It may work well in sensitive skin
It may reduce the signs of anti aging
Prevage is produced by Elizabeth Arden
Prevage products are particularly beneficial for women of colour
Idebenone is a powerful anti-oxidant
Cons
The key ingredient amounts are not known
It affects differently on different people
Prevage products are expensive
---
How Does it Work?
The body treatment is called the Total Transforming Anti-Aging. According to the manufacturer, all Prevage products contain a powerful anti-oxidant, Idebenone.[2]
Advertisement
*All individuals are unique. Your results can and will vary.
A Japanese discovery, this substance is similar to the more well-known Coenzyme Q10, but smaller (more able to penetrate the skin) and more powerful. Studies have shown it to score 95/100 on the Environmental Protection Factor scale, results of which are shown on the site.
Prevage Ingredients – Are they Safe & Effective?
While not all ingredients are listed and exact amounts are not known, other active substances in the Prevage line are Green Tea extract, Mega-complex A and the skin brightener Soy Ferulate-c. Brief explanations are given for the key ingredients and clinical results are shown for all products.
Water/Aqua/Eau
– The aqua/water/Eau used in our products has been purified and sterilized. It aids in the stability of a product's formulation, appearance, and texture.
Sodium Laureth Sulfate
– Sodium lauryl sulphate (SLS) is a common ingredient in cosmetics and cleaning products. It cleans your skin effectively, removes makeup, fights bacteria, and makes it more permeable.
Cetearyl Alcohol
– Cetearyl alcohol moisturises and softens the skin by locking moisture into the skin as well as providing hydration.
Sodium Coco Pg-Dimonium Chloride Phosphate
– Cocamidopropyl PG-Dimonium Chloride Phosphate is a highly mild surfactant, particularly in baby products such as shampoos, bath and shower gels, body wash, bath beads, and personal care products.[3]
Butyrospermum Parkii (Shea) Butter
– Shea butter protects against skin dryness and speeds up the healing of minor wounds and irritations.
Glycol Distearate
– It smoothes, softens, and rejuvenates the skin and hair. It acts as an obscurant. It makes the product formulations less transparent and more luxurious and pearly.
Methyl Gluceth-20
– It is a versatile, gentle, and effective humectant, emollient, and foaming agent that gives the skin a smooth feel. Methyl Gluceth-20 is used for its moisture retention and ability to open pores and follicles.[4]
Glycerin
– Glycerin helps the skin barrier by drawing water from the air, which keeps the skin hydrated and reduces water loss.
Cocamidopropyl Betaine
– When combined with water, Cocamidopropyl betaine creates a thick lather. The lathering helps to loosen the dirt and impurities being washed away, making it easier to rinse after cleaning.
Advertisement
*All individuals are unique. Your results can and will vary.
Cocamide Mea
– Cocamide MEA moisturises the skin, reduces inflammation, smoothes the skin, and lightens blemishes.
Polyethylene
– It is beneficial for skin hydration as well as resolving skin dryness and dullness.
Sodium Lauroyl Gl
– Sodium Lauroyl Glycinate has mild degreasing properties that aid in restoring long-lasting skin softness and hydration.
All Prevage treatments can be used alone or as part of a complete routine.
Prevage FAQs
Q: Which Product Provide Same Benefits in Competitive Price?
A. There are other products also that provide same benefits in this price range, you can check these products before making your decision PrimaDerm Skin Cream, Reclaim Revolutionary Anti-Aging Night Cream, ProDermagenix.
Q: Does Prevage serum work?
A. In one study, 90% of people saw a clinical improvement in the appearance of fine lines, dark spots, firmness, and elasticity. This anti-aging serum works instantly and over time to correct, protect, and perfect the appearance of skin.
Prevage Review – Final Verdict
Elizabeth Arden is a trusted company with a good reputation in the beauty industry. Judging from the clinical studies, all their Prevage products will have a positive effect on signs of aging in the skin and help repair some of the damage done by environmental factors such as overexposure to the sun. The only drawback is the cost – all Prevage products are priced between $100-$150 each, putting them out of range for most average consumers. However, you may compare the best creams for face wrinkles on our website before taking any decision.