In This Review
What is Pearlessence Skin Cream?
Pearlessence Skin Cream is a product which promises to provide you with a range of different benefits, each one of which is associated with the usage of a comprehensive topical solution that would iron out wrinkles and handle fine lines.
This is something that you ought to take into serious consideration. With this said, though, there are a lot of thigns that have to be made clear about this particular product.
How Does It Rate?
Overall Rating: 3.7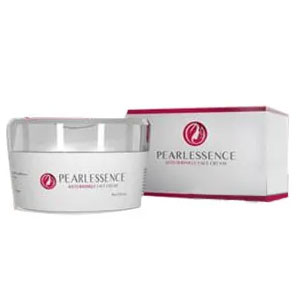 Pearlessence Skin Cream
Brand Highlights
The company manufacturing this formula is Pearlessence.
It is manufactured in the United States of America.
They claim it is safe for all users.
But the lack of manufacturer information available on internet.
Key Ingredients
Glycerin
Water
Hyaluronic Acid
Collagen
Pros
It may enhance your overall skin's complexion
It could promote healthy glow and youthful appeal
It improved the overall appeal
Cons
No reviews found online
It is not suitable for people with medical conditions, pregnant women and lactating mothers.
---
How Does Pearlessence Skin Cream Work?
Whether or not it works is something that we are not really capable of determining. The reason is that there are absolutely no reviews found online. This is something that you should keep in mind. It means that not a lot of people have actually tried the product – this is an assumption that is quite legit in this case.
The next thing to take a look at are the benefits that it promises. These are the so-called claims. The product will help you with your overall skin condition, handling issues such as crow's feet, wrinkles and fine lines – this is something very beneficial and you should undoubtedly consider it when it comes to it. Let's find out if this is even possible or not – keep in mind that these are no mild claims, even though they might seem like ones.
Pearlessence Skin Cream Ingredients – Are they Safe & Effective?
The working process and the ingredients list are quiet beneficial. They are rather straightforward and you should be expecting something truly out of the box – the product is serious but the ingredients are rather mediocre at best.
Some of the ingredients that you can rely on include:
Glycerin
– Glycerin is a widely recognized ingredient in the realm of skincare, especially for addressing the signs of aging such as wrinkles. As explored in our comprehensive guide on Reventin Renew reviews, this entirely natural compound [1] is intended to bring the necessary hydration to your skin, helping to combat the appearance of wrinkles.
Water
– This is going to help you solve the ingredients and distribute them throughout the entire surface.
Hyaluronic Acid
– This is very beneficial for [2] your entire skin as it will enhance its complexion.
Collagen
– This is the most beneficial ingredient [3] for your skin – it is important to consider it.

FAQ's
Q: How Do I Use This Product?
A: The product is used regularly as a normal topical solution – there are no challenges that you should keep in mind.
Q: Are There Any Competitors Of This Product?
A: Yes, you can check Pentaxyl, and Cicatricure Skin Cream also before making your decision.
Q: What are the Precautions When Using This Supplement?
A: You should make sure that you follow the instructions of the manufacturer. The only precaution for you is to ensure that it doesn't go into your eyes as it is going to sting and burn quite a lot.
Q: How Long Before I See Any Improvements?
A: The improvements are almost instant, especially when it comes to the fact that it would sooth your skin and overall complexion.

Pearlessence Skin Cream Review – Final Verdict
All in all, this does seem like the best face cream for wrinkles that deserves attention. It has some potentially serious ingredients, and the claims are quite reassuring. This is something that you might want to take into consideration.
However, apart from that – the product is rather ambiguous as there are no reviews or any other type of social feedback. There is no information about the company who manufactured it which is something that we are not particularly fond of – keep this in mind.
We believe that there are better options on the market that you can take advantage of so go ahead and do so. For your ease, here we are providing face cream for wrinkles which may help you to narrow down your options for better results.
As we age the composition, texture and appearance of our skin changes. Signs of skin aging include wrinkles, fine lines, loss of moisture, uneven tone, and dull, tired-looking skin. There are countless anti-wrinkle creams on the market promising to make skin look and feel younger. Many anti-wrinkle creams promise everything short of a facelift or to provide the much sought after "fountain of youth". In reality most are just moisturizers marketed as anti-aging products.
Below you'll find some of the most effective wrinkle serum/cream formulations on the market today, in our opinion.
Our Top Wrinkle Cream Choices
Verdict on Claimed Benefits: Below is our summary of the available evidence for the claimed benefits of below mentioned anti-aging products and anti-wrinkle creams based on the available research:
Beverly Hills MD - Best #1 Rated Skincare Brand
Innovative Science-Backed Skincare Products*
Gold Star Evidence
Range of Products for Specific Skin Concerns*
Gold Star Evidence
Cruelty-Free, Premium Quality Ingredients*
Gold Star Evidence
Visibly Lifts Skin From The Inside, Out*
Gold Star Evidence
Serious Skincare Insta-Tox - Instant Wrinkle Eradicator

Instantly Smoothes Out Deep Wrinkles*
Gold Star Evidence
Removes Under-eye Bags And Crow'S Feet*
Gold Star Evidence
Minimizes The Appearance Of Sagging*
Gold Star Evidence
Helps Provide Smoother, Tighter Skin*
Strong Evidence
XYZ Smart Collagen | The Best Collagen Cream
Wrinkles Reduction*
Gold Star Evidence
Improves Skin Firmness*
Gold Star Evidence
Improves Skin Texture*
Strong Evidence
Smart Collagen Management*
Strong Evidence
Deep Wrinkle Filler | Anti-aging Skin Care Formula
Erase The Appearance Of Fine Lines*
Gold Star Evidence
Fill in Deep Wrinkles*
Gold Star Evidence
Give Skin a Smoother, More Flawless Appearance*
Strong Evidence
Nourishes Skin For Lasting Results*
Strong Evidence