In This Review
What is Nivea Visage Q10 Plus Anti-wrinkle Cream?
Nivea Visage Q10 Plus Anti-wrinkle Cream is an anti-aging that also refines pores and is specifically for combination skin. It is from the Nivea company that has not only been around for decades but also has many products for beauty needs.
Nivea Visage Q10 Plus Anti-wrinkle Cream is available as a day cream or a night cream. The day cream runs around $15 and the night cream is a little higher at $24. Both can be found in stores and on the most popular online sites like Third Party Retail Websites.
How Does It Rate?
Overall Rating: 3.6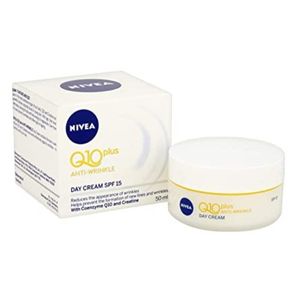 Nivea Visage Q10 Plus Anti-wrinkle Cream
Brand Highlights
Increases skins's own Q10 and Creatine levels effectively.
Made in Germany & imported from Germany.
The brand is in market since many year.
30-Day refund policy.
Key Ingredients
Creatine
Arginine
Methionine
Pros
All natural ingredients
Can be found at most online retailers and some stores
Reviews found were mostly positive
Has SPF in it as well
May work on combination skin
Cons
Some claim that this is not the same as the original brand out of Australia
Some claimed it did not work due to this reason
---
How Does Nivea Visage Q10 Plus Anti-wrinkle Cream Work?
This Anti wrinkle Cream uses the Q10 and the Creatine to help with wrinkles and lines and work as antioxidants to protect the skin from sun damage like UV rays. It has an SPF 30 in it, according to their site so there is extra protection.
Nivea Visage Q10 Plus Anti-wrinkle Cream Ingredients – Are they Safe & Effective?
Q10. Also known as coenzyme 10, this enzyme may work as an antioxidant, but it is a new ingredient to the skin care industry, so research is still out.
Creatine. This is another relative newcomer in skincare, but it is thought to have anti-aging properties and is made up of two amino acids – arginine and methionine.

FAQ's
Q: What are the directions for using this product?
A: Use clean skin and apply it to the facial area and neck each night before bed or for the day cream; use in the morning before you apply makeup, and make sure the skin is clean before application.
Q: Are There Any Competitors of This Product?
A: Yes, you can check these products also before making your decision like Liftactiv Supreme, and NuLuxe Skincare.
Q: Any precautions to be taken while using this product?
A: There are no warnings for this product, and you should not experience any negative reactions with the all-natural ingredients.
Customers Reviews
Dry skin remedy
I have the driest dry skin, and this moisturizer keeps my skin hydrated without breaking me out. It does have a scent, and I like it, but it could be unpleasant to those sensitive to fragrance. I have tried pricier moisturizers, but they aren't as soothing as this. I highly recommend and always reorder when I am getting low.
~ Barbara Brever
Nivea Visage Q10 Plus Anti-wrinkle Cream Review – Final Verdict
I would recommend this product because the brand is well-known and has good products. It seems relatively easy to find (hopefully, it is the authentic one), reasonably priced, and works for combination skin.
The natural ingredients, while not positively those we know do work, seem good ones that might be new to the industry but have positive comments and research.
As we age the composition, texture and appearance of our skin changes. Signs of skin aging include wrinkles, fine lines, loss of moisture, uneven tone, and dull, tired-looking skin. There are countless anti-wrinkle creams on the market promising to make skin look and feel younger. Many anti-wrinkle creams promise everything short of a facelift or to provide the much sought after "fountain of youth". In reality most are just moisturizers marketed as anti-aging products.
Below you'll find some of the most effective wrinkle serum/cream formulations on the market today, in our opinion.
Our Top Wrinkle Cream Choices
Verdict on Claimed Benefits: Below is our summary of the available evidence for the claimed benefits of below mentioned anti-aging products and anti-wrinkle creams based on the available research:
Beverly Hills MD - Best #1 Rated Skincare Brand
Innovative Science-Backed Skincare Products*
Gold Star Evidence
Range of Products for Specific Skin Concerns*
Gold Star Evidence
Cruelty-Free, Premium Quality Ingredients*
Gold Star Evidence
Visibly Lifts Skin From The Inside, Out*
Gold Star Evidence
Serious Skincare Insta-Tox - Instant Wrinkle Eradicator

Instantly Smoothes Out Deep Wrinkles*
Gold Star Evidence
Removes Under-eye Bags And Crow'S Feet*
Gold Star Evidence
Minimizes The Appearance Of Sagging*
Gold Star Evidence
Helps Provide Smoother, Tighter Skin*
Strong Evidence
XYZ Smart Collagen | The Best Collagen Cream
Wrinkles Reduction*
Gold Star Evidence
Improves Skin Firmness*
Gold Star Evidence
Improves Skin Texture*
Strong Evidence
Smart Collagen Management*
Strong Evidence
Deep Wrinkle Filler | Anti-aging Skin Care Formula
Erase The Appearance Of Fine Lines*
Gold Star Evidence
Fill in Deep Wrinkles*
Gold Star Evidence
Give Skin a Smoother, More Flawless Appearance*
Strong Evidence
Nourishes Skin For Lasting Results*
Strong Evidence