What is Multi-Active Day Cream?
This is a skincare product designed to help your skin fight the effects of stress, lack of sleep, and aging. Multi-Active Day Cream targets fine lines, wrinkles, and dry skin. The manufacturer combines technology and nature to come up with a serum that smoothens your face and gives it an even tone while at the same time revitalizes and provides your skin with antioxidant action. The manufacturer of this product claims that Multi-Active Day Cream is dermatologically tested and it is ideal for women over 30 years old of all skin types.
Who is the Manufacturer of Multi-Active Day Cream?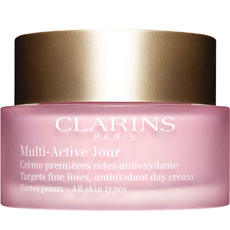 Multi-Active Day Cream is a product of Clarin's cosmetics Company. This French luxury cosmetics company deals with skin care products, face creams, body lotions, sun protection, fragrances and makeup. Its headquarters are at Neuilly-Sur-Seine, France. Clarins is a family company that was founded by Jacques Courtin Clarins in 1954.
Multi-Active Day Cream Ingredients – Are they Safe & Effective?
As mentioned earlier, this the product is a combination of technology and plant extracts that help to reduce the signs of aging, restore radiance on your skin, hydrate and maintain a youthful looking skin. The active ingredients in this product include:
Organic California Poppy Extract – This helps to absorb the harmful effects of sleeping late as well as interrupted sleep.
Organic Teasel Exterior Extract – It is known for its revitalizing properties.It helps to minimize the look of fine lines and wrinkles caused by aging and stress.
Myrothamnus Extract – It helps your skin to fight dehydration and minimizes the appearance of fine lines and wrinkles and boost radiance.
What are the Advantages of Multi-Active Day Cream?
It helps to keep the skin hydrated.
It may protect your skin from ultra-violet rays.
It is ideal for all skin types
It may minimize any visible signs of aging.
It gives your skin a youthful radiance.
What are the Disadvantages of Multi-Active Day Cream?
The manufacturer does not give the exact amounts of ingredient used in making this product.
Its results may vary from one to another.
It is not ideal for use by children under the age of 18 years.
Read More About Similar Products:
FAQ's
Where Is The Cream Be Applied To?
This cream should be applied to clean skin on the face and neck areas in the morning
Which Is The Mode Of Application?
The user should first cleanse the skin using clean water. Scoop the cream with your fingers and rub it on your skin in slow circular motions until the cream is completely absorbed by the skin.
Is There Any Precaution For Use?
Yes. You are supposed to limit your time in the sun especially during the mid-morning up to the afternoon. The cream should be reapplied every 2hrs for better results.
Read Next – REXSOL Retinol Treatment Wrinkle Cream
Multi-Active Day Cream Review – Final Verdict
Aging is something we cannot control, but we can reverse how our skin reacts to aging. This is why Multi-Active Day Cream is there to help our skin revitalize and be able to fight signs of aging. This cream may diminish signs caused by aging, stress, and the harsh climatic conditions that leave our skin dry and wrinkled. Laced with plant extracts, Multi-Active Day Cream may revitalize and smoothen your skin for a youthful look.
Combined with Multi-Active Night Cream, the two may give you results within a short period of time. On the other hand, the manufacturer fails to give the exact amount of ingredients in the product. This may discourage first-time users who are keen on the effect of certain amounts of the ingredients used.
However, there are many other skin creams on the market that are generally cheap and contain specified amounts of ingredients. Thus, do enough research before settling on a specific skincare product to use. Additionally, look for a skincare product that is proposed by your dermatologist.
Advertisement
*All individuals are unique. Your results can and will vary.
As we age the composition, texture and appearance of our skin changes. Signs of skin aging include wrinkles, fine lines, loss of moisture, uneven tone, and dull, tired-looking skin. There are countless anti-wrinkle creams on the market promising to make skin look and feel younger. Many anti-wrinkle creams promise everything short of a facelift or to provide the much sought after "fountain of youth". In reality most are just moisturizers marketed as anti-aging products.
Below you'll find some of the most effective wrinkle serum/cream formulations on the market today, in our opinion.
Our Top Wrinkle Cream Choices
Verdict on Claimed Benefits: Below is our summary of the available evidence for the claimed benefits of below mentioned anti-aging products and anti-wrinkle creams based on the available research:
Beverly Hills MD Dermal Repair Complex | Best Anti-Aging Supplement

Diminishes Wrinkles & Dullness*
Gold Star Evidence
Reduces Sagging or Drooping*
Gold Star Evidence
Improves Hair & Nails Strength*
Strong Evidence
Enhances Skin Elasticity*
Gold Star Evidence
Serious Skincare Insta-Tox - Instant Wrinkle Eradicator
Decreases Sagging Skin*
Gold Star Evidence
Reduces Under-eye Puffiness*
Moderate Evidence
Instantly Fills Deep Lines And Wrinkles*
Strong Evidence
Eliminates Crows-Feet*
Strong Evidence
Deep Wrinkle Filler | Anti-aging Skin Care Formula
Erase The Appearance Of Fine Lines*
Gold Star Evidence
Fill in Deep Wrinkles*
Strong Evidence
Give Skin a Smoother, More Flawless Appearance*
Strong Evidence
Nourishes Skin For Lasting Results*
Moderate Evidence