What is Final Skin Cream?
The Final Skin Cream is an anti-aging cream. It is used to remove skin aging and skin wrinkle effects.
This comprises of; crow's feet, uneven skin tone, fine lines, dark spots, dark circles and eye bags all which are symptoms that are associated with one not taking care of their skin, being less firm and gaining weight.
The Final Skin Cream supplement product lifts your skin a little better by increasing its firmness and elasticity.
It reduces the volume, density and visibility of aging spots and dark circles. After using this supplement one achieves a youthful and radiant spark, smooth skin and even skin tone.
The Final Skin cream is given on a 14 day free trial to first time purchases and this is only for a limited time.
Who is the Manufacturer of Final Skin Cream?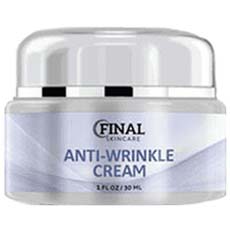 The Final Skin Cream supplement is manufactured by Final Anti-Aging who proclaims that their product is the ultimate product to use to get rid of wrinkles, fine lines and age spots.
They also claim that their product is formulated using all natural ingredients that is there are no fillers, chemicals, additives and synthetic substances hence evident in the lack of side effects.
The manufacturers also assert that the anti-aging supplement not only restores your youthful, radiant look but also treats different kinds of skin conditions;- redness, irritation, and eczema. They also assure their customers that they will enjoy using the product free of discomfort as the cream has both a non-oily lightweight texture.
Final Skin Cream Ingredients – Are they Safe & Effective?
The Final Skin Cream product works through the combined efforts of its ingredients. These ingredients each have their own unique way of functioning that enables you achieve a smooth, clear, even tone and radiant skin.
The product is able to deliver excellent results to your skin as the cream is absorbed and starts working from the dermal layer giving your skin a moisturizing and nourishing feeling throughout the day.
Advertisement
*All individuals are unique. Your results can and will vary.
The ingredients used in the formulation of the Final Skin Cream work on the inner most layers to the outer most layer part of your skin. The skin care cream anti-oxidants help heal and protect against free radicals, toxins and harmful bacterial damages on the skin. The product will boost the collagen levels in the skin to increase skin firmness and elasticity.
What are the Advantages of Final Skin Cream?
It helps to hydrate the skin.
Can maintain a healthy skin texture
Eradicates age spots and under eye spots
It is designed to decrease fine lines and wrinkles
May removes blemish and crow's feet
Promotes skin elasticity
What are the Disadvantages of Final Skin Cream?
There no exact composition of the ingredients and no exact ingredients used in its formulation.
There is no money back guarantee offer.
The skin care serum is found in online shops only.
FAQ's
What are the precautions to the use of Final Skin Cream?
It is advisable for a pregnant woman /lactating mother to seek for permission from their doctor before using the Final Skin serum supplement product.
Also people suffering from any medical condition or under any prescription drugs are advised not to use the skin care cream supplement before checking with their physician. Users are also instructed to store the supplement in a cool dry place away from the reach of sunlight.
How do I use the Final Skin Cream?
The Final Skin Cream supplement is an easy product to use. All you need to do is to wash their face and pat it dry. Apply the cream gently and massage into the skin. Permit it to absorb into the dermal layer. Use daily for better and faster results.
Alternatives to Final Skin Cream
Final Skin Cream Review – Final Verdict
The Final Skin Cream anti-aging supplement is an excellent product. The use of safe and effective ingredients is also evident in the lack of negative side effects.
The benefits it offers are substantial as makes sure that it has delivered the cream to the skin; it ensures first that the supplement truly gets all into the skin first.
When using the cream supplement you ought to enjoy the benefits it carries; a beautiful, clear, radiant and smooth skin. The company should offer a money security as it is often very attractive for customers and also says a lot about the company's confidence on their product.
As we age the composition, texture and appearance of our skin changes. Signs of skin aging include wrinkles, fine lines, loss of moisture, uneven tone, and dull, tired-looking skin. There are countless anti-wrinkle creams on the market promising to make skin look and feel younger. Many anti-wrinkle creams promise everything short of a facelift or to provide the much sought after "fountain of youth". In reality most are just moisturizers marketed as anti-aging products.
Below you'll find some of the most effective wrinkle serum/cream formulations on the market today, in our opinion.
Our Top Wrinkle Cream Choices
Verdict on Claimed Benefits: Below is our summary of the available evidence for the claimed benefits of below mentioned anti-aging products and anti-wrinkle creams based on the available research: