In This Review
Eucerin Q10 The Product Overview
Having beautiful skin is now valued now more than ever. With the media's constant hype on flawless and youthful skin, it is only normal for women to seek solutions on how to achieve this.
However, the process of aging, exposure to pollutants and harmful UV rays as well as bad lifestyle habits can lead the skin to lose its natural radiance, making it wrinkly and dull.
How Does It Rate?
Overall Rating: 3.7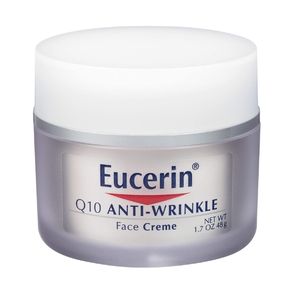 Eucerin Q10
Brand Highlights
Q10 anti-wrinkle cream is a product of Eucerin.
They claim to reduce wrinkles, puffiness, and age spots
Also claims it is suited for sensitive and dry skin.
Key Ingredients
Ethylhexyl Cocoate
Butylene Glycol
Tocopherol
Sodium Hydroxide
Ubiquinone
Cetyl Alcohol
Butyrospermum Parkii (Shea Butter)
Glyceryl Stearate Citrate
Tocopheryl Acetate
Glycerin
Pros
The ingredients found in Eucerin Q10 are almost the same ingredients found in several anti-wrinkle creams.
Its adequate amount of Coenzyme Q10 that has been proven effective in fighting wrinkles is a big plus.
As a result, the skin becomes firmer and more moisturized.
It also contains SPF15, which protects the skin from harmful UV Rays during sun exposure.
Lastly, it does not contain any artificial ingredients or irritants to avoid clogging of pores and skin irritation.
Cons
While Eucerin Q10 anti-wrinkle cream sounds very promising because of its ingredients, it doesn't stand out because these ingredients are typical to several anti-wrinkle creams on the market.
Furthermore, it doesn't look as promising as it claims, considering that no clinical studies attest to its efficacy.
---
How Does Eucerin Q10 Work?
Some anti-wrinkle creams are formulated for specific skin types. Looking for the right skin product for sensitive skin is highly difficult. However, Eucerin Q10 provides a solution to this dilemma through its advanced formulation suited for sensitive and dry skin. This formulation makes it safer for people with sensitive skin to use this product without fearing irritation or breakouts.
Eucerin Q10 Ingredients – Are they Safe & Effective?
Eucerin Q10 anti-wrinkle cream is said to be composed of ingredients beneficial in diminishing wrinkles and fine lines. This formulation is said to help bring back the skin's youthful glow without the risks of side effects. In particular, it is composed of:
Ethylhexyl Cocoate
Emollients like Ethylhexyl cocoate are used in cosmetics and personal care items. Emollients are the kind of moisturizers that are applied to the skin to treat and care for it. In particular, moisturizers use a lot of Ethylhexyl cocoate in their formulations.
Butylene Glycol
Butylene glycol [1] is a humectant to keep skin hydrated, moisturized, and youthful-looking. But it also hydrates the skin topically, pulling hydration to the top layer of the skin. This is a key factor in its use in moisturizing treatments like moisturizers and hair conditioners.
Tocopherol
When applied after the initial exposure, [2] topical use of vitamin E also lessens the effects of UV radiation. If injected right away after UV exposure in mice, -tocopherol acetate reduces some of the erythema, edema, skin swelling, and thickening.
Sodium Hydroxide
Cleansers, soaps, cosmetics, creams, and lotions are just a few [3] examples of products used in the beauty and skin care industries that contain sodium hydroxide to balance pH. Although sodium hydroxide is exceedingly dangerous in its pure form, cosmetics and skin care products include very little, making them safe to use.
Ubiquinone
Coenzyme Q10 or CoQ10 is another name for ubiquinone, and it may be more well-known by this name. It is a naturally occurring, fat-soluble molecule that resembles a vitamin. Due to its stimulating influence on skin elements that tend to slow down with aging and continuous sun exposure, it can have antioxidant advantages when applied to the skin.
Cetyl Alcohol
This medicine is applied topically as a moisturizer to treat or prevent mild skin irritations and dry, rough, scaly, itchy skin (such as diaper rash and skin burns from radiation therapy). Emollients are chemicals that soften, moisturize, and reduce flaking and irritation of the skin.
Butyrospermum Parkii (Shea Butter)
Shea butter, a superior emollient and emulsifier, guards against skin dryness and hastens the recovery of minor wounds and irritations. It is high in unsaturated fatty acids and Vitamin E and has a mild photoprotective effect.
Glyceryl Stearate Citrate
Emollients found in Glyceryl Stearate Citrate give your skin a silky, smooth feel. It aids in moisture retention for your skin and hair. Additionally, it serves as an emulsifier in our night cream, day cream, and sunscreen to keep everything blended and comfortable on your skin.
Tocopheryl Acetate
The stable form of vitamin E most frequently utilized in cosmetic formulations for its benefits to skin care is called vitamin E acetate, or DL-Alpha tocopheryl acetate. Cell membranes are shielded from oxidative damage by vitamin E. It can stop lipid peroxidation and UV-induced premature aging of the skin.
Glycerin
Because it functions as a humectant—a chemical that enables the skin to retain moisture—glycerin is excellent for the skin. It can hydrate the skin more, reduce dryness, and revitalize the top layer. It can soften skin because it is an emollient.
Its most important ingredient, Q10 is a substance essential in cell regeneration. It helps fight signs of aging, such as the development of wrinkles, and, leaves skin smooth, supple, and even-toned.
Read More About Similar Products
FAQ For Eucerin Q10
Q: How Much Does Eucerin Q10 Cost & Where Can I Buy It?
A: Customers can purchase Eucerin Q10 from its official website, Amazon, and from Walmart also. One jar of Eucerin Q10 is priced at $43.99 for 1.70 oz.
Q: Does Eucerin Q10 Provide A Free Trial Or Refund Policy?
A: We didn't find any information about free trials, and also, any money-back guarantee manufacturer.
Q: What Are The Side Effects Of Eucerin Q10?
A: There are no reported side effects of Eucerin Q10. However, there might be possible side effects while using the product.
Q: Is It Safe to Take Eucerin Q10 Long-Term?
A: Yes, taking Eucerin Q10 for long-term may be safe. There shouldn't be any safety issues with this product but try this on small skin surface area to find out any side effects.
Eucerin Q10 Review – Final Verdict
Looking for the right anti-wrinkle cream can prove to be very stressful. It is important to know what advantages a certain product holds over others that make it worth your money. Eucerin Q10 may be effective; however, there are several other anti-wrinkle products such as Femora out there that hold more potential and promise.
As we age the composition, texture and appearance of our skin changes. Signs of skin aging include wrinkles, fine lines, loss of moisture, uneven tone, and dull, tired-looking skin. There are countless anti-wrinkle creams on the market promising to make skin look and feel younger. Many anti-wrinkle creams promise everything short of a facelift or to provide the much sought after "fountain of youth". In reality most are just moisturizers marketed as anti-aging products.
Below you'll find some of the most effective wrinkle serum/cream formulations on the market today, in our opinion.
Our Top Wrinkle Cream Choices
Verdict on Claimed Benefits: Below is our summary of the available evidence for the claimed benefits of below mentioned anti-aging products and anti-wrinkle creams based on the available research:
Beverly Hills MD - Best #1 Rated Skincare Brand
Innovative Science-Backed Skincare Products*
Gold Star Evidence
Range of Products for Specific Skin Concerns*
Gold Star Evidence
Cruelty-Free, Premium Quality Ingredients*
Gold Star Evidence
Visibly Lifts Skin From The Inside, Out*
Gold Star Evidence
Serious Skincare Insta-Tox - Instant Wrinkle Eradicator

Instantly Smoothes Out Deep Wrinkles*
Gold Star Evidence
Removes Under-eye Bags And Crow'S Feet*
Gold Star Evidence
Minimizes The Appearance Of Sagging*
Gold Star Evidence
Helps Provide Smoother, Tighter Skin*
Strong Evidence
XYZ Smart Collagen | The Best Collagen Cream
Wrinkles Reduction*
Gold Star Evidence
Improves Skin Firmness*
Gold Star Evidence
Improves Skin Texture*
Strong Evidence
Smart Collagen Management*
Strong Evidence
Deep Wrinkle Filler | Anti-aging Skin Care Formula
Erase The Appearance Of Fine Lines*
Gold Star Evidence
Fill in Deep Wrinkles*
Gold Star Evidence
Give Skin a Smoother, More Flawless Appearance*
Strong Evidence
Nourishes Skin For Lasting Results*
Strong Evidence