What is Dermarose?
Dermarose is a brand of antiaging cream and serum that uses the power of Swiss Rose stem cells. These cells are taken from a type of rose grown in the Swiss Alps and are said to have powerful effects on several signs of aging including lines, wrinkles and dark circles under the eyes.
Dermarose produces two different treatments, a face cream and an under eye serum and both are shown on their official website. Dermarose products are said to be paraben and sulfate free, they are not tested on animals and have no added fragrance, making them suitable for all skin types.
The Dermarose website is well-designed and, in addition to the information about the two treatments, it also contains customer reviews, additional skincare articles and full company contact details.
Dermarose Ingredients – Are they Safe & Effective?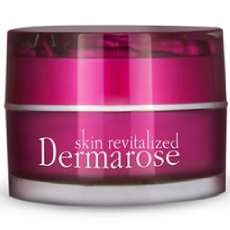 Both of the Dermarose brands are specifically designed to target aging skin, making it look more youthful and revitalized. In addition to treating and reducing lines and wrinkles, certain ingredients used in the formulations decrease inflammation and make the epidermal layer of the skin more resilient to future damage.
The creams protect against environmental stress including UV rays and improve the skin's ability to retain moisture for long lasting hydration. While no full clinical data is provided for either product, the manufacturer states that the formula decreases the appearance of wrinkles by up to 45% and results in a 54% increase in more radiant, glowing skin.
Dermarose face cream and eye serum are both sold directly from the Dermarose website and they have a 30 day money back guarantee.
Specific Ingredients in Dermarose include Avocado oil, Hyaluronic acid, CoEnzyme Q10, Swiss Rose Stem Cell extract, Vitamin E, Hesperidin Methyl Chalcone, Chrysin, Dipeptide Valyl Tryptophan.
There are a number of highly beneficial antiaging ingredients used in both Deramrose formulations. But, while the serum and cream contain different key substances, they both harness the power of the Swiss Rose stem cell extract. This is a relatively new inclusion in antiaging products and said to be revolutionary in the treatment of aging skin.
The stem cells fight aging by promoting the growth of new, fresh skin cells and encouraging skin rejuvenation. It is combined with other key ingredients that include Pal-GHK, for increased skin firmness, Lipopeptide Pal-GQPR, to reduce inflammation, Chrysin, which targets dark circles under the eyes and Hesperidin Methyl Chalcone, a substance that reduces capillary size.
Hyaluronic acid is included for its ability to attract and retain moisture from the atmosphere, keeping the skin plump and hydrated and Vitamin E, Soybean oil and Avocado oil all add conditioning nutrients to the skin.
Advertisement
*All individuals are unique. Your results can and will vary.
There are no application instructions provided for either product but it should likely be applied once or twice a day. According to the manufacturer, most people see results within 17 days with full results achieved in approximately 3 months of use.
What are the Advantages of Dermarose?
Active ingredients are listed and explained
It may provide healthy skin
Your skin may become firmer and radiant.
It contains no additives or fragrance
What are the Disadvantages of Dermarose?
Dermarose products are expensive
No samples are offered
Read Next – Oxytokin
Dermarose Review – Final Verdict
The company behind Dermarose products does a good job of presenting their brand although they could provide more individual ingredient information and scientific test results. Because the market is so flooded with antiaging products, they need to do this in order to make their brand stand out and also to justify the very high price tag.
Although stem cell technology is a fairly recent addition to the world of antiaging products, there is already a good amount of evidence to show that while it won't totally reverse the signs of aging, can significantly slow them and produce visibly revitalized skin.
Thus we encourage our readers to explore other options in the market which might offer more benefits than this product and are available at pocket-friendly prices.
As we age the composition, texture and appearance of our skin changes. Signs of skin aging include wrinkles, fine lines, loss of moisture, uneven tone, and dull, tired-looking skin. There are countless anti-wrinkle creams on the market promising to make skin look and feel younger. Many anti-wrinkle creams promise everything short of a facelift or to provide the much sought after "fountain of youth". In reality most are just moisturizers marketed as anti-aging products.
Below you'll find some of the most effective wrinkle serum/cream formulations on the market today, in our opinion.
Our Top Wrinkle Cream Choices
Verdict on Claimed Benefits: Below is our summary of the available evidence for the claimed benefits of below mentioned anti-aging products and anti-wrinkle creams based on the available research:
Beverly Hills MD Dermal Repair Complex | Best Anti-Aging Supplement

Diminishes Wrinkles & Dullness*
Gold Star Evidence
Reduces Sagging or Drooping*
Gold Star Evidence
Improves Hair & Nails Strength*
Strong Evidence
Enhances Skin Elasticity*
Gold Star Evidence
Serious Skincare Insta-Tox - Instant Wrinkle Eradicator
Decreases Sagging Skin*
Gold Star Evidence
Reduces Under-eye Puffiness*
Moderate Evidence
Instantly Fills Deep Lines And Wrinkles*
Strong Evidence
Eliminates Crows-Feet*
Strong Evidence
Deep Wrinkle Filler | Anti-aging Skin Care Formula
Erase The Appearance Of Fine Lines*
Gold Star Evidence
Fill in Deep Wrinkles*
Strong Evidence
Give Skin a Smoother, More Flawless Appearance*
Strong Evidence
Nourishes Skin For Lasting Results*
Moderate Evidence