You want to see soft, smooth skin whenever you look in the mirror. With time, you'll see visible signs of wear and tear. This is when you know that aging happens. No one can stop Father Time from knocking on your door.
What you can do is delay it for as long as possible. There are so many ways to look younger – you can go for cosmetic surgery, which is expensive, or you can buy skincare products.
The more cost-effective method is to use a wrinkle cream. There are so many brands to choose from, and choosing which one works best for you can be quite challenging. After all, some brands work better than others. What you need to consider now is value for money.
You may get one that's expensive, but it's not the best-rated brand in the market. The cheaper one, on the other hand, may not be made with quality ingredients.
So, how do you know which wrinkle cream to get? There's a product called Dermaheal Cosmeceutical Anti-Wrinkle Serum. You may even want to try this out, but before you do, see to it that it comes highly recommended by those who have actually tried it.
What is Dermaheal Cosmeceutical Anti-Wrinkle Serum?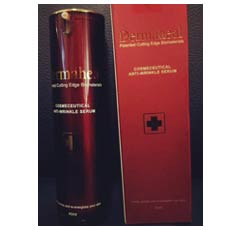 Dermaheal Cosmeceutical Anti-Wrinkle Serum is made by a Dermaheal Cosmeceuticals. The serum contains growth factors and bioactive peptides. With these two powerful ingredients combined, the manufacturer says that it's an effective solution for wrinkles and fine lines.
Dermaheal has been in the international market since 2001. Its products have reached many Asian and European countries. The company's products are known to be exceptionally effective because these were developed by scientists who are experts in the molecular and cellular biology of the cell.
The ingredients used in Dermaheal Cosmeceutical Anti-Wrinkle Serum are unparalleled in quality and effectiveness. That's because the active ingredients used contain growth factors and growth factor-mimicking peptides.
So, what exactly are these? Growth factors are naturally made molecules produced by the body. They are vital in metabolism, immunity, repair, and most importantly, aging. Hence, this wrinkle cream stimulates the skin cells to rejuvenate and generate newer cells.
Moreover, Dermaheal Cosmeceutical Anti-Wrinkle Serum is made from a scientifically proven method of delivery called nano-encapsulation. These are pharmaceutical grade delivery molecules that allow the active ingredients to penetrate into the dermis layer of the skin so change happens from inside out.
Advertisement
*All individuals are unique. Your results can and will vary.
How Does Dermaheal Cosmeceutical Anti-Wrinkle Serum Work?
The manufacturer says that Dermaheal Cosmeceutical Anti-Wrinkle Serum will work from deep within. When this happens, the changes are more permanent and effective. If you want to base your answer on what customers say, then you'll find opposing views.
Majority were pleased with the results while some say that it took longer for the changes to happen. And as with all skin care brands, you really can't find a universally effective product, right? It all depends on the type of skin you have and how the ingredients work with your body. However, it does help to see a product with more positive feedback than negative ones.
The reviews made on Dermaheal Cosmeceutical Anti-Wrinkle Serum have been mostly positive. Hence, many will see this as a good sign.
Dermaheal Cosmeceutical Anti-Wrinkle Serum Ingredients – Are they Safe & Effective?
Amino acids and Minerals, Rh-Oligopeptide-1 (EGF), Rh-Oligopeptide-2 (IGF-1), Rh-Polypeptide-1 (bFGF), Rh-Polypeptide-2 (TRX), Rh-Polypeptide-11 (aFGF), Adenosine, Chlorella Vulgaris Extract, Portulaca Oleracea Extract, Tocopheryl Acetate, Sodium Hyaluronate, Multi-vitamins, Palmitoyl Pentapeptide-3, Copper Tripeptide-1.
What are the Advantages of Dermaheal Cosmeceutical Anti-Wrinkle Serum?
Here are some of the benefits that go with this brand of wrinkle cream:
It suits all skin types
It has some positive reviews
It may reduce the appearance of wrinkles and fine lines
It can enhance the skin's firmness
What are the Disadvantages of Dermaheal Cosmeceutical Anti-Wrinkle Serum?
It is available online only
You need to be patient to see its positive results.
FAQ's
How to Use?
Cleanse and tone your skin first to remove dust and dirt found between pores. Then, apply Dermaheal Cosmeceutical Anti-Wrinkle Serum on your face and neck. Massage using a circular motion and gently work your way outwards. Allow the serum to penetrate skin before using other products.
Read Next – BellaVei Anti-Wrinkle Complex
Dermaheal Cosmeceutical Anti-Wrinkle Serum Review – Final Verdict
It's always wise to see what other customers say about your wrinkle cream of choice before actually making a purchase. Fortunately, Dermaheal Cosmeceutical Anti-Wrinkle Serum comes highly recommended by those who have tried it.
If you want to invest in this serum, then go ahead and do so because many of the product's customers were actually highly impressed. It's quite pricey so get ready to dig deep into your pocket.
As we age the composition, texture and appearance of our skin changes. Signs of skin aging include wrinkles, fine lines, loss of moisture, uneven tone, and dull, tired-looking skin. There are countless anti-wrinkle creams on the market promising to make skin look and feel younger. Many anti-wrinkle creams promise everything short of a facelift or to provide the much sought after "fountain of youth". In reality most are just moisturizers marketed as anti-aging products.
Below you'll find some of the most effective wrinkle serum/cream formulations on the market today, in our opinion.
Our Top Wrinkle Cream Choices
Verdict on Claimed Benefits: Below is our summary of the available evidence for the claimed benefits of below mentioned anti-aging products and anti-wrinkle creams based on the available research: