In This Review
What is DermaFi Snake Venom Peptide Cream?
You read that right! Your eyes aren't playing tricks on you! An anti-wrinkle ingredient that is taking the market by storm is Syn-ake, a topical formulation for wrinkled, mature skin developed by Pentapharm Ltd. This new proprietary ingredient takes the venom of a Temple Viper snake to mimic the effects of Botox.
Though DermaFi Snake Venom Peptide Cream gives you similar effects as a Botox, it is far less more inexpensive than Botox at $89.31. The product is also currently being offered for $4.95 if you sign up for a free trial. If you're not satisfied with the product, you can always ship it back to the manufacturer and cancel your subscription. Just make sure that you are able to make the cancellation before the 15th day of your free trial offer, which begins on the date that you made the placement for the free trial subscription.
Otherwise, be ready to be charged with the full amount of the product, and be shipped and charged with the product every month until you call in to cancel your subscription.
How Does It Rate?
Overall Rating: 3.6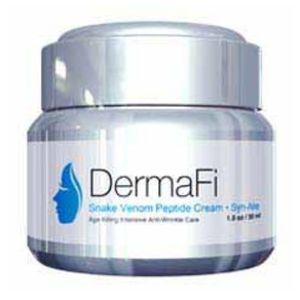 DermaFi Snake Venom Peptide Cream
Brand Highlights
Make fine lines disappear.
Improve in appearance by 84%.
Tightens pores by as much as 95%.
Boosts results to 73% brighter skin.
30-Day refund policy.
Pros
Deep moisturization
Visibly less and improved appearance of wrinkles in just a few minutes after application
It may help to increase skin firmness and elasticity.
It may increase hydration and improve overall skin wellness.
Cons
Delivers temporary wrinkle improvement results only
Available only via online subscription
---
How Does DermaFi Snake Venom Peptide Cream Work?
As mentioned, the primary ingredient in DermaFi Snake Venom Peptide Cream is Syn-ake. It has a relaxing effect on skin and muscles. Syn-ake relaxes, numbs and freezes your facial skin and the muscles underneath it so that your skin can be reset back to an expressionless state. In turn, this action causes your wrinkles to become stretched, seem fewer in number, and become much less visible.
Syn-ake is the unique ingredient found in DermaFi Snake Venom Peptide Cream. The anti wrinkle cream combines the snake venom with ultra hydrating ingredients that pulls up skin to make it firmer and healthier looking.
Combined with peptides and skin moisturizers, DermaFi Snake Venom Peptide Cream nourishes your skin, providing it a bigger volume of skin precursors that are required to produce and resurface younger, flawless skin, and to repair damages in the skin matrix at the same time.
DermaFi Snake Venom Peptide Cream Ingredients – Are they Safe & Effective?
The complete product ingredients list is not disclosed. Therefore, other than the mere mention of Syn-ake and peptides, plus the proprietary delivery and skin penetrating QuSome[1] and Biofil[2], no other ingredients in the formulation are known to public.

FAQs
Q: How Should You Use DermaFi Snake Venom Peptide Cream?
A: Use DermaFi Snake Venom Peptide Cream after cleansing your face thoroughly with water and applying toner. Apply liberally. Try not to move a facial muscle while applying the product and well into an estimated 3 minutes.
Q: What are the Precautions When Using This Supplement?
A: For external use only.
Some product ingredients may be irritating to the skin. Always perform a patch test to check for allergic reactions to the product or any of its components.
Q: Who can use DermaFi Snake Venom Peptide Cream?
A: Women and men in their 30s and beyond who want to see a younger version of them everyday should use DermaFi Snake Venom Peptide Cream.
Customers Reviews
Outstanding Product
I'm very familiar with DermaFi Derma Snake Venom and I love the way it makes my skin feel! Outstanding product.
~ Bev Olsen
DermaFi Snake Venom Peptide Cream Review – Final Verdict
Everybody has problems with their skin – too oily, too dull, hyperpigmented, too dry, too dark, too many freckles, to name a handful. What's your skin issue?
When people reach their 30s and beyond though, women and men, all of a sudden, have the same skin issues they face: wrinkles, fine lines, sagging skin. All of which, signs of skin aging that are inevitably going to happen anyway but, if you're getting yours too soon, it's not just your fortune but, there must be something really wrong or really lacking in your skincare routine.
Aging requires several changes, a total lifestyle revamp. When it comes to your skin, it requires completely ditching what you think you've always known about skincare so that you can be prepared to fully embrace a newer anti-aging skincare routine that best fits your mature skin, even when that means signing up for snake venom.
DermaFi Snake Venom Peptide Cream offers a new anti-wrinkle cream technology which, nobody can dispute at the moment, might just be able to deliver the results you want to see and feel. If you haven't already found the best anti wrinkle cream that matches your skin, this might be worth trying out.
As we age the composition, texture and appearance of our skin changes. Signs of skin aging include wrinkles, fine lines, loss of moisture, uneven tone, and dull, tired-looking skin. There are countless anti-wrinkle creams on the market promising to make skin look and feel younger. Many anti-wrinkle creams promise everything short of a facelift or to provide the much sought after "fountain of youth". In reality most are just moisturizers marketed as anti-aging products.
Below you'll find some of the most effective wrinkle serum/cream formulations on the market today, in our opinion.
Our Top Wrinkle Cream Choices
Verdict on Claimed Benefits: Below is our summary of the available evidence for the claimed benefits of below mentioned anti-aging products and anti-wrinkle creams based on the available research:
Beverly Hills MD - Best #1 Rated Skincare Brand
Innovative Science-Backed Skincare Products*
Gold Star Evidence
Range of Products for Specific Skin Concerns*
Gold Star Evidence
Cruelty-Free, Premium Quality Ingredients*
Gold Star Evidence
Visibly Lifts Skin From The Inside, Out*
Gold Star Evidence
Serious Skincare Insta-Tox - Instant Wrinkle Eradicator

Instantly Smoothes Out Deep Wrinkles*
Gold Star Evidence
Removes Under-eye Bags And Crow'S Feet*
Gold Star Evidence
Minimizes The Appearance Of Sagging*
Gold Star Evidence
Helps Provide Smoother, Tighter Skin*
Strong Evidence
XYZ Smart Collagen | The Best Collagen Cream
Wrinkles Reduction*
Gold Star Evidence
Improves Skin Firmness*
Gold Star Evidence
Improves Skin Texture*
Strong Evidence
Smart Collagen Management*
Strong Evidence
Deep Wrinkle Filler | Anti-aging Skin Care Formula
Erase The Appearance Of Fine Lines*
Gold Star Evidence
Fill in Deep Wrinkles*
Gold Star Evidence
Give Skin a Smoother, More Flawless Appearance*
Strong Evidence
Nourishes Skin For Lasting Results*
Strong Evidence