So many people take aging too seriously – and, it should be! Aging entails a significant shift, a life-changing event that we all must go through and need to deal with competently to be able to cope and adjust well.
Trouble is when too much focus, effort, and resources are being directed towards much less important things that nobody can really change about aging.
Aging skin is one area that receives too much improper attention to it. People worry about not growing wrinkles and regaining the no-wrinkle look they once had when they were much younger.
Let's set the record straight: totally young, completely flawless skin will never happen to your face again. The sooner you can let this fact sink in, the sooner it is that you can start focusing more attention on what really matters, and that is how you can slow down your skin's aging process.
What is Aluris Snake Cream?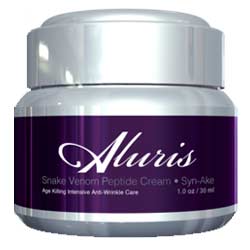 Aluris Snake Cream is concerned about how you can provide your skin with the special needs and requirements it has as it ages. This product employs an intelligent formula that, based on research, actively seeks damages in your skin, fills it in and, in the process of swamping skin with moisture and ample nourishment, plumps up your skin and makes visible signs of skin aging appear not so visible anymore.
Aluris Snake Cream, like most other anti-wrinkle creams and serums, is formulated to perk up collagen production in your skin. With higher levels of collagen in your skin at any given time, your skin is able to restore more of its capacity to naturally repair and rejuvenate itself.
As a result, your skin is better able to facilitate a much faster skin cell turnover rate, effectively eliminating old, damaged skin cells to replace it with a newer, younger layer.
Snake venom peptide is one ingredient that makes this regimen slightly different from others, although the use of snake venom has been growing in popularity among anti-wrinkle creams.
What the venom peptide does it to relax the skin and muscles underneath it, causing the skin to stretch back to its expressionless state which, in turn, makes your fine lines and wrinkles much less visible.
Who is the Manufacturer of Aluris Snake Cream?
Manufacturer information is not available but, the makers of Aluris Snake Cream publishes the following claims pertaining to this product and the results of prolonged use:
Advertisement
*All individuals are unique. Your results can and will vary.
Lessened fine lines and wrinkles by as much as 84%
Improved collagen production by as much as 95%
Improved appearance of dark under eye circles by as much as 73%
How Does Aluris Snake Cream Work?
The venom peptide infused in Aluris Snake Cream numbs and relaxes skin and muscles below it to give you an instant facelift. The mechanism works quite similarly with Botox injections.
The formulation also employs Biosphere and QuSome technologies to deliver the formulation deep into the skin where the nourishment it brings is needed the most.
Aluris Snake Cream Ingredients – Are they Safe & Effective?
Snake Venom Peptide relaxes your facial muscles to bring it to an expressionless, wrinkle-free state
Argireline, also a neuropeptide which acts much like the snake venom peptide also included in this formulation
Sweet Carrot Extract, contains very high levels of Vitamin A and antioxidants that have a rejuvenating and naturally anti-wrinkling effect on skin
Trylagen, a peptide complex that improves collagen levels, improves skin synthesis and inhibits breaking down of skin cells
Aloe, very closely resembling skin, is easily absorbed and utilized by the skin to reinforce the skin's natural protective barriers
Cucumber, contains Vitamins A, C and E, and a powerful load of antioxidants all working towards revitalizing your skin
Sweet Almond Oil, well known for the high level and deeply penetrating moisture it can bring to your skin, this moisturizing ingredient is easily assimilated by the skin
What are the Advantages of Aluris Snake Cream?
May improve skin's moisture levels and elasticity
Prevents and improves the appearance of multiple signs of skin aging
May give you an instant facelift without the pain or downtime associated with Botox injections
What are the Disadvantages of Aluris Snake Cream?
Claims are not properly backed by studies or consumer ratings
It cannot be used on sensitive skin
Ingredients are not quantified.
Its results may vary from one to another
FAQ's
How to use this product? Who Can Use Aluris Snake Cream?
Apply Aluris Snake Cream twice daily on clean and clear skin.
Who Can Use Aluris Snake Cream?
This product is for use on mature, aging skin only.
Read Next – Cellology
Aluris Snake Cream Review – Final Verdict
Aluris Snake Cream can be difficult to maintain as an anti-wrinkle regimen for its steep price of $92.93. However, it can be worth shelling out if this product does work.
The free trial cost of $5 should enable you to experience if this product may make any difference in the way your skin feels and looks like.
As we age the composition, texture and appearance of our skin changes. Signs of skin aging include wrinkles, fine lines, loss of moisture, uneven tone, and dull, tired-looking skin. There are countless anti-wrinkle creams on the market promising to make skin look and feel younger. Many anti-wrinkle creams promise everything short of a facelift or to provide the much sought after "fountain of youth". In reality most are just moisturizers marketed as anti-aging products.
Below you'll find some of the most effective wrinkle serum/cream formulations on the market today, in our opinion.
Our Top Wrinkle Cream Choices
Verdict on Claimed Benefits: Below is our summary of the available evidence for the claimed benefits of below mentioned anti-aging products and anti-wrinkle creams based on the available research: