Running in the morning can be beneficial to your physical and mental wellness, according to Dr. James Mojica, a sleep physician. It is the main reason most people prefer to run in the morning to start their day in the right mood. If you can teach yourself to be a morning person, it can be possible to maintain the discipline. It compels you to go to sleep early so that you can create more time and energy for the next morning. However, running in the morning may not be helpful if you do it the wrong way. Let's first look at the good side of running in the morning
Improves Productivity at Work
Running in the morning keeps you awake once you reach your workplace. Since you will be more alert, it will be easier to keep focus on the tasks at hand, and in turn improve your performance. Also, you won't be in a hurry to rush home after work to run because you will already be through with your day's exercise schedule. It can be inconveniencing to go and run after a stressful day at work. You might even skip your routine with simple excuses like feeling tired or worn out.
You May Like To Read – How To Exercise Regularly?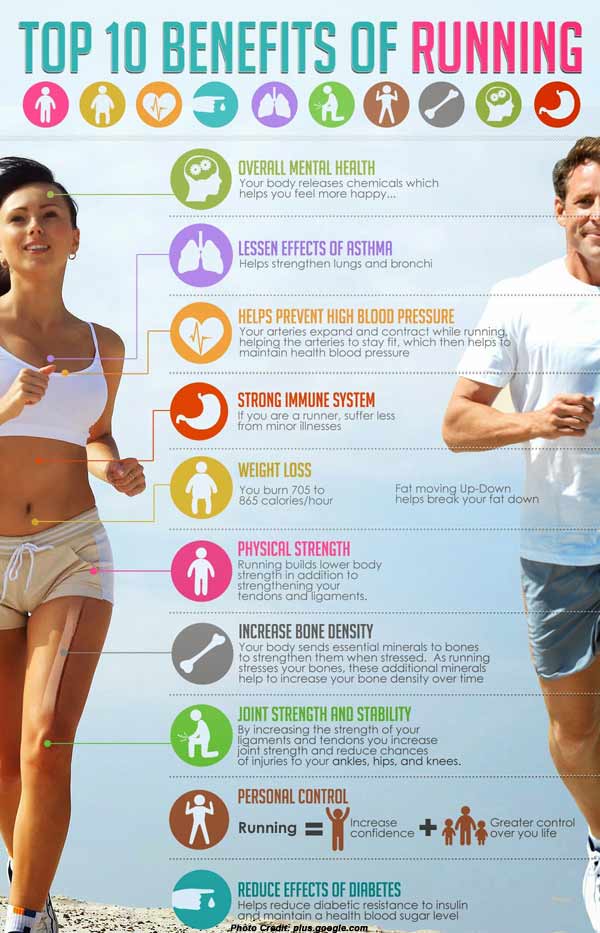 Help Lose Weight Fast
If you struggle with weight loss, make a morning run a must in your workout schedule if you want to get rid of those extra pounds within a short time. Running in the morning jumpstarts your metabolism that enables your body to burn more calories fast throughout the day. Since you will have developed the discipline to go to bed earlier in order to create more time for the morning run, your body will be fully rested the next day and thus you won't crave for snacks.
This will cause a reduction of your calorie intake for the day that is an important step towards weight loss.
Morning Running Tips
Be On Time: You don't have to report to work late in the morning because you are running. It is, therefore, important to create more time in the morning so that you report to work on time. Get out of your bed a little earlier before your normal schedule so that you can get time to run and cool down before taking a shower. Ensure that you have a watch when running so that you can know the right time to move on to the next step. You may notice that you are running behind schedule when running. You should either cut short your workout or up the speed to cover it up.
Plan Early: Ensure that your next day's running and work clothes are ready before you go to sleep. You won't have excuses in the morning not to run as it would have been the case if you start searching for your sports shoes or a tie. Make sure that all your household tasks are completed in time such that nothing will inconvenience you in the morning run the next day. This will leave you with nothing less other than having a good workout.

Look For Company: Engaging a running friend/spouse can be motivating while ensuring that you don't skip your morning run. Alternatively, you can join a group whose members run in the morning. It will be difficult to skip a run especially when you know that someone or a group of morning runners is waiting for you.
Take A Light Meal: it is not advisable to run in the morning on an empty stomach. However, there is little time to eat a lot of food and have it digested before you can get engaged. Aim at taking something light like a banana or an energy bar. Since you are more likely to wake up dehydrated in the morning, it is advisable to consume some water before hitting the road.
Disadvantages of Morning Run
The flipside of running in the morning is inability to rise from your sleep. Some people are also not fully awake when they begin to run and are thus prone to injury or accident. Others complain that if they get a bad run in the morning, they end up feeling tired and uninterested in other tasks the entire day or days afterwards.
Conclusion
Running in the morning is good for you and nothing is bad about it if it is done the right way. Cover short distances if you are a beginner and advance as time goes by. Avoid running in darkness to avoid injuries or accidents. Always ensure that you complete your regular tasks every day to avoid finding excuses for not engaging in the morning run. Sticking to plan and maintaining discipline are crucial in any workout regimen other than morning run. Thus, you should monitor your progress and make necessary changes if you realize any mistakes.