While every man wants a bigger penis, every woman wants bigger and shapelier breasts. There's no shame in that! It's perfectly natural to want your breasts to look sexier not only to look better in men's eyes but because your clothes would fit better. Bigger breasts can also make a woman more confident.
Although many women want their boobs to be bigger, they are reluctant to undergo surgery. Not only do these procedures come with several risks, but they tend to be expensive too. With breast enhancers, there is no need to search for a plastic surgeon or to feel less confident thinking your boobs will never be big enough.
We bring you the list of top four breast enhancement product so you don't waste your money and time on items that don't work. Let's start.
Top-Rated Breast Enhancers
At this point, you know how breast enhancers work and how to find the perfect product. We have evaluated a multitude of breast enhancement items and it's safe to say some of them are pure trash, but there are a lot of quality products on the market.
Total Curve is a daily breast enhancement treatment made by a company called Leading Edge Health. The brand focuses on the use of natural ingredients to help women achieve their goal and have firmer, bigger breasts that do not sag like two sand-filled socks.
The manufacturer claims that the secret behind the efficacy of this treatment is its two-party system. Similar to Breast Actives, this program also consists of the intake of pills and applying gel to the breast area.
Basically, this is more than a gel or a cream that contains some randomly selected vitamins. Total Curve works both externally and internally to help users tone and reshape their breasts for a sexier and more youthful appearance. You're probably wondering how it works and it all comes down to potent ingredients.
Powerful phytoestrogens (plant versions of hormone estrogen) have the potential to enhance the volume of your boobs. That is because the size and fullness of the breasts are largely influenced by hormones, as mentioned earlier in this post.
The core of the program is a daily supplement that not only contains phytoestrogens, but various herbs, nutrients, and antioxidants each with a unique purpose. As a result, users can experience many other benefits too such as reduced symptoms of PMS and menopause, better sex drive, improved vaginal dryness, just to name a few.
It is needed to take one capsule twice a day for maximum results. Total Curve supplement uses a number of ingredients that work together to deliver its benefits. These ingredients include:
Advertisement
*All individuals are unique. Your results can and will vary.
Buckwheat – Strengthens capillaries and improves circulation, promotes collagen production thus improving size and shape of breasts
Fennel – Exhibits balancing effects on estrogen, improves milk supply in breastfeeding mothers, promotes the growth of breast tissue
Dong Quai root (female ginseng) – Supports the production of progesterone, another important hormone that influences breasts. Progesterone is also important for proper function of estrogen
Damiana – Sexual stimulant, progesterone-binding effects
Blessed thistle – Alleviates period-associated pain, headaches, and symptoms of menopause repairs collagen and elastin
Hops – Phytoestrogen, promotes breast development and lactation
Watercress – Instrumental in women's breast health, improves blood flow
Black cohosh – Produces potent phytoestrogens
Wild yam – Produces phytoestrogens, treats PMS, vaginal dryness, menstrual cramps, among other things
Besides regular intake of dietary supplement, users also need to apply gel regularly. Total Curve gel is clinically proven to enhance breast size by 8.4% in up to 60 days.
The secret in its efficacy is down to a unique ingredient called Volufiline which delivers sarsasapogenin, an active compound that stimulates the growth of breast cells and enhances the volume of your boobs.
Ideally, you should apply Total Curve Gel twice a day, massage it into the skin until it's fully absorbed. Besides Volufiline, ingredients found in the gel formula include:
Aloe vera – Anti-aging effects, improves absorption of other ingredients, promotes blood flow
Bearberry – Enhances cell turnover rate, exhibits antioxidant effects, soothes and moisturizes skin
Algae – Helps skin retain moisture
Mango butter – Softens, soothes, and hydrates skin
Vitamin C – An antioxidant, vital for collagen synthesis
Caffeine – Anti-inflammatory effects
According to the official website, you may notice some results within 28 days with the regular use of Total Curve. More significant results are observed within 56 days, but full results occur within 90 days.
The product is exclusively available on the official website. Read full Total Curve review here.
Brestrogen is a breast enhancement cream that comes in a discrete and elegant pink bottle loved by thousands of women. Unlike Total Curve and Breast Actives, this is not a program that enhances volume and size of breasts internally and externally. The cream is said to increase the volume of boobs while lifting them and providing firmness.
Brestrogen works thanks to the active ingredient called Pueraria Mirifica, which consists of compounds such as miroestrol and deoxymiroestrol, isoflavonoids, and coumesan all of which stimulate and expand breast tissues. They also strengthen milk ducts and are responsible for the firmness and sexy shape of your boobs.
Brestrogen also contains vitamin E which acts as an antioxidant that protects the skin while providing moisture. It's important to mention that vitamin E is one of the most common ingredients in anti-aging products.
On average, it takes about a week to notice results. The website claims that your breasts may increase up to 1 cup in 6-7 weeks and 2 cups in 5-6 months. It's easy to use Brestrogen, just use 2-3 drops of cream and massage it into your breasts until they are fully absorbed.
The product is available exclusively on the official website. Read the full Brestrogen review here.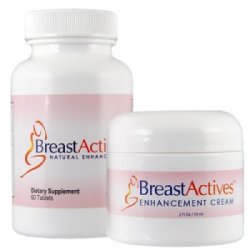 Breast Actives is not a single product, but a breast enhancing kit made by a company that was founded in 2002. Spending more than a decade in this business is always a good sign. That means the brand is reliable and their products are well-appreciated. This particular brand is dedicated to providing safe and effective products that benefit every aspect of your life.
Advertisement
*All individuals are unique. Your results can and will vary.
The company combines the latest scientific breakthroughs and the most recent developments in nutritional sciences together with the finest ingredients sourced from around the globe.
Breast Actives is, basically, a program for breast enhancement exercise that is both natural and safe at the same time. The manufacturer claims Breast Actives can make your boobs larger, firmer, and lifted.
Women who use this breast enhancement program can expect amazing results without fat pills, surgeries, and implants. Breast Actives works as a three-step program that utilizes natural ingredients only.
The very first step toward bigger breasts is to take one pill a day with a glass of water before or after your first meal. Then, the second step involves applying a small amount of Breast Actives cream with your fingertips on your breasts each morning.
Gently massage the cream into the skin using circular motions. The use of pills and cream is combined with exercises that aim to shape your breasts for an ultimate sexy appearance.
As mentioned above, the program uses a natural formula with truly powerful ingredients such as:
Dandelion – Exhibits detoxifying effects thus helping stimulate breast growth
Fennel seeds – Promotes the growth of breast tissues and increases development of your boobs
Fenugreek – Boosts breast development and supports the production of estrogen
Blessed thistle – Assists in breast tissue growth
Dong Quai root – Supports overall women's health, triggers estrogen production, helps breast development
With regular use of Breast Actives, you will not only get larger breasts, but they will also be shapelier. Clothes fit better and users also experience enhanced confidence in swimwear. Women who use this program also feel more confident socializing with others.
Pros
Larger, firmer, and lifted breasts
Natural formula
Three-step DIY program
Detailed workout program with every order
No side effects
90-days money back guarantee
Cons
Only available online
Amounts of ingredients aren't provided
No info about roles of each ingredient
Breast Actives program is exclusively available on the official website. Read detailed Breast Actives review here.
ProBreast Plus is a breast enhancement program consisting of supplement capsules and cream. The manufacturer claims your breasts can get two sizes larger with regular use of ProBreast Plus. What makes this product unique is that the brand is available in other countries too, not just the US. There are dedicated websites for the UK and Spanish-speaking countries.
Similar to Breast Actives and Total Curve, the product works both internally and externally.
Capsules contain potent ingredients that nourish, regenerate, and increase the production of hormones. As you already know, hormones are important for the size, firmness, and volume of your breasts. ProBreast Plus cream promotes breast growth while toning and moisturizing your skin. As a result, breasts not only look bigger but more youthful at the same time.
ProBreast Plus contains a natural formula that features:
Fenugreek – Improves the performance of mammary glands, supports the growth of breast tissues, promotes healthy estrogen levels
Hops – Regulates sex drive, promotes the growth of your boobs
Sweet almond oil – Induces cell growth in breasts
Sunflower oil – Promotes healthy skin, strengthens the immune system
Regular use of ProBreast Plus can provide first results within two weeks, but the full effect requires minimum two months.
The product is available on the official website. Read detailed ProBreast Plus review here.
What are Breast Enhancers?
According to the American Society of Plastic Surgeons[1], the number of plastic procedures is continually on the rise. In 2017, there were 17.5 million surgical and minimally invasive cosmetic procedures were performed in the United States. The number of procedures increased 2% compared to 2016.
Advertisement
*All individuals are unique. Your results can and will vary.
Of almost 1.8 million cosmetic surgical procedures, breast augmentation is the most popular. In fact, 300,379 procedures of this kind were performed in 2017, a 3% rise from 2016.
Many women want to have bigger boobs in a more natural manner that doesn't involve surgery. This is where breast enhancers step in. Coming in the form of pills, gels, and creams, breast enhancers promise to increase the size, volume, and improve the shape of breasts in a natural fashion, without incisions, implants, scars, and other risks.
Breast enhancers are a preferred method of increasing breast size among millions of women around the globe. These products are easy to use and have a high success rate.
Do Breast Enhancers Work?
Before we discuss the efficacy and safety of these products it is important to address normal breast development. The more you know about the process, the easier it is to understand how breast enhancers could work.
Development of breasts is an essential part of a woman's reproduction[2]. The process happens in different stages of a woman's life such as before birth, at puberty, and during the childbearing years. The formation of breasts starts before you're even born i.e. while you're still in your mother's uterus.
The process starts with a thickening in the chest area which is called the mammary ridge or milk line. By the time a baby girl is born, she already has nipples and formed beginnings of the milk-duct system.
Throughout a woman's life, breast changes take place. As a girl is about to enter puberty, the very first visible signs of breast development begin. The connective tissue starts to collect when ovaries begin producing estrogen. As a result, your breasts grow bigger.
When ovulation and menstruation begin, breasts mature together with a formation of secretory glands located at the end of milk ducts. The size of breasts and rates at which they mature varies from one girl to another. Breasts also change in pregnancy and menopause. They are largely governed by hormones and their size depends on the amount of connective tissue.
Depending on the brand and product, breast enhancers work in different ways. Most products of this kind function by reactivating or promoting the production of additional connective tissue in breasts. Other products work to improve hormone balance in the body.
Estrogen is essential for the health of every woman and it participates in numerous processes. Hormone fluctuations have negative effects on your entire body, including your breasts.
By improving levels of estrogen, these products may stimulate the growth of breasts and amplify the size and amount of breast tissue. Some products do both operations together with the help of natural ingredients.
Unfortunately, it is impossible to say that all breast enhancers work. Some products are ineffective, yet they cost a fortune. Others do offer amazing results. It all comes down to your ability to choose a high-quality product that will not disappoint you.
Breast Enhancers: How to Choose Top-Rated Breast Enhancer?
As seen above, these products can provide magnificent results only if you choose wisely. We can't expect to have bigger boobs if we buy a product that is a classic scam.
With the growing popularity of breast enhancers, many unreliable products emerged on the market. Their goal isn't to help you have bigger boobs without surgery, but to take your hard-earned money.
You can avoid that problem when you know what to buy. Here are some things to consider when buying breast enhancement items:
Ingredients – Some brands use potentially dangerous chemicals for their breast enhancers. These products carry a high risk of side effects. In order to experience results you want while minimizing the risk of side effects your best bet is a natural formula
Manufacturer – The reputation of a brand behind the product speaks a lot about its efficacy and safety. Chances are high that an unreliable company will somehow magically create a reliable product. It's always useful to spend a few minutes on research, Google the brand, and see what you can find out
Money-Back Guarantee – Results of breast enhancers vary, just like with other products. Their efficacy depends on many factors including the usage (some people don't follow instructions). Customers who experience no results should be able to get a refund, but some brands don't allow it. To protect your rights as a customer, the best thing to do is to choose products that come with a money-back guarantee
Customer Reviews – Reading user reviews is a great way to tell whether a product could be a reasonable purchase or not. Of course, you need to avoid common pitfalls and fall for fake reviews. Don't worry, it's easy to spot them. Reliable user reviews don't look like fairy tale scenarios
Conclusion
Breast enhancers have become very popular as women want to increase the size of their boobs without surgery. The article presented five top-rated products that you may want to consider if you decide to use breast enhancement products. Choose wisely.
Image Credits
Feature image: Shutterstock.com
In-Post Image: Shutterstock.com
**This is a subjective assessment based on the strength of the available informations and our estimation of efficacy.
*Result may vary. The information contained in this website is provided for general informational purpose. No medical claims are implied in this content, and the information herein is not intended to be used for self diagnosis or self treatment of any condition.
Disclosure of Material connection: Some of the links in the post above are "associate sales links." This means if you can click on the link and purchase an item, we will receive a commission. Regardless, we only recommend products or services which we use personally and/or believe will add value to our readers. We are disclosing this in accordance with the Federal Trade Commission's 16 CFR, Part 255: "Guides Concerning the Use of Endorsements and Testimonials."