The truth about Weight Loss Supplements should not be a mystery. It's important to understand, no matter what, that weight loss supplements are meant to be used as just that – supplements. This is a physiological matter ladies and gentlemen. You need to eat right and follow exercise program just as you would without a supplement. The supplement is supposed to help boost your metabolism and help to support your energy levels.
Your metabolism is the chemical processes that occur (within a living organism) in order to maintain life. That's pretty heavy. It must be important, right?
Well, it is. And a slow metabolism is often a factor in people struggling to lose weight. It's really quite a simple breakdown. A person with a higher, or faster, metabolism will naturally use more calories to carry out necessary body processes than someone with a lower, or slower, metabolism.
So then, the truth is that weight loss supplements can work for you.
Regardless of how you're trying to lose weight, you should always be a cautious consumer – if it's okay with your doctor to take a supplement, be sure the company is reputable. Most supplements offer all natural ingredients and or minerals and other organic components, be sure you read your labels.
Also remember that you don't NEED supplements. We already know this is a physiological process. You'll do just fine eating a healthy diet and exercising regularly without the supplements. As noted by one blogger, "we thrived as a species for quite a few years (tens of thousands!) before pills and powders came along, which means we can STILL thrive without them!" He said, and I'll say it too – "Nothing beats a solid long term diet and regular physical activity."
But, nonetheless, there are situations in which having a supplement (in addition) to a quality nutritious diet can be beneficial, especially in those with minor deficiencies in their diets (depending on the person and the situation).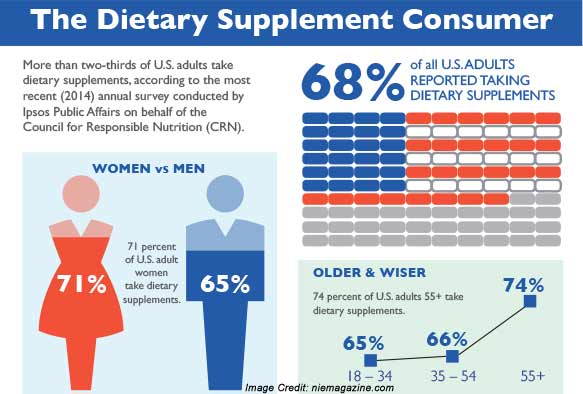 Try to stay away from certain types of supplements, such as detoxes and water pills. These type of diets have big claims stating that you can lose weight in a short amount of time, but what they don't tell you is that this 'routine' only produces results that last a day or two, giving you the perception that you'll need to use them again. Catching my point here?
This goes the same for laxatives. Never take laxatives for weight loss plan. You can do more research to see how bad it is for you or just listen to this advice. Just don't do it.
And since we're in the business of discussing supplements, consider your daily multi-vitamin. This is a tried and trusted source for absorbing extra nutrients into our systems. I'd also like to mention a few others that are guaranteed sources of healthier characteristics:
Vitamin D – for your skin. Especially if you live in an area that doesn't receive a lot of sun, you could be lacking in this essential vitamin. Dietary weight loss supplements may be missing this element.
Vitamin C – It's good for your skin, not to mention your immune system. Take a chewable for more natural effects.
Vitamin B12 – actually, a contributing essential vitamin for weight loss. This vitamin leans toward claims as an energy booster, in other words, speeding up your metabolism. While there are conflicting studies on the weight loss, vitamin B12 plays a major role in many of the body's essential functions and so taking an extra dose once day couldn't hurt.
Here at Consumer Health Digest we want to provide you with the best options for your health care, and weight loss is a major health concern in America today.
And so, we introduce you to Phenocal – a combination of natural ingredients created to produce accelerated weight loss results, with a good diet of course.
In combination with a good diet and regular exercise, Phenocal will help you burn more calories and feel more energized.
It's important to remember that weight loss supplements are meant to be used just as they are defined – a supplement to your regular diet and exercise routine. Consider the definition of supplement:
A product taken orally that contains one or more ingredients to supplement one's diet and are not considered food; specifically according to the Dietary Supplements Health and Education Act – a product other than tobacco that is taken contains one or more vitamins, minerals, herbs or combination of these, that is not represented as a food or as constituting a meal or the sole item of the diet, and that contains as part of its labelling the words "dietary supplement".
Always check with your doctor before taking any herbal weight loss supplements. Make sure you're maintaining a healthy diet and getting plenty of exercise. Recommendations range from 30 minutes to one hour of exercise type activity three to five days per week.