The Grapefruit Diet first became popular in the 1930s, when people were trying to find a way that they can manage their weight effectively. The diet is also one of the oldest fad diets and one that has never died out like many others did. The Grapefruit Diet claims that the enzymes contained in a Grapefruit has the ability to burn fat and is said to be especially useful when consumed before having a meal. The diet lasts for about 10 to 12 days and the diet claims that any particular individual who partakes in the diet are able to lose* as much as 10 pounds in the 12 days that they partake in the diet.
Do's and Don'ts of the Grapefruit Diet
With all the popularity of this diet, let's take a look at some of the do's and don'ts of the diet. Firstly, you should note that there are different versions of the Grapefruit Diet. Every version has different rules, but they all share some general guidelines that individuals should follow. We're going to look at the original version of the Grapefruit Diet in this post to understand how the classic version of the diet works.
Do's:
Consume a larger amount of foods that are high in protein.
Consume more eggs, red meat, pork and other foods that are high in fat and cholesterol.
Count all the calories you consume and restrict your calories to the specific amount set out by the specific type of the diet you follow.
Consume at least eight glasses of water every day.
Consume one cup of coffee every day.
Consume a grapefruit before every single meal you consume.
Don'ts:
Do not consume a large amount of foods that are high in carbs. These foods include pasta, rice and potatoes.
Do not consume a large amount of sugar-rich foods.
White onion, celery and other particular foods should be avoided completely.
Nutritional Value and Health Benefits of Grapefruit
To better understand how the grapefruit diet works, let's take a look at the health benefits and the nutritional value of a grapefruit. This will help us better determine how effective the diet may be in shedding excess fat and whether or not the diet has additional advantages for the individual's overall well-being.
Unlike the grapefruit diet, there are also other diet pill options available in the market. If you want you can check out products like Phentaslim; it leads to energy boost* and concentration needed to reach your optimum weight.
Nutritional Value of a Grapefruit
First of all, a grapefruit contains absolutely no fat, cholesterol or sodium. There are approximately 25 grams of carbohydrates in a grapefruit and about 2 grams of protein – yes, a grapefruit contains protein. Grapefruit is also rich in vitamin C, vitamin A, calcium and iron– essential nutrients that the human body needs daily to perform certain functions. The fruit also contains niacin, riboflavin, thiamin, folate, vitamin B6, vitamin E, pantothenic acid, choline and betaine. Several minerals are also contained in the fruit, including calcium, magnesium, phosphorus, potassium, copper, Zinc, manganese and selenium. There are also fatty acids and amino acids in the fruit.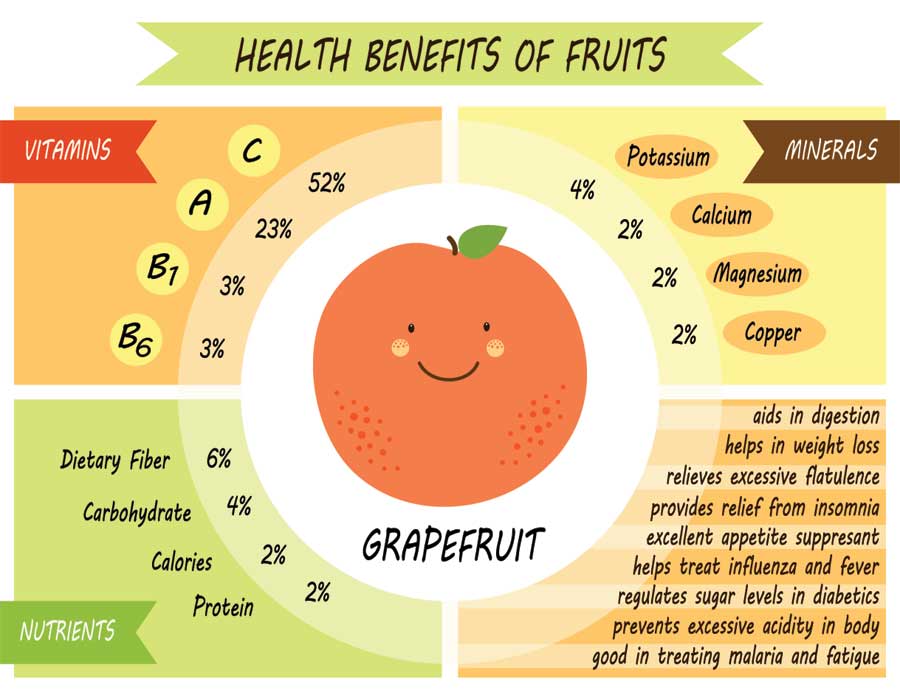 Health Benefits of a Grapefruit
While Grapefruit is portrayed as an excellent weight loss* tool, the fruit has numerous health benefits for any person that stretches far beyond weight management. Medical News Today reports that Grapefruit can also reduce* the risk of having a stroke, balance blood pressure, improve* heart health, prevent the formation of cancers, aid in improving* digestion and it can hydrate the human body. Furthermore, Grapefruit also has many benefits for the skin.
What Science says about Grapefruit's Role in Weight Loss*?
A study by the Scripps Clinic in California monitored the effects of Grapefruit on weigh among 91 obese participants. The group was randomly split into several groups. One group was given a placebo capsule and apple juice, another group was given grapefruit capsules and apple juice, another group was given a placebo capsule and grapefruit juice, and a final group was given a placebo capsule and half a Grapefruit. The dose was taken three times before every meal. At the end of the 12-week study, the researchers found the following results:
The group that consumed the fresh grapefruit lost an average of 1.6 kilograms.
The group that consumed the grapefruit juice lost an average of 1.5 kilograms.
The group that consumed the grapefruit capsules lost an average of 1.1 kilograms.
The placebo group lost an average of 0.3 kilograms.
The study confirmed that consuming grapefruit in any form before every meal can have a significant positive impact on weight control and may even lead to a reduction* of body fat. The study also found that grapefruit had a positive impact on glucose insulin level among participants, whereas the placebo group showed no positive effect on glucose insulin levels.
Conclusion
The Grapefruit Diet is quite popular, but some reports have suggested that Grapefruit does not have any significant impact on weight control. This fact, however, has been deemed invalid after a recent study has proven grapefruit in different forms to have a positive impact on the weight of obese individuals. This proofs that the grapefruit diet might have some potential, but it is still important to consider the calorie restrictions that are often put upon individuals who are following the diet.
View All