Gluten-free diet, as the name suggests is any dieting plan that doesn't contain a protein called gluten. It has recently gained popularity even among users who are not familiar with its primary purpose. Many doctors recommend a gluten-free diet particularly to people with celiac disease, which causes an inflammation in the intestines, due to inability to tolerate gluten. Thus the main purpose of gluten-free diet is to treat allergic reactions resulting from gluten intolerance. Gluten-free diet helps in weight loss because major sources of carbohydrates are eliminated. Experts believe that unlike most other fad diet plans, the gluten-free diet is more effective in weight loss.
Effects of Gluten
If you have gluten intolerance, you are more likely to experience feelings of discomfort in your tummy areas after consuming foods containing gluten. Other negative effects include:
Rashes
Bloating
Digestion problems
Gases
Inflammations
Weight Loss
Gluten intolerance occurs when your body is unable to breakdown gluten properly after consumption. The gluten-free diet is being adopted by many people across the world because people intolerant to gluten who adopt it tend to lose weight. In this diet, you are not supposed to consume pasta or wheat, which mostly contribute to weight gain. You must be aware that in order to lose weight, you have to skip high consumption of carbohydrates in your diet. The gluten-free diet has gained popularity in the recent past after Hollywood celebrities started experimenting with it. Nutritionists and health experts concur that the gluten-free diet is effective and can be helpful among adults aiming to shed extra pounds and be healthier.
How the Diet Works?
The gluten-free diet works effectively by challenging your body to jump-start metabolism, essential for weight loss. Gluten is a very addictive compound that makes you crave for larger portions quite often even prior or after main meals. By eliminating it in your diet, it will be easier to go for smaller portions and make healthy food choices. Experts agree that gluten-free diet is not only helpful in weight loss, but also very crucial for improved overall health.
Studies have shown that the gluten-free diet unlike most other fad diets guarantees long term weight loss and healthier life. You don't have to spend a lot of time with this type of eating plan. In addition, it doesn't require a lot of commitment in order to adapt, meaning with time you will have an improved quality of lifestyle.
Practicing Gluten-Free Diet
Foods that contain gluten you should avoid in your diet include:
Rye
Barley (malt, malt vinegar and malt flavoring)
Wheat
Triticale (made from a cross between wheat and rye)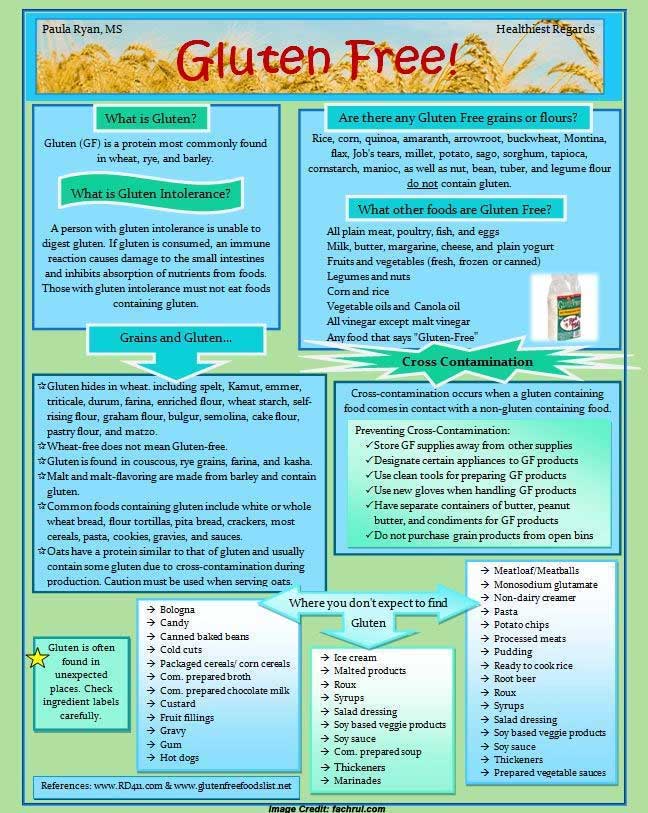 These are not the only ingredients you should avoid because gluten as a protein occurs in most other foods consumed every day. Most foods that contain gluten are rich in carbohydrates. The best way to avoid gluten is to first check labels in everything you consume.
Unless they are labeled as gluten-free or made with corn, soy, rice or other gluten-free grains, avoid:
Breads, cakes and pies
Cereals
Crackers and cookies
French fries
Pasta
Sauces, including soy sauce
Soups and soup bases
Croutons
Matzo
Meat imitations
Mixed seasoned rice
Salad dressing
Gravies
See Also: High-Protein Diet and Weight Loss
Examples Of The Foods You Can Consume When On A Gluten-Free Diet Are:
Most seeds and nuts in their natural, unprocessed form
Most dairy products
Vegetables and fruits
Fresh fish, meat, and poultry
Fresh eggs
Breakfast
1 medium orange
1 cup skimmed milk
Morning Snack
Lunch
1 cup of tossed salad mix
1 cup skimmed milk
1 tablespoon vinegar and oil salad dressing
Chicken breast cooked without skin (3 ounces)
Afternoon Snack
4 ounces fresh baby carrots
Dinner
Half a cup of steamed green beans
Half cup of cooked brown rice
1 medium nectarine
Downside of Gluten-Free Diet
In reference to Aristo Vojdani, PhD, MSc, MT, an immunologist and researcher at Immunoscience Lab, Inc. in Beverly Hills, California, going off gluten or dairy cold turkey can lead to withdrawal symptoms because they act as drugs for most people. This is because the two are broken down into short-chained compounds that mimic the effects of heroine and morphine as they make their way from the gut to the brain.
Conclusion
The gluten-free diet can help in weight loss and improved overall health. It has been demonstrated in various studies that people who stick with the gluten-free diet plan tend to lose the extra weight. It is a flexible diet you should give a try if you are struggling with excess body fat. However, it is important to consult your doctor before embarking on any diet plan let along the gluten-free diet. Plus, the gluten-free diet shouldn't be a replacement for your exercise routine or your doctor's recommendations.
View All