The Dr Oz Diet Plan has been making headlines since it was introduced more than one year ago. It was originally released during one of the episodes of the Dr. Oz Show. In the episode, it was described to be a product of the research of experts who tried to make what they call the "ultimate diet plan". The diet was created with the goal of detoxifying the body, fighting inflammation, speeding up the metabolism and improving the body's ability to burn fat. It was also the goal of the team to create a diet that is easy to follow and realistic.
The Dr Oz Diet Plan only lasts two weeks and it is said to help people lose an average of 10 pounds. It also called The Total 10 Rapid Weight Loss Plan because it is designed to make people feel like a "total 10" according to Dr. Oz. It is designed to prevent hunger and in fact, if the dieter feels hungry then he/she is not doing it correctly. Dr. Oz claims that the diet was tested on more than 2.5 million people who lost an average of 10 pounds in the 2 week diet period.
How Does the Dr Oz Diet Plan Work?
Dr. Oz claims that the diet plan works by readjusting the hormones in the body by eliminating specific food groups particularly those that are considered simple carbohydrates. Wheat, refined sugars, artificial sweeteners, alcohol and processed foods should also be eliminated from the diet. However, hunger is prevented since the dieter is instructed to eat every 1 to 2 hours. Healthy snack options include a vegetable broth and/or a serving of low-glycemic fruits.
Getting Started
There is a published list of recipes and food guide on the official website of Dr. Oz (DoctorOz.com). The recipes help beginners get started with the diet immediately. The ingredients were specifically chosen to lower preparation times as much as possible. This makes the diet a lot easier especially for busy individuals.
Step By Step Guide to the Dr Oz Diet Plan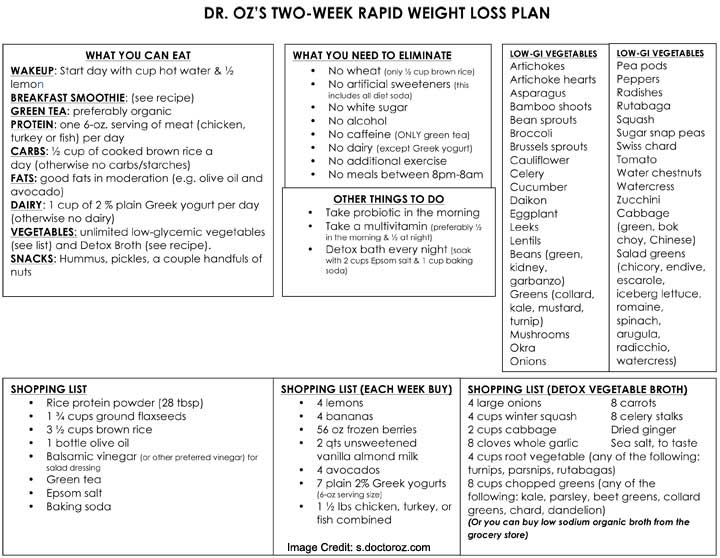 Starting Your Day
The first thing you should consume after waking up is a hot cup of water with fresh lemon. This is supposed to give your metabolism a jumpstart while at the same time improving digestion and helping with the body's detoxification process.
Breakfast
The breakfast should be rich in protein which according to studies helps in reducing the hunger hormone. Dr. Oz recommends a high protein smoothie. There are several recipes on his website. The smoothies are designed to regulate blood sugar and at the same time reduce metabolic fluctuations.
Food Options for the Rest of the Day
Focus on meals that include lean protein sources. This is because high protein meals make the body work harder during digestion. This means that more calories are burned during the process. Proteins are also high in amino acids which are crucial in building and maintaining muscle mass. The main sources of protein should be fish, poultry and eggs. Try to consume 12 ounces of lean protein foods daily.
Eat Every One to Two Hours
One of the main parts of the Dr Oz Diet Plan is the vegetable broth. You can eat as much as you want of the broth packed with nutrients and natural detoxifiers. This keeps you satisfied all day long which prevents cravings for unhealthy food. You can also eat half a cup of quinoa with as much non-starchy vegetables as you want. When you eat one to two hours, you will never go hungry which makes this one of the most satisfying diets today.
Eat a Maximum of Two Snacks per Day
Most people on the Dr Oz Diet Plan don't even eat snacks anymore but snacking is allowed up to two times daily. The suggested snacks are apples with nut butter, Greek yogurt, nuts, kettle corn, kale chips and any of the snack recipes. The dieter is also allowed one cup of coffee per day but unsweetened almond milk or coconut milk should be used as sweetener.
Reward Yourself
According to Dr. Oz, perfection is impossible with any diet and this only leads to failure. This is why you are given one cheat meal every week as a reward giving you the opportunity to enjoy your favorite drink, dessert or meal.
Final Verdict
After taking a close look at the Dr Oz Diet Plan, it is a good weight loss program. The diet doesn't involve starvation and it is very healthy. You can eat every one to two hours so there is a much smaller chance that you will cheat and destroy your diet. The meal plans are very simple and you don't have to spend a lot of time and money on preparing your food. This is worth a try if you want to lose weight quickly.
To support the weight loss diet plan you must figure out the PhenQ Review; exploring the product's functioning and its benefits.
View All