Although a complete misnomer, the military diet is well-known for being regimented and exacting. With no actual association with the military, the military diet is based off a few scientific principles and basic practice runs. It is most likely named for its minimalistic and highly structured approach to losing weight.
Boosting that it can help those who try it to lose up to 10 pounds in just 3 days, the military diet sounds like a miracle cure for those who struggle with their weight and with unwanted fat. However, many people advocate that the military diet is popular for a reason: "That It Can Really Work."
Find out for yourself:
What the Military Diet Plan is?
A combination of several scientific dieting strategies, the 3-day military diet involves reducing the amount of calories consumed per day for 3 days. After those 3 days, dieters can eat as they regularly would (or a little healthier if possible) for 4 days. During those 3 days of dieting, food intake is so restricted and specific that people still have the energy to live their ordinary lives but at the same time the burn many more calories than they consume.
The 3-day diet has a strict menu that is rumored to be based on the foods' chemical interactions with the body. It is suggested, for instance, that the tuna included in the menu is eaten because it requires the body to use more energy to digest it, which ultimately burns more calories.
Each day the menu is specific, requiring dieters to eat: just 3 small meals a day. The portion sizes are small and exact. Foods included in the diet plan are:
Tuna, Decaffeinated tea, Water, Grapefruit, Whole wheat toast, Peanut Butter, Banana, Green beans, Apple, Meat, Ice cream, Egg, Cottage cheese, Saltine crackers, Hotdogs, Carrots, Broccoli, Cheddar and Egg
These foods are listed on a day by day and meal by meal basis. The science behind the military diet is theorized to depend on the chemical interactions of these foods in the body. Their reactions with each other are supposed to block fat gain and improve the body's burning of fat. Some of the foods also help dieters to feel fuller.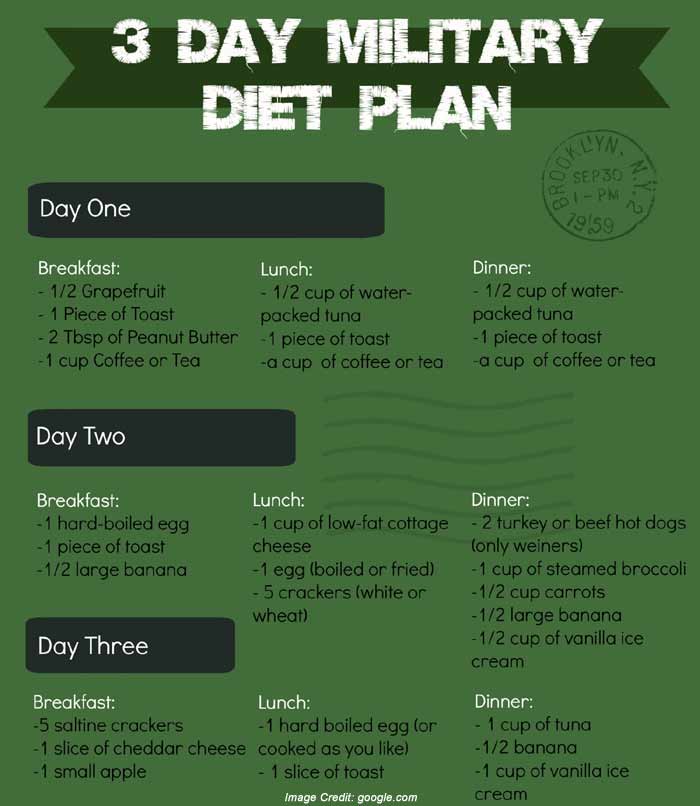 The Science Behind the Military Diet
Several scientific methods are included in the military diet to make it effective. These methods include:
Reducing caloric intake
Kick-starting the metabolism
Preventing fat gain
Methods like these are incorporated into many different dieting plans, but few combine strategies the way the military diet does. These simultaneous strategies work together to powerfully help the body shed weight in a healthy manner.
Reducing caloric intake, for example, means that the body can reach a calorie deficit. This can be helpful in the short term. In this process, the body burns more calories than it consumes, causing the body to have to use stored fat for energy (and thus getting rid of the fat.)
Intermittent fasting is safer and healthier than going low-calorie permanently because the body does ultimately need calories. Further, it's hard to commit full time to depriving oneself of food, especially when small meals don't cause the dieter to feel full. By eating regularly for 4 days and then dieting for 3 days as the military plan recommends, the body gets a break and time to feel full.
Foods that help boost the metabolism and prevent fat gain are also a part of what makes the diet so effective. Foods like apples, for instance, allow the body to more efficiently and effectively do what it should already: refuse to store fat. This helps the body reset its processes for digestion to a healthier state.
Tailoring the Military Diet as Needed
Some people don't follow the military diet because they believe that it's strict menu is incompatible with their dietary preferences or needs. For instance, many people with a gluten allergy believe that they cannot participate in the military diet. However, many foods on the menu for the diet can be substituted for as needed.
For instance, a person with a gluten allergy might try cereal or rice cakes that are gluten free. Many forms of gluten free bread also offer whole grains and comparable nutrients. A complete listing of substitutes for the military diet can be found on the plan's website.
How You Can Make the Diet More Effective?
Although the military diet plan can be followed as-is, there are some ways that dieters can make it even more effective. Using these suggestions, dieters can increase the number of pounds they are likely to lose and help keep the weight loss from being regained.
Helpful, additional strategies include:
Exercising regularly to increase the number of calories (and fat) burned
Consuming vitamin C, which is a natural fat burner
Eat healthy fats like coconut oil or avocado to feel fuller longer
Enjoy the biggest meal in the morning when metabolism is at its best
Consume plenty of protein on the days off of the diet
Get a partner to try the diet as well
Using additional strategies like these can enhance the diet significantly. This can make it easier to be as regimented as the plan requires. By sticking to this diet, and especially by repeating it several weeks in a row (or one week a month or so) many people can lose lots of weight and keep it off, too.
What Dieters are Saying About this Plan?
The reviews about the military diet are mixed. Some reviewers suggest that the plan has certain advantages, like not requiring any special medication or drugs. Other reviewers point out some of the possible flaws of the plan, like that it ultimately does not require exercise and may lead dieters to binge on unhealthy foods on "off" days.
However, the reviews do seem to agree: some variations of the 3-day diet plan can be helpful and effective. It is recommended that dieters add in exercise and find even healthier alternatives to the low-calorie (small portion) menu provided.
View All