Overview
Rapid loss shake is a highly effective anti-obesity formula through which you can lose 2 to 3 Kgs. of weight every week. The Rapid loss shake is a calorie control program for those people who want quick changes. The program has been designed by the leading exercise expert and physiologist Ray Kelly. It consists of nutritious ingredients, which help in reducing weight rapidly by curbing your body hunger. So if you want to have 3 meals every day, you can still have the shakes as snacks in between these meals and you will still lose weight.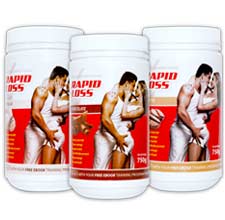 Ingredients
The rapid loss shake contains different nutritious ingredients, which help in reducing weight rapidly. The exact number of ingredients and their figures is not provided by the company; however here are a few key ingredients.
Skim Milk Powder
Skim milk powder is a non-fat dry milk powder. It is obtained by removing water from the skimmed pasteurized milk. It is very useful in heat treatment and contains protein content of 34%.
Fructose
Fructose is a simple sugar that occurs naturally in foods and gives them a sweet taste. However the excess amount is not good for body and promotes obesity that is why the shake uses minimum amount of fructose.
Minerals
The shake contains a huge variety of natural minerals, which are considered essential for positive growth and maintenance of the body. These include (chromium chloride, ferric pyrophosphate, copper sulphate, manganese sulphate, potassium iodide, magnesium oxide, sodium molybdate, sodium selenite, sodium phosphate and zinc oxide). All these minerals have one thing in common; they set the right metabolic rate for the body and produce just the right hormones in it to make it healthier and less obese.
Guarana Extract
The Guarana is a herb with large leaves and is found in Brazil; the plant is used as a dietary supplement and is a very effective stimulant.
Vitamins
The shake contains an excess amount of vitamins, which are essential for body growth and performance. These include (A, B1, B2, B3, B5, B6, B12, biotin, C, D, E, folate, K). The body needs these vitamins to transport, process and utilize all these important life blocks in an effective manner inside the body.
Milk and Soy
The Soymilk is a plant milk that is made by soaking dried soy beans and grinding them in water. It has great health benefits, which include blocking of fat absorption, increase metabolism, and reduce stress.
Caffeine
And finally there is caffeine. The caffeine is found in seeds of coffee plants. It helps greatly in rapid weight loss and giving the a body a sudden boost to take some light exercises. However excess amount of caffeine is prohibited by the dieticians.
How Rapid Loss Works?
The rapid loss shake is an anti-obese weight killing program, which includes nutritionally balanced low carb and high protein meal replacement shakes that have a unique characteristic of absorbing water and filling the stomach and thus eliminating the need of eating extra. It makes you feel full without the calories. And when you don't eat more than you can manage your weight easily and reach the desired figure. This is what makes rapid loss more unique among other weight losing programs as it fulfills your hunger as well and doesn't let you eat more. You can either have the shake as a meal replacement or you can have them between and before the meals.
Advantages
Regarded as highly effective weight manager. According to a survey obese people using this shake program can lose more weight in a year than those which burn calories through exercises. You will get extraordinary results while using this shake.
As the name suggests the shake give sudden and rapid changes and reduces 2-5 Kilos of weight every week.
Provides you enough nutrition to maintain a healthy life. The shake is full with anti-oxidants, minerals and vitamins.
The shake is highly low on calories and is extensively convenient to use.
Highly sustainable in the short run for losing weight.
Disadvantages
You cannot sustain weight in the long run. Studies have shown subjects did lose immediate weight however they gained high amount of weight back as soon as they stopped the program. The program is only good in the short run.
Symptoms of headaches and dizziness have been reported by the customers.
Directions and Warnings
The rapid loss shake comes in a variety of flavors. There is only one flavor available so far for the lactose intolerant people. The loss is gluten free and is low on GI glycaemic index. The shake is not for children under 16 years old. The program completely complies with the food regulatory authorities and is completely safe as it contains all natural ingredients. Diabetic can use the program after consulting their doctors.
Final Verdict
The rapid loss shakes claims to be a highly effective weight loss program, which removes all excess weight from the body in a very short period of time. The shake makes you lose 2 to 5 kilos of weight every week. Its hunger controlling feature makes it unique. However like any other shake it only works best in the short run as long as the program goes on. After which the customers have reported sudden weight gains.
Below you'll find some of the most effective weight loss supplements on the market today, in our opinion.
Our Top Rated Weight Loss Supplement
PhenQ Complete Meal Shake

Boosts Energy and Controls Cravings*
Helps Shed Excess Weight*
Helps Meet Weight Loss Goals*
Promotes Appetite Suppression*
Boosts Energy and Controls Cravings*
Helps Shed Excess Weight*
Helps Meet Weight Loss Goals*
Promotes Appetite Suppression*
Boosts Energy and Controls Cravings*
Helps Shed Excess Weight*
Helps Meet Weight Loss Goals*
Promotes Appetite Suppression*
Boosts Energy and Controls Cravings*
Helps Shed Excess Weight*
Helps Meet Weight Loss Goals*
Promotes Appetite Suppression*