In This Review
What is PhD Diet Whey?
PhD Diet Whey is a protein supplement meant to help consumers achieve weight loss goals and gain lean muscles. It is a low-carb meal replacement that can be used as a replacement meal as well as a snack option to help lose extra fat and maintain a healthy lifestyle.
PhD Diet Whey comes in four different flavors namely Vanilla, Strawberry, Belgian and White Chocolate and Chocolate Orange. The shake can be mixed in water or milk depending on personal liking and it tastes great.
PhD Diet Whey is a protein supplement which is a great choice for people who want to maintain muscle tissue while getting rid of extra fat. The product promises to deliver results if consumed properly. It is ideal for athletes or people who are into sports and exercise.
It provides the body with high-quality nutrients while controlling the sugar cravings and keeps the appetite at bay.
How Does It Rate?
Overall Rating: 3.7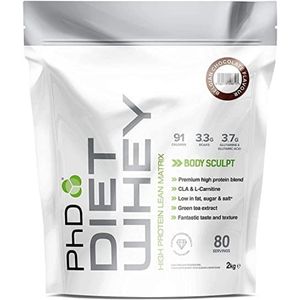 Phd Diet Whey
Brand Highlights
PhD diet Whey is manufactured by PhD Nutrition in the UK by a team of experts who are well aware of what our body requires to be healthy and fit.
The team at the company is well aware that the ingredients that are being used in its products and they do not compromise on the quality at all.
The manufacturer makes sure that the ingredients that are being used in their products are not low on quality
Key Ingredients
Whey Protein
Milk Protein Concentrate
CLA
L-Carnitine
Green Tea
Flaxseed
Waxy Barley
Pros
PhD Diet Whey may help in reducing weight while still keeping the body healthy
The ingredients are sufficient to keep you healthy and active and it may reduce sugar cravings
You feel fuller and therefore refrain from snacking between meals
It may burn fats and is very effective if you are doing regular exercise
Cons
Whey protein shakes can cause digestive issues.
They can cause itching or rash and other allergic reactions including difficulty in breathing, vomiting, excessive coughing and swelling in your throat, mouth or lips.
The product is not going to have any effect if you are not exercising and looking after your diet as well. Just consuming the shakes will not result in weight loss.
---
You Also Like to Read My Protein Impact Whey
How Does PhD Diet Whey Work?
PhD diet Whey provides the body with sufficient nutrients to keep the energy level high and reduces sugar cravings.
The ingredients help the consumers feel full throughout the day. The added ingredients and their nutritional values help reduce body fat and boosts energy levels.
In order to get the best results, use 2-3 servings of PhD Diet Whey every day which will help you gain a lean and toned body.
PhD Whey Ingredients – Does It Safe & Effective?
PhD Whey is a fat-burning protein shake which comprises of following ingredients;
Whey Protein
: It is a milk protein that controls your appetite and helps you regular your weight. It also helps to lose your extra body fat.
According to ncbi.nlm.nih.gov, an experiment was carried out on 90 obese and middle-aged people and they were assigned to one of the three groups. the first group added protein drinks with whey to their diest, second added soy with protein drinks and the third drank carbohydrate drinks. At the end, the researchers noticed that people who added whey lost more weight than people with soy.[1]
Milk Protein Concentrate
: This ingredient has lactose and keeps your body healthy.[2]
CLA
: It is known for its ability to help you lose weight by improving your body's metabolism.
As per PubMed, CLA given at a dose of 3.2g/d, it produces a modest loss in body fat in humans.[3]
L-Carnitine
: It helps burn your body fat and converts it into energy.
Green Tea
: It helps you to lose weight by improving your metabolism and increasing the rate at which you burn fat into energy.
As per Medical News Today, a review published in 2010 found that green tea supplements having catechins or caffeine had small but positive impact on weight loss.[4]
Flaxseed
: Flaxseeds are rich in Omega 3 and low in carbohydrates, which are great for losing weight. It also helps you feel fuller, which prevents you from eating at odd hours.[5]
Waxy Barley
: It is used by those who workout intensely or are looking for slow energy consumption.
All these ingredients along with some others help the consumers in getting a complete diet.
You May Also Like – FitMiss Delight
PhD Diet FAQ's
Q: What is the suggested dosage of this product?
A: A suggested dose for PhD Whey will vary from person to person based on individual body needs but generally, 2-3 servings of the shake per day is considered to be a decent intake.
1 to 2 scoops of PhD Diet Whey in 350 ml of water should be sufficient for one dose.
Q: Where to Buy?
A: PhD Diet Whey shakes can be bought online platforms like amazon, walmart.
Q: Which are the alternatives to PhD Diet Whey?
A: The alternatives to PhD Diet Whey are Nutrim, Advocare Spark, and Luxe Fitness Protein Shake.
Q : What Kind of Reviews are Out there for PhD Diet Whey?
A : A quick look on the internet about customer's opinions on PhD Diet Whey would tell us that they are happy with the products.
There are hardly any negative reviews about the product. The shakes taste good but since every person has their own personal liking, therefore, it cannot be determined which flavor is the best as every person will choose a different flavor.
It is best to try all the flavors yourself and then decide which one to go with. On the whole PhD Diet Whey product has helped customers lose weight in a healthy way.
It is great for toning body muscles and it helps getting over sugar cravings which is one of the reasons for weight gain in general.
PhD Diet Whey – Final Verdict
If you are looking for a product to help you maintain muscle tissue while getting rid of extra fat then PhD Diet Whey is your answer.
It is a great source meal replacement when it comes to a low-calorie supplement.
PhD Diet Whey products are high in quality and its ingredients help you overcome sugar cravings and keep your body active and healthy.
'PhD Diet Whey' can be purchased through their Official Website.
Below you'll find some of the most effective weight loss products on the market today, in our opinion.
Our Top Rated Weight Loss Shakes
PhenQ Complete Meal Shake

Boosts Energy and Controls Cravings*
Helps Shed Excess Weight*
Helps Meet Weight Loss Goals*
Promotes Appetite Suppression*