What is MaxiMuscle Promax Lean?
Promax Lean is a protein enriched shake formulated to support lean muscle definition. It is an all-in-one shake that supplies the body with a high amount of protein without exceeding in caloric delivery. It was designed to give users the required nutrition that will support lean muscle growth.
The formula contains a blend of BioMAX whey proteins and other important ingredients that can be included in your balanced nutrition routine to help you achieve your goals when training. The brand behind this product is actually very well known in the sports industry.
Promox Lean is certainly not the cheapest nutrition product out there so for anybody that considers trying it, it would be a good idea to first read this review. We have taken the time to research and gather all the information necessary for you to know what exactly this product is all about. Keep reading to find out more.
Who is the Manufacturer and what are the Product Claims?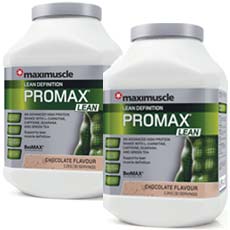 Promax Lean is a product of MaxiMuscle, a brand owned by the company MaxiNutrition. MaxiNutrition is considered to be the European leader in sports nutrition. It was established in 1995 and today has developed other brands like Maxitone, Maxiraw, Maxifuel.
MaxiNutrition's products are doing relatively well on popular stores including Boots, Holland & Barrett and Tesco. The company is not just about supplying the market with its product. It also offers support services for beginner athletes who are looking for expert advice on how to develop strength and improve performance.
In February 2011 the science-led global healthcare company, GSK acquired MaxiNutrition. This suggests that from this point on, its products will even be better.
What Are The Ingredients?
There are 5 important ingredients that make Promax Lean what it is. Here they are:
BioMAX Whey Protein – This is a proprietary blend of high-quality whey protein formulated to assist the body in defining the muscles and support growth. Each serving of Promax Lean provides the user with 38 grams of BioMAX whey protein.
Caffeine – This substance is known to boost alertness and mental focus. People who take caffeine are usually much more active and their attention level is improved. Each serving of Promax contains 125 mg of caffeine.
Vitamin B5 – Research suggests that vitamin B5 is involved in mental performance and energy metabolism
CLA – Conjugated Linoleic Acid is a natural compound found in meat that the human body can't produce. Preliminary research suggests it can help with muscle growth when combined with proper training.
Guarana Extract – Just like caffeine, guarana extract works by stimulating the central nervous system, the heart and the muscles.
ManxiNutrition advice to take the Promax Lean in between meals to make the most out of the ingredients involved in the formulation.
How Does This Product Work?
When taken in between meals, Promax Lean will stimulate your nervous system and muscles in order to get them ready for a workout. As you go through the training, the protein content and the CLA compound will help in building more muscles over time while burning the extra fat around your body.
This is why it is said that this product will help define your muscles.
Good thing about this Product
Promax lean tastes great
Supplies the body with high quality protein for muscle growth
Stimulate the nervous system and improves focus
Bad thing About This Product
Caffeine may not be safe for sensitive people
Taking in too much protein may result in excess gas been produced in the stomach
Not the most affordable shake around
Are There Any Side effects of MaxiMuscle Promax Lean?
Most ingredients used in the formula are relatively safe. The only problem is the caffeine content which might cause a headache, insomnia, and palpitation in sensitive users. You don't want to take this formula when going to sleep. That would be a bad idea.
How Quickly Will You Get The Results?
The results will actually depend on how hard you work. The Promax Lean formula alone is nothing without you training regularly. MaxiNutrition does offer expert advice to beginners who don't yet know how to take advantage of this product.
Is There any free trial pack available?
We are not aware of any free trial offer available.
Read Next – GNC Total Lean Shake
Final Verdict
Compared to other sports nutrition products, Promax Lean is certainly not the cheapest. That being said, it is one of the most respected out there so it is worth a try. The good rating this product has received speaks for itself.
Below you'll find some of the most effective weight loss supplements on the market today, in our opinion.
Our Top Rated Weight Loss Supplement
PhenQ Complete Meal Shake

Boosts Energy and Controls Cravings*
Helps Shed Excess Weight*
Helps Meet Weight Loss Goals*
Promotes Appetite Suppression*
Boosts Energy and Controls Cravings*
Helps Shed Excess Weight*
Helps Meet Weight Loss Goals*
Promotes Appetite Suppression*
Boosts Energy and Controls Cravings*
Helps Shed Excess Weight*
Helps Meet Weight Loss Goals*
Promotes Appetite Suppression*
Boosts Energy and Controls Cravings*
Helps Shed Excess Weight*
Helps Meet Weight Loss Goals*
Promotes Appetite Suppression*