In This Review
Ideal Shake Overview
Ideal shake is a meal replacement supplement that is formulated from a natural ingredient that works to help you reduce weight. It is a product of natural ingredients that work to enhance fat loss by boosting fat metabolism and appetite suppression.
It helps your body to yield more energy which aids in fat metabolism. It is claimed to be potent in appetite suppression, reducing the number of calories and fat you ingest daily.
It offers your body a low-fat content and overall calorie than a full meal that you would rather take. It is a diet recycling strategy used when you need to drop or get lean quickly during your cutting phases.
How Does It Rate?
Overall Rating: 3.4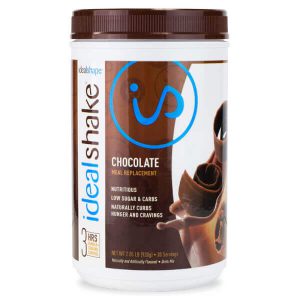 Ideal Shake
Brand Highlights
The company behind the manufacture of this meal replacement supplement is the ideal shape.
It is located in the USA.
The company claims to use purely natural ingredients that work to suppress your appetite.
Helps to reduce the amount of calories and fats consumed on a daily basis hence weight loss.
Manufacturer also claims that slendesta which is the primary ingredient has the ability to help people reduce their waist and hip measurements as well as lose weight.
Key Ingredients
Whey protein isolate
Sunflower oil creamer
Maltodextrin
Whey protein concentrate
Inulin
Potato extract
Vitamins
Minerals
Pros
It is produced from natural ingredients and thus may be safe and potent as claimed.
It is claimed to give wonderful results when consumed accordingly
It contains low calorie and low sugar content
It offers you with great appetite curbing
Cons
The exact ratio of ingredient used is not indicated
The roles of the components used are not well outlined
---
How Does it Work?
This product is claimed to be working in enhancing the desired results. However, it lacks clinical evidence to prove this claim hence you should be careful or consult a medical doctor before consuming it.
Ideal Shake Ingredients – Are They Safe & Effective?
Ideal Shake primarily works on its Slendesta formula, which is clinically proven to be a natural hunger blocker (appetite suppressant). This formula is consisting of well-balanced nutrients that include carbohydrates, fat, protein, essential vitamins, and minerals.
Since it helps you to control your hunger, it will help prevent any unwanted munching that leads to weight gain. It also helps you lose weight by burning a lot more calories than you consume while giving your body the nutrients it needs.
The following ingredients are used to formulate this product;
Whey protein isolate
– It is potent in fuelling muscle functions and protein synthesis.[1]
Sunflower oil creamer
– It is a very healthy source of fat.[2]
Maltodextrin
– It is a potent ingredient that helps in the breakdown of fats in the body.[3]
Whey protein concentrate
– It is essential in fuelling muscle function and body metabolism.[4]
Inulin
– This is a potent ingredient since it has a probiotic bacteria which help in regulating hunger levels thus preventing us from overeating.
Potato extract
– This is a potent ingredient that is obtained from potato skin. It helps in inhibiting the production of cholecystokinin thus reducing hunger in us.
Vitamins
– Are a necessary ingredient for our well-being.
Minerals
– They are required for muscle development.
Ideal Shake – FAQs
Q: How Do I Use Ideal Shake?
A: The recommended serving is one scoop in a day. This dosage is enough to enhance appetite suppression. This will reduce your desire to ingest more calories.
Q: What Safety Measures Should Be Taken When Using Ideal Shake?
A: Do not exceed the recommended dosage. Consult a doctor if you are using it for the first time.
Q: How Long Before I See Any Improvements?
A: It is claimed to be potent in giving results and when used alongside regular exercise improvements are likely to be seen within the first week.
Q: What Are The Possible Side Effects Of Ideal Shake?
A: Since the ingredients used in the manufacture of this supplement are natural, there are less possibility of side effects after the use of this product. In case of allergy immediately stop the use of this product.
Ideal Shake Review – Final Verdict
Ideal Shake is the primary product of IdealShape, an online weight loss program that offers tips and alternative weight loss remedies. It is a meal replacement supplement formulated from natural ingredients.
It is made of ingredients that work well in suppressing your appetite and helps you reduce the amount of calorie and protein consumed on a daily basis. The primary ingredient is the potato extract that signals the brain and the stomach that you need not take more food.
Slendesta which is the primary ingredient in the shake when combined with eating fewer calories and of course a good workout program, users are assured of healthy weight loss.
This product, however, lacks clinical evidence to support the claims by the manufacturer. It has also not been approved by the Food and Drug Administration and hence users should be careful when consuming it.
It has limited information on the website and you should not rely only on the information given. You are advised to research other meal replacement supplements that can work best for you.
You can also read reviews on other products like Perfect Keto Base Exogenous Ketones Reviews compare it with this product.
Below you'll find some of the most effective weight loss products on the market today, in our opinion
Our Top Rated Weight Loss Shakes
Verdict on Claimed Benefits: Below is our summary of the available evidence for the claimed benefits of below mentioned weight loss shakes, and juices based on the available research:
Ikaria Lean Belly Juice | Advanced Superfood Complex

Supports Weight Loss*
Gold Star Evidence
Increases Metabolism*
Gold Star Evidence
Promotes Healthy Digestion*
Gold Star Evidence
Improves Bowel Regularity*
Strong Evidence
PhenQ Complete Meal Shake | Weight Loss Support
Provides Complete Nutrition*
Gold Star Evidence
Suppresses Appetite*
Gold Star Evidence
Controls Food Cravings*
Gold Star Evidence
Boosts Metabolism*
Strong Evidence
Lanta Flat Belly Shake | Metabolic Superfood Formula
Supports Digestive Health*
Gold Star Evidence
Helps Reduce Belly Fat*
Strong Evidence
Control Blood Sugar Levels*
Strong Evidence
Provides Essential Nutrients*
Strong Evidence