George Foreman's Life-Shake Overview
George Foreman's Life-Shake is a convenient meal replacement shake which is going to keep you away from your unhealthy eating habits. The product is specifically designated to help you control your overall appetite, to boost your metabolism and to provide your entire body with the overall nutrients that it needs in order to ensure that everything is handled as per the highest standards.
This is something important. We live in an environment in which the majority of foods are saturated with trans fats, harmful ingredients alongside a range of artificial substances which make it really hard to regulate your overall weight. With this in mind, a product which is filled with natural ingredients, powerful nutrients and a great flavor which is designated to replace all of the above can surely be particularly beneficial. That's the intention of the George Foreman's Life-Shake. However, whether or not it manages to bring all of this to the table is something completely different. So, with this in mind, let's go right ahead and have a look at some of the important characteristics which will provide us with the right answer.
Manufacturer's Information and Claims about George Foreman's Life-Shake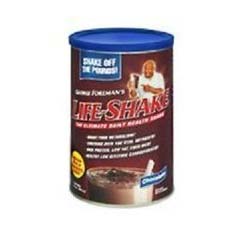 There are a few different things that you would have to take into consideration when deciding whether or not certain product is going to be good for you and the company which manufactured it is undoubtedly amongst the most important ones. With this in mind, it's important to know that this shake is brought to you by George Foreman Enterprises, Inc. This is a company with serious internet presence and a lot of experience as it has been around for quite some time. This is something beneficial for you to take advantage of.
Now, the next thing that you want to pay attention to are the claims which are made of the product. The more powerful they are, the more effective the working process and the ingredients need to be. This particular shake is designated to replace certain meals of your day. Therefore, it needs to get rid of the harmful ingredients encountered in those meals while at the same time providing you with the necessary nutrients not to lose any energy. This is a tough act to follow, so let's go right ahead and have a look at the working process and the ingredient list themselves.
Working Process and the Ingredients List
The product is claimed to contain a tremendous amount of different ingredients. In fact, it's said that it has 100 different nutrients. It is impossible to break all of them down in details, so let's focus on some of the groups which are important.
Protein – The proteins help our muscles grow and perform better. They are also packed with energy and other helpful properties.
Antioxidants – These are cleansers of our body. When you have an issue, the antioxidants are going to trigger and get it handled.
Vitamins – Vitamins are responsible for the proper functioning of our entire body. Vitamin C, for instance, is the ingredient which keeps our entire immune system in proper condition.
Minerals – Minerals, along other ingredients such as enzymes, are supporting our bodies in its functioning and they are of critical importance. This product is said to have all of them.
The Advantages of George Foreman's Life-Shake
It may be a convenient way to get protein, fiber and other nutrients
One shakes has a lot less calories than a regular meal
It might keep you fully satisfied until it's time for the next meal
The Cons of George Foreman's Life-Shake
You are depriving your body from certain necessary elements
It's not going to provide long-term weight loss benefits
FAQs
How Do I Use This Product?
This is a powdered product which is going to get mixed with water, smoothie or yogurt, for instance, to create a nice shake. It comes in three different flavors – dark chocolate, berry blast and vanilla and it should be consumed instead of a meal.
What are The Precautions?
If you have certain issues with your health, it is advisable that you consult your treating physician before you use the product.
How Long Before I See Any Improvement?
It is important to make sure that you go ahead and implement a proper diet and a good workout regimen to see the benefits of the product.
Possible Side Effects
There are no side effects associated with the product.
Read Next – PureTrim Boost Tea
Final Verdict
All in all, it might be a good meal replacement shake. It's beneficial in certain ways. However, it's not going to bring you the benefits that you desire unless you combine it with proper workout and diet. There are better and far more effective products on the market which could help you out a lot more. The article provides you with information that will enable you to make an informed decision on whether to use the supplement or not.
Below you'll find some of the most effective weight loss supplements on the market today, in our opinion.
Our Top Rated Weight Loss Supplement
PhenQ Complete Meal Shake

Boosts Energy and Controls Cravings*
Helps Shed Excess Weight*
Helps Meet Weight Loss Goals*
Promotes Appetite Suppression*
Boosts Energy and Controls Cravings*
Helps Shed Excess Weight*
Helps Meet Weight Loss Goals*
Promotes Appetite Suppression*
Boosts Energy and Controls Cravings*
Helps Shed Excess Weight*
Helps Meet Weight Loss Goals*
Promotes Appetite Suppression*
Boosts Energy and Controls Cravings*
Helps Shed Excess Weight*
Helps Meet Weight Loss Goals*
Promotes Appetite Suppression*