There are 2 major reasons why people living in this current technological world put on weight. One is schedule and the other one is bad food choices. The fast-paced lifestyle in which we are trapped requires that we rush to take care of our businesses and stay ahead of competition. For that reason, we don't take the time to sit down and eat breakfast. We tend to sacrifice good nutrition with whatever is available at the time.
This lifestyle is what eventually reflects on our body in the form of weight gain. The good news is there is a way out and it is called meal replacement shake. In this article we propose to review one of the popular meal replacement shakes out there. It is called Advocare Meal Replacement Shake. If you are considering trying it out, here is what you need to know first.
What is Advocare Meal Replacement Shake?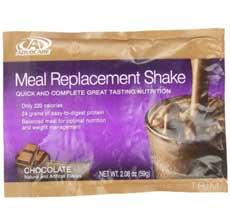 Advocare Meal Replacement Shake is a complete nutrition light formula that is designed to provide your body with all the required nutrients on the go. It is a formula that can really replace a full meal for people that are pressed by time. Aside from offering you a delicious taste while on the move, you also get to enjoy a combination of vitamins, proteins, carbohydrates, minerals and fiber that will keep you energized and active throughout the day.
Each serving of Advocare Meal Replacement Shake contains a limited amount of caloric content. The idea here is to assist the user in reducing his daily caloric intake in order to lose weight. This is perfect for any person that doesn't really have time for him/herself. The meal replacement shake will still enable them to have the upper hand over what they eat even if they don't have time to cook themselves.
What are The Product Claims?
Advocare Meal Replacement Shake is advertised as a formula that can assist you while following a weight management program. The product is loaded with a limited amount of calories to enable you to still function without overloading your system with carbohydrates that can potentially be converted into fat.
Advocare Meal Replacement Shake is formulated to provide you with sustained energy supply during the day while at the same time allow you to feel light and invigorated.
Who is the manufacturer behind Advocare Meal Replacement Shake?
You probably already guessed it. The meal replacement shake is a product of AdvoCare International, L.P., a multilevel marketing company whose headquarters is located in Plano, Texas. AdvoCare is in the nutrition business. It sells weight loss and sports performance products. It was founded in 1993 by a certain Charles Ragus. He passed away in 2001.
Currently the company has about 70 nutrition products that its sells through its network of approximately 60,000 independent distributors.
AdvoCare was one of the title sponsors of the independence Bowl that took place in Shreveport, Louisiana between the year 2009 and 2013. Starting 2014, the company has secured the title sponsor of the Texas Bowl so you are probably going to hear of it more often than not.
Advocare Meal Replacement Shake Nutrition Information
The key ingredient in Advocare Meal Replacement Shake is its protein content. Each serving contains 24 grams of protein that your digestive system will find easy to process. The idea is to encourage muscle growth and allow the body to make better use of energy.
Another set of important ingredients found in the shake are vitamins and minerals. The manufacturer claims the products contains up to 26 of those.
One other key ingredient that we can't fail to mention is the fiber content. Each shake contains 5 grams of it. This is to help curb your appetite and allow you to remain active for longer.
Key vitamins that also need to be mentioned here include vitamin A, B, C and D. Minerals in the formula are calcium, magnesium, potassium, zinc and iron.
How Advocare Meal Replacement Shake works to help lose weight?
Advocare Meal Replacement Shake was formulated to give you the upper hand on what goes inside your body. The main problem with people who put on weight is that they take in too much calories. The fact is most busy workers don't even have the time to pick their food wisely anyway. So instead of wasting time trying to go through a list to find out what is healthy and what is not, you can just take your meal replacement shake and you will be just fine.
This is why Advocare Meal Replacement Shake was formulated, to help you ingest a limited amount of daily calories. In the long term, this should result in a significant loss in weight.
Is There Any Research study on Advocare Meal Replacement Shake?
We have not come across any published study specifically concerning Advocare Meal Replacement Shake but we are aware of the principle based on which the formula is working. Also, on the AdvoCare official website, a study was mentioned showing that a 1:1 protein-to-carbohydrate ratio supports weight management.
Is Advocare Meal Replacement Shake FDA Approved?
We could not find any information about any approval from the FDA. That been said, it is important to point out that the Advocare Meal Replacement Shake is not a form of medication and for that matter does not need to be treated as a medicine. It does not need to be prescribed by a physician.
Cost and Money-Back Guarantee
A box of Advocare Meal Replacement Shake containing a 14 day serving can cost as much as $39.99. That been said, because the product is sold through a Multilevel marketing company, you can choose to join in and get it at a much cheaper price. You can even recover your investment if you choose to get people to sign up in your downline.
Again, because of the way a multilevel marketing company is structured, chances are you are not going to be able claim a refund even if you are not satisfied with the product unless the distributor from whom you bought it is willing to pay your money back.
Advantages
Gives the user control over his appetite
Contains a limited amount of calories
Tastes really great
Dis-Advantages
Relatively expensive compared to other similar products
There is no guarantee that you will lose weight when using it
Contains artificial sweeteners that can potentially cause side effects
Side Effects
There are reports of Advocare Meal Replacement Shake containing, sacralose, an artificial sweetener believed to cause side effect. Sacralose is believed to reduce the presence of good bacteria in the intestines and raise the pH of the body. You need to be careful when taking this shake.
What is The Price and Where to Buy it?
On the official website, Advocare Meal Replacement Shake is selling for $44.95 per box containing 14 servings. Distributors of the company are giving a 20% discount so they can get if for $35.96. Higher rank distributors are called advisers. Those one can buy the box at $26.97. The product can be purchased directly from the official website or from any distributor in your area.
Read Next – HydroxyBurn Shred
Conclusion
Relying on Advocare Meal Replacement Shake to lose weight might be a bit of investment for the longer term. That been said, if you combine the use of this product with exercise, chances are you are going to see some positive results. We will advise you put this product in the list of meal replacement shakes you consider trying.
Below you'll find some of the most effective weight loss products on the market today, in our opinion.
Our Top Rated Weight Loss Shakes