In This Review
Trim-Maxx – Overview
Trim-Maxx is a herbal tea that claims to help with weight loss and burning fat. The product can assist you in your way of reaching the desired body form and composition.
Its list of alleged benefits includes detoxifying and cleansing your organism, and potentially boosting exercise results. Additionally, this tea might provide nutrients for your cells and promote your immunity.
The supplement comes in several different tastes, including lemon, cinnamon, orange peel, and cran-blueberry. Trim-Maxx is an entire brand of products, and apart from the original herbal tea, you can also Ginseng Trim-Maxx, as well as Trim-Maxx Burners, which both can allegedly contribute to your weight loss further.
Advertisement
*All individuals are unique. Your results can and will vary.
How Does It Rate?
Overall Rating: 3.5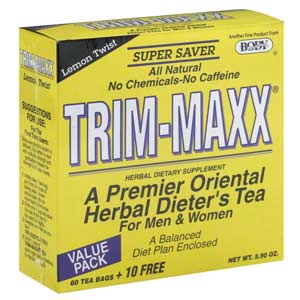 Trim-Maxx

Brand Highlights
All Natural.
No Chemicals.
No Caffeine.
30-Days Refund Policy.
Key Ingredients
Locust Plant
Gynostemma
Lycii Berry Leaf
Pros
The Trim-Maxx tea may help to cleanse your organism.
Trim-Maxx may support your weight loss plan.
The formula might promote stamina and improve exercise results.
Trim-Maxx relies on herb-sourced ingredients.
It is available for both Men and Women.
It's possible that the product will supply additional energy.
This tea comes in a variety of flavours.
It may aid digestion and nutrition absorption.
Cons
The results may depend on your diet and exercise plan.
The product's laxative effect may be burdening for some users.
Trim-Maxx may take a while until you get used to the tea.
Trim-Maxx might not be suitable for users with previous eating disorders.
---
How Does Trim-Maxx Work?
Trim-Maxx should be consumed daily for optimal effects. The herbal ingredients start working once you consume the tea. Locust plant focuses on helping to detoxify your organism and may have a laxative-like effect, which is why you might consider staying near a toiler when you drink the product. Trim Maxx tea's benefits come from all its herbal and natural ingredients.
Gynostemma supports optimal immunity, but may also boost exercise results. As per Trim-Maxx reviews, The herb might help you to endure through the entire intense training and accelerate weight loss that way.
Lycii berry has antioxidant properties that support both immunity and overall long-term health.
Trim-Maxx Ingredients – Are they Safe & Effective?
The Trim-Maxx ingredients contain several herbal-sourced in each tea bag. Here is a list of the active compounds found in the formula:
Locust Plant
– This deciduous tree belongs to the pea family. It's high in soluble fibre, which may help with digestion and system cleansing.
It may also aid weight loss by reducing hunger and lowering blood sugar levels. There is no evidence that this herb can help you lose weight[1].
Gynostemma
– In herbal medicine, it is considered a potent plant that has ginseng-like properties. It may act as a neuroprotector and help to support optimal immunity. Gynostemma may also boost weight loss by boosting stamina and exercise capacity[2].
Lycii Berry Leaf
– It is another ingredient used in traditional medicines. It has antioxidant properties, which can help to protect cells from oxidative stress[3]. The compound may also have neuroprotective properties.
Depending on the flavour you select, the product might also contain some other compounds.
Read More Article Here:
Trim-Maxx – FAQ's
Q: What is Trim-Maxx?
A: Trim-Maxx is a herbal beverage that promises to aid in fat-burning and weight loss. Its claimed benefits include detoxing and purifying your body and improving exercise results.
Q: How should you take Trim-Maxx?
A: The company recommends that you gradually start getting used to Trim-Maxx. Begin by putting a single bag of the product into 3-4 cups of boiling water. Allow it to steep for a maximum of three minutes. Drink a single cup before bedtime for optimal effectiveness. You can save the rest for the next couple of nights.
Q: How much does Trim-Maxx cost?
A: Trim-Maxx tea comes in two different sizes. If you want to test out the product, you can buy a small pack with 30 tea bags for $7.99. Alternatively, you can purchase a value pack with 70 bags, but it will cost you $10.99.
Q: What is Trim-Maxx's return policy?
A: The manufacturer's official website indicates that they have a return policy that remains valid for 30 days, but they do not mention whether it is from the purchase or the arrival date. They do emphasize that the return process will grant you a replacement or store credit.
Q: Does Trim-Maxx offer a free trial?
A: Trim-Maxx doesn't offer an option to try the product for free at this moment.
Q: Where to buy Trim-Maxx?
A: You can purchase Trim-Maxx from its Official Website and from other sites also like Amazon and Walmart.
Q: Are there any Trim-Maxx tea side effects that you should be aware of?
A: Gynostemma, which is found in tea, can produce severe nausea and increase bowel movements. The other ingredients in the formula have no negative side effects. After drinking this tea, Trim-Maxx Reviews reported experiencing nausea and vomiting, but it is not recommended for anyone experiencing these symptoms.
Q: Is Trim-Maxx tea good for weight loss?
A: According to Trim-Maxx reviews, if you take tea bags as per recommendation then it will help you in weight loss. But it also depends on your diet and exercise.
Read More Article Here:
What Do the Reviews Say?
Always Effective
I have used Trim-Maxx for about 3 years now and its always very effective in helping me lose a few pounds and that bloated feeling. Follow directions exactly!!! Cannot stress that enough. Respect the tea. But along with eating sensibly and alittle extra activity, it can aid in losing unwanted pounds. Use it for 4 weeks, then stop. Wait 4 weeks, then use again. Continue this pattern until you have lost the weight you want and then use occassionally to maintain your desired weight.
– Napoleon K. Sefordzi
Trim-Maxx Review – Final Verdict
Trim-Maxx features an interesting formula that you might consider as an addition to your weight loss regime. It may support your plan for losing weight by promoting endurance during exercise, but that indicates the results may depend on your willingness actually to exercise.
The tea might also assist in detoxifying your organism as it may have laxative-like properties, but that means you may have to go to the bathroom more often than you might like. Finally, Trim-Maxx relies on herbal ingredients, but it may still not be suitable for those with current or previous eating disorders.
An important thing to keep in mind is that you may find many weight loss products like Trim-Maxx on the market. That is why you shouldn't rush your decision. If you want to make an ideal choice for your weight loss plan, make sure to analyze all options so that you can make an informed pick.
Below you'll find some of the most effective weight loss supplements on the market today, in our opinion.
Our Top Rated Weight Loss Supplement
Verdict on Claimed Benefits: Below is our summary of the available evidence for the claimed benefits of below mentioned diet pills and weight loss supplements based on the available research: