Thermolean Overview
Thermolean is a thermogenisis based fat loss formula developed by Shocker nutrition (the developers of several diet supplements on the market).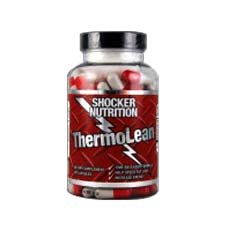 Their formula is ephedra free (ephedra based supplements have been associated with certain cardiovascular side effects such as elevated blood pressure and heart palpitations) and therefore safe yet effective because the ingredients were picked for their energy boosting and fat burning qualities.
Shocker nutrition further claims that there are no ineffective ingredients in their formula and that all the ingredients in Thermolean were scientifically proven to be effective.
Thermolean – Product Description
The main ingredient in Thermolean is a plant called Citrus aurantium. An active compound within citrus aurantium is Synephrine and this compound is known to boost energy, suppress hunger, and increase metabolic rate and caloric expenditure.
Another effective ingredient in Thermolean is green tea, which when mixed with caffeine is a powerful thermogenic (fat loss) agent. The caffeine releases fatty acids so you burn fat more easily. In addition, the polyphenols (antioxidant compounds) in green tea work with caffeine to increase the total number of calories burned.
You are advised to take 2 capsules before breakfast or your morning exercise session and two capsules at mid-afternoon. You are advised against taking any capsules close to bedtime (probably due to the high caffeine content).
You are also advised not to exceed four capsules per day. One bottle of Thermolean contains 120 capsules and retails for $39.95 but sales of this product may be found online for as low as $19.95.
What are the Advantages of Thermolean?
All natural and safe ingredients
Ingredients have been specifically and scientifically chosen to burn fat and boost metabolism
The makers of Thermolean recommend these tablets be taken along with a sensible diet and exercise program.
What are the Disadvantages of Thermolean?
There is too much caffeine in their formula – 285mg per 2 capsules. This high dose of caffeine will lead to jitters and possibly anxiety.
Alternatives to Thermolean
Thermolean Review – Final Verdict
The makers of Thermolean do make a compelling and scientifically backed argument that caffeine is an effective weight loss and fat burning agent: "Taking in 200-300 mg. of caffeine before a cardio session dramatically increases the number of calories burned." Consequently, their product is high in caffeine.
If you don't mind feeling anxious and possibly losing some sleep in the quest for weight loss then Thermolean may be an effective diet supplement for you.
Advertisement
*All individuals are unique. Your results can and will vary.
Below you'll find some of the most effective weight loss supplements on the market today, in our opinion.
Our Top Rated Weight Loss Supplement
Verdict on Claimed Benefits: Below is our summary of the available evidence for the claimed benefits of below mentioned diet pills and weight loss supplements based on the available research: