In This Review
SNS Lean Edge Overview
SNS Lean Edge is a dietary supplement designed to burn fat thus enabling you to lose excess body weight. This supplement helps you to achieve your body weight goals without necessarily depending on other means. It is made using natural ingredients that are clinically tested and found safe for human consumption. It helps you burn fats that are accumulated in the various body parts. It also works to inhibit further deposition of the fat in your body. Another important aspect of this product is that it ensures that metabolism is running at its optimal level thus leading to the massive breakdown of unhealthy compounds in the body as well as boosting energy levels. Taking this supplement on daily basis and as directed will also help you manage your appetite by controlling food intake as well as the cravings. You just need to stay committed to everyday dosage.
Manufacturer Information and Claims about SNS Lean Edge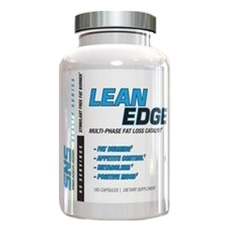 The manufacturer of this supplement is SNS. They use ingredients formulated from natural sources thus guaranteeing you safety. Makers claim that this supplement provides the best results that are long-term.
Working Process and the Ingredients List
This supplement contains a combination of different ingredients derived from natural sources. They are all tested and found to be imperative for your overall body health. They work collectively to deliver intended results in the best way possible. Some of the prime ingredients used include:
Conjugated Linolenic Acid- It works by reducing the rate at which fats are formed in the body.
Garcinia Cambogia- It satiates appetite and cravings thus controlling food intake.
Green Coffee Beans- It boosts the rate of metabolism thus ensuring its optimal running throughout.
Advertisement
*All individuals are unique. Your results can and will vary.
---
What Are the Pros of SNS Lean Edge?
It boosts weight loss.
It speeds up the fat burning process.
It boosts metabolism thus leading to increased energy levels.
It suppresses the appetite thus controlling food intake.
It inhibits fat deposition in the body.
What Are the Cons of SNS Lean Edge?
So far, there aren't any disadvantages associated with this supplement.
---
SNS Lean Edge – FAQs
Q: How does SNS Lean Edge lead to weight loss?
A: It leads to rapid burning of fats in the body and management of the appetite thus leading to shedding off of the excess weight.A:
Possible Side Effects
There is no reported side effect of this supplement by the users up to date.
Alternatives to SNS Lean Edge
Know The Related Products
SNS Lean Edge Review – Final Verdict
The process of weight loss is gradual. It requires one to be patient and committed so as to experience outstanding results. Many individuals employ natural remedies such as daily physical exercises and taking off a lot of water but sometimes their efforts yield nothing at the end. Therefore, if you are a victim of overweight and you are determined to shed off the excess weight, it is advisable to seek for more decent means of losing weight.
Below you'll find some of the most effective weight loss supplements on the market today, in our opinion.
Our Top Rated Weight Loss Supplement
Verdict on Claimed Benefits: Below is our summary of the available evidence for the claimed benefits of below mentioned diet pills and weight loss supplements based on the available research: