In This Review
Overview – Skinny Stix
Skinny Stix supplement comes in a compact powder that has to be added to water first before usage.
It comes with a variety of benefits, including burning excess fat from the body, boosting energy levels, improving focus, and controlling food cravings.
This product can help you achieve optimum results if it is used in the right way.
Advertisement
*All individuals are unique. Your results can and will vary.
How Does It Rate?
Overall Rating: 3.8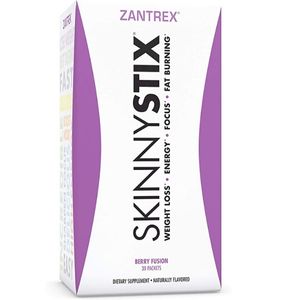 Skinny Stix

Brand Highlights
Skinny Stix is a product which is manufactured by Zantrex.
It comes with a variety of benefits.
Key Ingredients
Yerba Mate Leaf Extract
Guarana Seed Extract
Coffee Bean Extract
Damiana Leaf Extract
Stevia Leaf Extract
Cacao Seed Extract
Cayenne Fruit Powder
Pros
It comes with a 30-day money back guarantee
The product is affordable compared to other weight loss supplements
Some of the active ingredients have been shown to be effective for weight loss
There are many good reviews from people who have tried it
Cons
Some of the active ingredients are linked to side effects
There are some negative feedback saying it is not very effective
The product contains a high amount of stimulants which can cause side effects
The product has not undergone independent clinical testing for safety or effectiveness
---
How Does It Work?
Skinny Stix contains natural sources of caffeine which has been shown to boost the metabolism and help with weight loss. This also boosts energy levels and improves the stamina of the user.
It also helps boost the mood while improving focus. The product also contains natural extracts that work to suppress the appetite, which is also helpful for weight loss. This helps the user create a daily caloric deficit which leads to weight loss.
What Are the Ingredients?
Yerba Mate Leaf Extract –
This plant is commonly used as tea. Some studies have shown that it helps with weight loss by boosting the metabolism. It also helps increases energy level and improves focus.
Guarana Seed Extract –
This is a natural source of caffeine which works to boost the metabolism and increase energy levels.
Coffee Bean Extract –
It also contains caffeine which helps in boosting metabolism, increase energy levels and improve focus[1]. However, there are mixed results from studies on this natural ingredient as a fat burner.
Damiana Leaf Extract –
This is known as an appetite suppressant. It works alongside with guarana and yerba mate for optimum weight loss[2]. The combination is said to slow down the emptying of the stomach after meals which works to prevent hunger and helps the user eat less.
Stevia Leaf Extract –
This is the natural, calorie-free sweetener used in the product.
Cacao Seed Extract –
Studies have shown that it contains theobromine which helps with weight loss. It is a mild form of stimulant that helps boost the metabolism of the user.
Cayenne Fruit Powder –
It contains capsaicin which helps suppress the appetite while slightly boosting the metabolism.
Who is the Manufacturer of Skinny Stix?
Skinny Stix is a product which is manufactured by Zantrex. The company does not use Ephedrine in the formulation of its products. Zantrex has created enduring and robust alliances with other pharmaceutical, nutritional research, and other development companies, which are among the leading companies in the nation.

Frequently Asked Questions
Q: How to Use Skinny Stix?
To increase energy, elevate mood, heighten stamina and improve focus, mix an entire packet in 16 fluid oz. of water and then consume. For appetite control, mix one packet with 16 fluid oz. of water and drink the entire serving about 15 minutes before main meals. Do not exceed three packets per day. For best results, use in conjunction with a sensible diet and exercise program.
Q: What Are The Warnings?
Do not take if you are pregnant or breastfeeding. This weight loss supplement is only for healthy adults. If you have any medical condition or are taking medication, consult your healthcare provider before intake. In case of severe side effects, discontinue intake and seek immediate medical care.
Q: What Are The Possible Side Effects?
The product contains a high amount of stimulants which can cause side effects like jitteriness, dizziness, nausea and gastric disturbance. Some people may also be hypersensitive to certain ingredients in the formulation.
Alternatives to Skinny Stix
Keto GX800 (BHB Supplement)
Know The Related Products
SkinnyFit Super Youth is a hydrolyzed peptide containing multi-collagen. Collagen is a highly absorbable protein in the skin and other animal tissues like the bone marrow. The body needs collagen for healthy nails, hair, skin, bone joint health, weight loss, and gut health. SkinnyFit Super Youth claims to support strong bones and joints, weight management, and youthful-looking skin.
SkinnyMint is a known brand of teas that help burn body fat while assisting with the body's detoxification process. It claims to be "the original two-step teatox" that started the popular weight-loss trend. This company boasts of developing creative and innovative appetite suppressant supplements that are not only amazing but will also surely help you achieve your weight loss and fitness goals. According to them, they use only the best and scientifically proven ingredients to come up with a formula that is always on point.
Slender Tea contains Pu'erh Tea Leaves and is popular amongst slimmers who are struggling to lose their last few pounds. This tea is 100 percent natural and has no unpleasant side effects. The body burns additional calories through an increase in thermogenesis, which then creates a calorie deficit and supports weight loss.
Slenderiix is a homeopathic weight loss supplement that can suppress your appetite, promotes faster weight loss, and flushes toxins from your body.
Skinny Stix Reviews from Customers
Skinny Stix is a good product for weight loss.I Love the product. I used this product for 2 months and I lose 30 pounds of weight.- Mack H.
Skinny Stix Review – Final Verdict
Skinny Stix has been formulated with effective natural herbs which help in elevating energy levels and metabolism. Some of these herbs are great when it comes to facilitating weight loss. It also provides overall health to the users as it encourages them drink plenty of water.
This supplement however contains high amount of caffeine (120 mg-360mg per day) which could lead to a few side effects including rapid heartbeat and jitters. More researches should be done to get a solution to counteract the effects of caffeine.
Below you'll find some of the most effective weight loss supplements on the market today, in our opinion.
Our Top Rated Weight Loss Supplement
Verdict on Claimed Benefits: Below is our summary of the available evidence for the claimed benefits of below mentioned diet pills and weight loss supplements based on the available research:
Product reviews are provided for informational purposes only and reflect solely the views and opinions expressed by the contributors and not those of Consumer Health Digest. We do not verify or endorse any claims made in these reviews. Please read the full product reviews disclaimer. *All individuals are unique. Your results can and will vary.
Ask a Question
Skinny Stix Ques and Ans
Q: Does this product contain a diuretic?

A: Yes. Skinny Stix has Dandelion Root as one of the ingredients. Dandelion Root is a natural diuretic that helps to flush out excess fluids from the body.
Have a Question? Please Tell Us What We Are Missing Here!
PRODUCT NAME
Skinny Stix
PRODUCT BRAND
Zantrex
PRICE (in USD)
$19.99
ITEM FORM
powder
UNIT COUNT
30 Packets
INGREDIENTS
Yerba Mate Leaf Extract, Guarana Seed Extract, Coffee Bean Extract, Damiana Leaf Extract, Stevia Leaf Extract, Cacao Seed Extract, and Cayenne Fruit Powder.
$19.99 At Amazon
**This is a subjective assessment based on the strength of the available informations and our estimation of efficacy.
*Result may vary. If you are pregnant, nursing, have a serious medical condition, or have a history of heart conditions we suggest consulting with a physician before using any supplement. The information contained in this website is provided for general informational purposes only. It is not intended to diagnose, treat, cure, or prevent any disease and should not be relied upon as a medical advice. Always consult your doctor before using any supplements.
Disclosure of Material connection: Some of the links in the post above are "associate sales links." This means if you can click on the link and purchase an item, we will receive a commission. Regardless, we only recommend products or services which we use personally and/or believe will add value to our readers. We are disclosing this in accordance with the Federal Trade Commission's 16 CFR, Part 255: "Guides Concerning the Use of Endorsements and Testimonials."