In This Review
What is Retro Lean Forskolin?
Retro Lean Forskolin is a dietary supplement designed to help individuals lose weight naturally. It also helps users protect lean body mass by improving their overall quality of life.
The weight loss supplement contains only Forskolin extract with no preservatives, additives, fragrances, or color, ensuring the product's benefits is delivered without hindrances.
This weight loss supplement promises to help get rid of those excess pounds for a better physique.
The diet pill helps induce thermogenesis, a natural process for increasing the body's temperature to help blast off stubborn fat and increase metabolism.
How Does It Rate?
Overall Rating: 3.2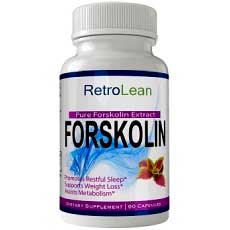 Retro Lean Forskolin Review
Brand Highlights
The Product manufactured by Retro Lean.
The manufacturer is geared towards improving users' overall health and wellness naturally.
According to the product's label, this supplement is distributed by Nutra4health LLC.
Company claims to have manufactured this under strict supervision and in a standard laboratory.
Key Ingredients
Coleus Forskohlin
Rice Flour
Cellulose
---
Pros
It may help increase energy level for better physical performance.
It could be responsible for reduced appetite.
The product may help users sleep better.
It may help protect lean muscle mass.
It might result in improved metabolism.
Cons
The product may require exercise for effective results
The official website is difficult to access
The product may interact with your medications
---
How Does Retro Lean Forskolin Work?
A weight loss pill called Retro Lean Forskolin works by burning fat and boosting energy. Additionally, it promotes healthy blood sugar levels, digestion, and mental clarity.
For years, people have utilized Retro Lean Forskolin to shed pounds and become in shape. Doctors frequently suggest the supplement because clinical trials have demonstrated its efficacy.
You can get the supplement as a pill to consume or in powder form. For the best effectiveness, take the pills with water or juice.
Retro Lean Forskolin Ingredients – Are they Safe & Effective?
The supplement contains a single ingredient to help realize the promised results:
Coleus Forskohlii
– This is an organic compound extracted from the root of a plant called Coleus Forskolin. The plant contributes to weight loss via the thermogenesis effect, which helps burn and melt fat cells without workouts. Also, it stimulates the production of a fat-burning enzyme called cAMP for boosting fat burning process without changing what you eat. Besides, it reduces the rate at which fat stored for promoting lean muscle growth for better physique[2].
Rice Flour
– This inactive ingredient contains insoluble fires that aid in building up the digestive system and contributes to better metabolism.
Cellulose
– This ingredient helps with proper digestion, as it passes through our digestive system unchanged[3].
Read More Article Here:
FAQ's
Q: How Should You take Retro Lean Forskolin?
A: Take one veggie capsule twice daily as a dietary supplement. For optimal results, take 20 – 30 min before a meal with an 8oz. A glass of water.
Q: How Much Does Retro Lean Forskolin Cost?
A: As the official website can not be reached, the weight loss supplement price may differ, depending on the seller's decision. However, the product can be purchased on a third-party site for $39.95.
Q: What is Retro Lean Forskolin's Return Policy?
A: It is advised to take advantage of the retail site's return policy where you will purchase this weight loss supplement, as the manufacturer provides little information.
Q: Does Retro Lean Forskolin Offer a Free Trial?
A: There's no mention of a free trial offer on any third-party sites or the manufacturer's website.
SEE ALSO – Resolution Drops and Phenlean Reviews
Know The Related Products
Final Verdict – Retro Lean Forskolin Reviews
According to several third-party review websites, Retro Lean Forskolin is one of the most promising diet pills for weight loss supplements.
Although the claims may hold for the active ingredient, they may not be true for the supplement itself. Recent studies have shown that the Indian herb, forskolin, may contribute to weight loss but still requires more clinical trials to support the claims.
In all likelihood, this weight loss supplement is intended to perform three actions – improve overall sleep quality, increase metabolism, and boost the fat-burning process.
However, the company has no accessible website to provide more information about the supplemental pills besides those on the product's label.
There are also few reviews about the supplement or its effectiveness on any official website.
Other downsides of this supplement may include its inability to be a standalone product for losing some pounds and may require users to accompany it with regular exercise and diet changes.
Thus, it would be better to consider other well-established weight loss diet pills for attaining an incredible physique.